Homology modeling and virtual screening approaches to identify potent inhibitors of VEB-1 β-lactamase
Abdelmonaem Messaoudi

1

Email author

,

Hatem Belguith

1 and

Jeannette Ben Hamida

1
Theoretical Biology and Medical Modelling
2013
10:22
Received: 13 February 2013
Accepted: 23 March 2013
Published: 2 April 2013
Abstract
Background
blaVEB-1 is an integron-located extended-spectrum β-lactamase gene initially detected in Escherichia coli and Pseudomonas aeruginosa strains from south-east Asia. Several recent studies have reported that VEB-1-positive strains are highly resistant to ceftazidime, cefotaxime and aztreonam antibiotics. One strategy to overcome resistance involves administering antibiotics together with β-lactamase inhibitors during the treatment of infectious diseases. During this study, four VEB-1 β-lactamase inhibitors were identified using computer-aided drug design.
Methods
The SWISS-MODEL tool was utilized to generate three dimensional structures of VEB-1 β-lactamase, and the 3D model VEB-1 was verified using PROCHECK, ERRAT and VERIFY 3D programs. Virtual screening was performed by docking inhibitors obtained from the ZINC Database to the active site of the VEB-1 protein using AutoDock Vina software.
Results and conclusion
Homology modeling studies were performed to obtain a three-dimensional structure of VEB-1 β-lactamase. The generated model was validated, and virtual screening of a large chemical ligand library with docking simulations was performed using AutoDock software with the ZINC database. On the basis of the dock-score, four molecules were subjected to ADME/TOX analysis, with ZINC4085364 emerging as the most potent inhibitor of the VEB-1 β-lactamase.
Keywords
VEB-1 β-lactamase
Homology modeling
Virtual screening
Docking
Inhibitor
Background
blaVEB-1 was identified in 1996 from an Escherichia coli strain isolated from a Vietnamese patient. Subsequent analysis demonstrated that blaVEB-1 is both plasmid- and integron-located [1, 2]. Among the different Ambler class A expanded-spectrum β-lactamase (ESBL) genes, blaVEB-1 is considered to be "emerging"; it has been detected in several Gram-negative organisms including Enterobacteriaceae and Pseudomonas aeruginosa[3, 4], and in multiple countries including France, Spain, Algeria, Turkey, Canada, Korea, Thailand and Tunisia [5–10]. Furthermore, P. aeruginosa isolates producing the VEB-1a variant, which differs from VEB-1 by only a single amino acid located in the leader peptide of the pre-mature protein, have been identified in Kuwait and India [11, 12]. VEB-1 has high amino-acid identity to PER-1 and PER-2 (38%) EBSLs, and confers high-level resistance to ceftazidime, cefotaxime and aztreonam [13]. The blaVEB-1 gene was characterized in an unusual genetic environment in P. aeruginosa isolates from India and Bangladesh, and in P. stuartii from Algeria. Rather than having a typical class 1 integron structure, in these isolates blaVEB-1 is flanked by identical 135-bp sequences, termed repeated elements (Res), which are bracketed by two truncated 3′-conserved class 1 integron sequences in direct repeat [14].
There are currently no clinically useful inhibitors of VEB-1 β-lactamase. However, several studies have been undertaken using a variety of experimental inhibitors against other Ambler class A ESBLs. Clavulanic acid, the first β-lactamase inhibitor introduced into clinical medicine, was isolated from Streptomyces clavuligerus during the 1970s [15]. Clavulanate (the salt form of the acid in solution) presented with little antimicrobial activity in isolation, but when combined with amoxicillin, it significantly lowered amoxicillin MICs against Staphylococcus aureus, Klebsiella pneumoniae, Proteus mirabilis and E. coli[16]. Sulbactam and tazobactam are penicillinate sulfones developed as synthetic compounds in 1978 and 1980, respectively [17, 18]. Class A β-lactamase is inhibited to comparable levels by moxalactam, imipenem and cefoxitin.
The crystal structure of VEB-1 β-lactamase has not been described. Determining the three-dimensional (3D) structure of this molecule would assist in the discovery of more potent inhibitors, particularly in the application of structure-based virtual screening to identify lead compounds. To this end, a homology model of the 3D structure of VEB-1 protein was produced and a computational docking process was used to identify a series of potent inhibitors from the ZINC Database to allow VEB-1 to be compared with other Class A β-lactamase complexes.
Results and Discussion
Protein homology modeling and validation
Multiple sequence alignment of VEB-1 with PER-1, CTX-M-16 and Toho-1 β-lactamases demonstrated that VEB-1 is highly homologous to PER-1 type β-lactamases (38% sequence identity) (Figure 1A). The BLASTP homology search using the E. coli VEB-1 β-lactamase sequence against the PDB database confirmed this result (data not shown). In addition, sequence alignment indicated that VEB-1 contains a serine-valine-methionine-lysine tetrad (SXXK) at positions 70–73, including the conserved serine and lysine amino acid residues that are characteristic of β-lactamases with a serine active site [43]. Several other structural elements characteristic of class A β-lactamases were identified including a serine-aspartate-asparagine (SDN) motif at positions 135–137, and lysine-threonine-arginine (KTG) residues at positions 239–242 (Figure 1A.). Accordingly, the crystal structure of PER-1 β-lactamase from P. aeruginosa (PDB ID: 1E25) was used as the template during homology modeling.
The modeled enzyme is a monomer, folded into an α/β domain consisting of a seven-stranded β-sheet and 11 α-helices (Figure 1B.). The residues in the Ser135-Asp136-Asn137 (SDN) motif are involved in maintaining the structure of the active site cavity, enzyme stability and stabilization of the enzyme transition state, respectively [44]. Ser135, a conserved amino acid among all class A β-lactamases, is occasionally replaced by a Gly residue. The multiple roles of this residue include anchoring β-lactams to the active site, and stabilizing it, through hydrogen bonding with the C-3/C-4 carboxylates of inhibitors and substrates and facilitating proton transfer to the β-lactam nitrogen during acylation, leading to opening of the β-lactam ring [45].
The quality of the 3D model was evaluated via the Ramachandran plot using PROCHECK software (Figure 
2
). The Ramachandran plot for the predicted model revealed that 88.2% of residues were in the most favorable region, while 10.6% were in the allowed region, confirming that the predicted model is of good quality. ERRAT is a so-called "overall quality factor" for non-bonded atomic interactions, with higher scores indicating higher quality. The generally accepted range is >50 for a high quality model. For the current 3D model, the overall quality factor predicted by the ERRAT server was 80.524 (Figure 
3
). The Verify 3D server predicted that 88.77% of the residues in VEB-1 β-lactamase had an average 3D-1D score > 0.2, thereby verifying the model.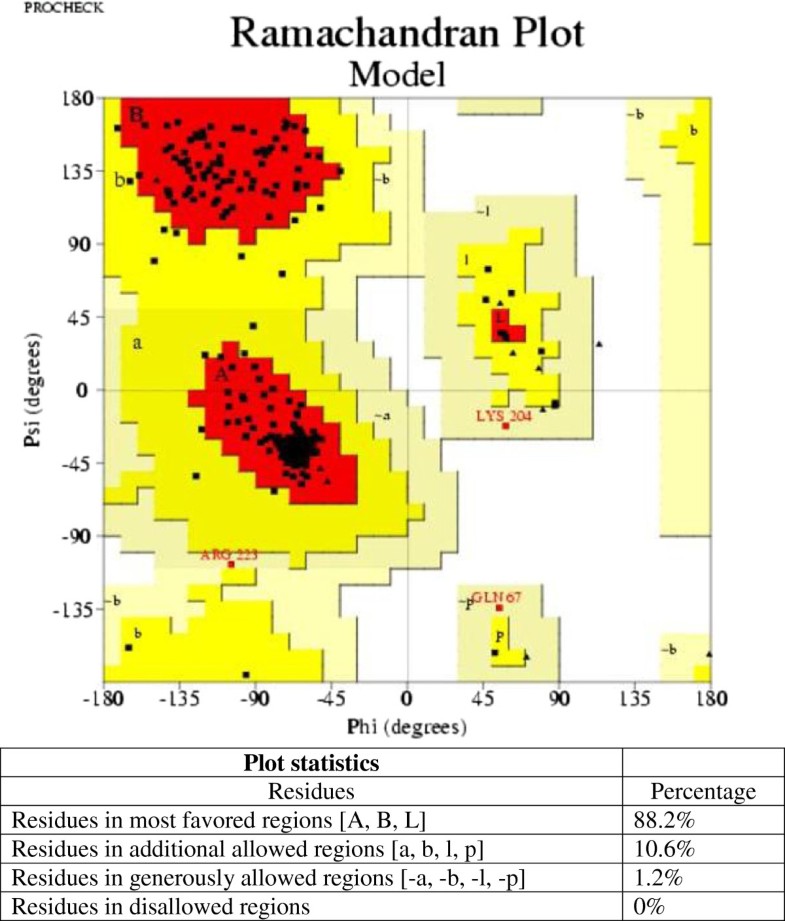 Virtual screening result analysis
Following docking simulations, the four most promising inhibitors were selected on the basis of binding affinity (Figure 
4
). Among the six categories of Amber class A β-lactamase inhibitors considered during the analysis, the optimal interactions with the highest affinity scores were obtained with sulbactam analogs. This finding was contrary to previous results for SHV-1 Amber class A β-lactamase, and sulbactam is a less potent inhibitor than clavulanate [
46
]. Sulbactam is more potent against class C β-lactamases than clavulanate, whereas its activity against class D enzymes is less potent than against class A β-lactamases. Similarly, sulbactam does not inhibit OXA-type enzymes as efficiently as TEM-1 and other clinically used inhibitors [
47
].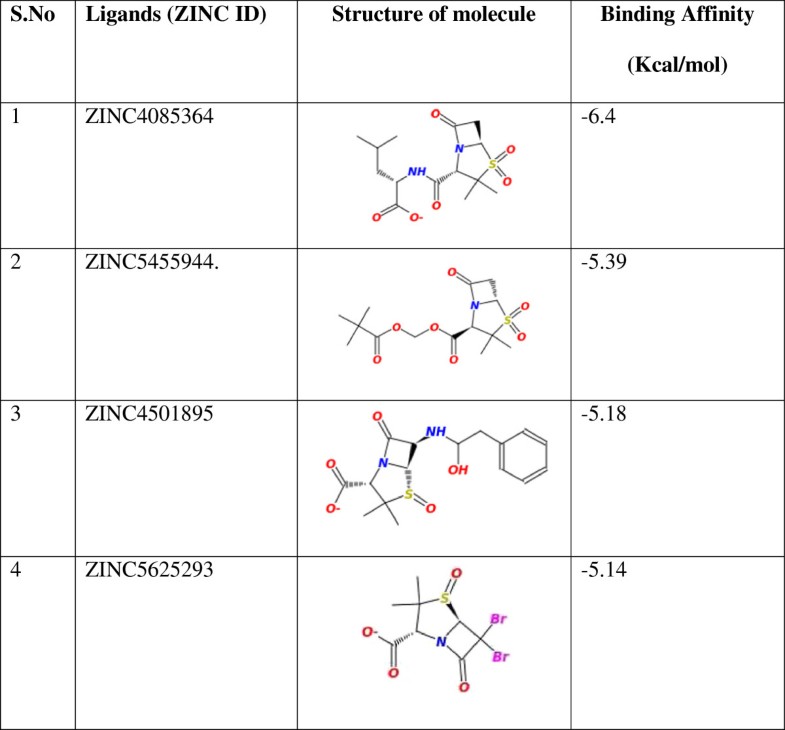 The best conformation demonstrated that the free energy of binding (ΔGbind, kcal/mol) for the top four inhibitors was good. The negative and low value of ΔGbind (-6.4) indicated strong bonds between VEB-1 and the ZINC4085364 inhibitor, and demonstrated that the inhibitor was in its most favorable conformation. Analysis of the docked complexes demonstrated that the inhibitor was located close to the active site (Ser68), at a distance of 0.6 Å. The complex was stabilized by four hydrogen bonds through residues Ser68, Lys71, Ser131 and Gln67 (Figure 
5
B). The residue involved in cavity formation is presented in Figure 
5
A. Interaction analysis revealed that the cavity involved in the binding site has a volume of 186.6 Å
3
and a surface area of 178.2 Å
2
. Toxtree was used to estimate toxic properties. Finally, four molecules were selected (Table 
1
).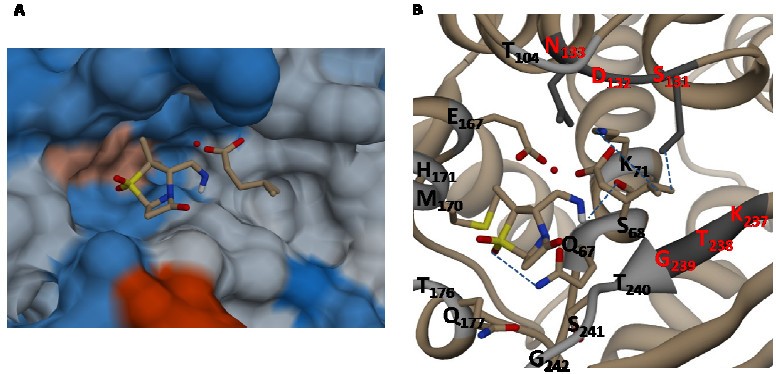 Table 1
Physiochemical properties of the most potent ligand (ZINC4085364) obtained from the docking study
| pH range | Reference (pH 7) |
| --- | --- |
| xlogP | −1.64 |
| Apolar desolvation (kcal/mol) | −7.31 |
| Polar desolvation (kcal/mol) | −66.16 |
| H-bond donors | 1 |
| H-bond acceptors | 8 |
| Net charge | −1 |
| tPSA (Å2) | 123 |
| Molecular weight (g/mol) | 345.397 |
| Rotatable bonds | 5 |
| Popular name | (S)-2-((2S,5R)-3,3-dimethyl-4,4-dioxido-7-oxo-4-thia-1-azabicyclo[3.2.0]heptane-2-carboxamido)-4-methylpentanoic acid |
| Molecular formula | C14H22N2O6S |
Conclusions
Antibiotic resistance is one of the most serious threats to public health. Development of resistance is assisted by the existence of plasmids, which can be transmitted easily between bacteria. The emergent VEB-1 β-lactamase possesses potent hydrolysis activity towards almost all antibiotics and is a significant threat. Virtual screening is an important tool for exploring biologically relevant chemical spaces, and allows studies focused on small molecule libraries to be performed, using up to millions of compounds. During the present study, structural models of a VEB-1/ZINC4085364 inhibitor complex were obtained using homology modeling and molecular docking methods. At present, there are no effective antibiotics against VEB-1-positive pathogens. An appropriate strategy involves identifying drug candidates from existing antibiotics, such as cephalosporin, on the basis of the 3D model of VEB-1 using structure-based virtual screening. This strategy was used successfully in the discovery of Merck's HIV protease inhibitor [48]. The molecule identified in the current study as a VEB-1 inhibitor could be exploited for drug design. However, further in vivo experimentation is required for complete evaluation.
Authors' Affiliations
(1)
Unité de Protéomie Fonctionnelle and Biopréservation Alimentaire, Institut Supérieur des Sciences Biologiques Appliquées de Tunis, Université Tunis El Manar, Tunis, Tunisia
Copyright
© Messaoudi et al.; licensee BioMed Central Ltd. 2013
This article is published under license to BioMed Central Ltd. This is an Open Access article distributed under the terms of the Creative Commons Attribution License (http://creativecommons.org/licenses/by/2.0), which permits unrestricted use, distribution, and reproduction in any medium, provided the original work is properly cited.