An integrated multidisciplinary model describing initiation of cancer and the Warburg hypothesis
Theoretical Biology and Medical Modelling
2013
10:39
Received: 13 February 2013
Accepted: 29 May 2013
Published: 10 June 2013
Abstract
Background
In this paper we propose a chemical physics mechanism for the initiation of the glycolytic switch commonly known as the Warburg hypothesis, whereby glycolytic activity terminating in lactate continues even in well-oxygenated cells. We show that this may result in cancer via mitotic failure, recasting the current conception of the Warburg effect as a metabolic dysregulation consequent to cancer, to a biophysical defect that may contribute to cancer initiation.
Model
Our model is based on analogs of thermodynamic concepts that tie non-equilibrium fluid dynamics ultimately to metabolic imbalance, disrupted microtubule dynamics, and finally, genomic instability, from which cancers can arise. Specifically, we discuss how an analog of non-equilibrium Rayleigh-Benard convection can result in glycolytic oscillations and cause a cell to become locked into a higher-entropy state characteristic of cancer.
Conclusions
A quantitative model is presented that attributes the well-known Warburg effect to a biophysical mechanism driven by a convective disturbance in the cell. Contrary to current understanding, this effect may precipitate cancer development, rather than follow from it, providing new insights into carcinogenesis, cancer treatment, and prevention.
Keywords
Warburg effectRayleigh-Benard convectionAneuploidyGlycolysisGenomic instability
Background
The metabolic shift from aerobic to anaerobic glucose biochemical energy processing by cells is strongly correlated with the transition to cancer, or as some have come to characterize the process, a reversion to a more primitive and competitive level of cellular existence (Warburg [1], Szent-Gyorgyi [2]), which may still possess some rudimentary cooperative elements e.g. early metazoans (Davies and Lineweaver [3]). Our focus in this manuscript is to develop a molecular physics model based on non-equilibrium thermodynamics to quantitatively describe that process. By better understanding this transition we should be able to not only address cancer more effectively but also other metabolic diseases including mitochondrial diseases (e.g. [4]) and diseases of proton pumps (e.g. [5]). This modeling approach may also shed some light on the relationship between the Warburg effect for cancer and the so-called inverse-Warburg effect [6] for neurological diseases e.g. Alzheimer's disease [7].
The living cell is an extremely complex molecular network of tens of thousands of different types of molecules from ionic species and small molecules to large polymers and polymer networks. Naturally, the number of large, multi-nanometer size polymers is not as high as the smaller molecules, but a shift in their numbers can easily result in the emergence of a disease state. For example, variation in the number of genes expressed due to changes in the genome (aneuploidy), can indicate cancer. Many of these large polymers are enzymes, or chemical reaction catalysts. Typical molecular reactions in the cell are represented by the relation:
where the symbols E, S, ES, P represent the enzyme, substrate, enzyme-substrate complex, and reaction product, respectively. The coefficients labeled by k's represent forward, reverse and enzyme-substrate decomposition rate constants as indicated by their subscripts. Obviously, if there is a huge abundance of S and limited amount of E, the reaction is rate limited by the concentration of E. But if the cell is malfunctioning and producing an excess of E when an abundance of S is present, then the cell will increase the P concentration by massively parallel reactions. This is governed by the well-known Michaelis-Menten reaction kinetics of saturable chemical reactions [8]. This effect is also described by the Le Chatelier principle of reaction dynamics [9]. It states that chemical reactions move forward or backward so as to reduce excesses in the quantity of reactants or products, respectively, introduced into in the reaction vicinity.
Given the reaction dynamics afforded by Le Chatelier's principle, it is possible to imagine that an external concentration of, for example, glucose allowed entry into a cell would ripple through the molecular network of a cell and produce an excess of the appropriate glycolytic enzymes and other molecules associated with anaerobic processing. This would in turn produce an excess of lactic acid and a shift in the hydrogen ion concentration. Neither of these causes will necessarily induce a cell to transition to a higher entropy state (disorganization) of a cancer cell [
10
], but we argue that these reaction processes can disrupt the mitochondria and/or the cytoskeleton in part via the microtubule growth rate which is dependent on the pH value [
11
], a parameter known to change between normal and cancer cells. In particular, in cancer cells, intracellular pH is alkalized [
12
–
15
], and extracellular pH is acidified [
12
,
14
,
15
]. These biophysical changes in turn could contribute to mitotic failure and in rare cases aneuploidy – producing a stable cell exhibiting a glycolytic shift, i.e. the Warburg effect. Our hypothesis is schematically outlined in Figure
1
.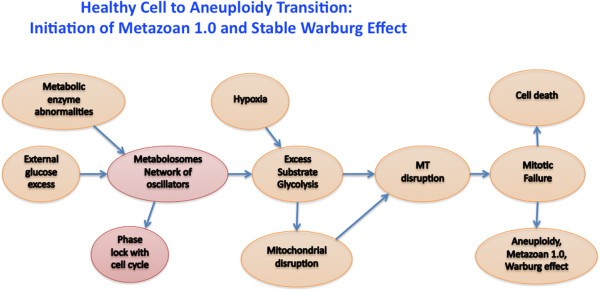 The model
We argue that non-equilibrium thermodynamics is a driving force for the ultimate transition of a cell from the normal to the cancer state, and that the first step in the process is an increased operation of the cytoplasmic glucose processing machinery due to a non-equilibrium mechanism analogous to Rayleigh-Benard convection (Figure 1) [16, 17]. Our proposed scheme that describes the development of the cancer phenotype at a cellular level is essentially a biophysics model, which should clearly be considered in parallel with more biochemical schemes [18–22]. We begin by reviewing some relevant physics of nonlinear dynamics and thermodynamics.
Conclusions
Summary
We have described an integrated system model for the progression of a healthy cell to a cancer state and some of the implications. The potentially aberrant state of the cell may start by an excess glucose or other nutrient external to the cell impacting the cell or by internal defects leading to metabolic enzyme redistribution processes. This excess nutrient is essentially a chemical potential difference between inside and outside of the cell creating stress. Through a process analogous to Rayleigh-Benard convection, stable molecular oscillators accumulate in the cytoplasm to exploit this chemical gradient. The continued activity of these oscillators results in mitochondrial destabilization, which may occur as a non-equilibrium phase transition. Once the mitochondria begin to perform aberrantly there will be a chemical imbalance in key components for microtubule assembly/disassembly. This imbalance is driven by Le Chatelier's principle. The disruption in microtubule lengths and/or microtubule count will lead to chromosomal instability via kinetochore-microtubule dynamics finally leading to mitotic failure. In unlucky cases this will result in chromosome mis-segregation and cancer if mitotic catastrophe does not occur.
Clinical implications
The above synthesis of ideas surrounding the subject of Warburg initiation, or the transition from aerobic glycolysis to anaerobic suggests not only an avenue for treatment but also an avenue for prevention of cancer.
We hypothesize that excess of glucose and sugar-like energy sources or metabolic enzyme abnormalities, through a non-equilibrium phase transition (a symmetry breaking phenomenon) analogous to the Rayleigh-Benard convection, may cause a cell to prefer to process this energy source using substrate glycolysis. Continued excess substrate glycolysis will cause further phase transitions to disrupt the mitochondria via depolarization and also disrupt microtubule dynamics. When a cell then passes through mitosis, the chance of mitotic failure is increased. When a cell enters mitotic failure, it may undergo an aneuploidy event [88, 89]. All this suggests that a low glycemic diet would lower the incidence of cancer, and may suggest a mechanism why metformin, which lowers blood glucose levels, is associated with improved outcomes in diabetic cancer patients [90, 91] and reduced risk of pancreatic cancer [92].
The above synthesis of ideas also supports targeting cells that have made the glycolytic switch. For instance, the work of Pedersen [93] and his colleagues (Ko et al. [69, 94]; Mathupala et al. [70]) have used 3-bromopyruvate to inhibit glyceraldehyde 3-phosphate dehydrogenase (GAPDH), which effectively inhibits glycolysis [95]. In addition, 3-bromopyruvate may force, via Le Chatelier's principle, some reverse reactions to essentially deprive the cancer cell of substrate-created ATP. This leaves the cell little choice except to enter apoptosis. We further hypothesize that a Br derivative of 3-phosphoglycerate would similarly, though perhaps not as energetically, and perhaps not as toxically, facilitate via Le Chatelier's principle, a reverse reaction to deprive a cancer cell of ATP.
Further, since microtubule dynamics are dysregulated by glucose oscillations and its associated pH oscillations, we speculate that metronomic dosing of microtubule poisons (e.g. nocodazol, taxol, vinblastine) would be an effective treatment strategy for cancers.
In our list of "prescriptions" above many of these are already known or in use. These current practices are essentially "prediction" of our theory and were strictly based on biophysics with little detailed biochemical or cellular biochemistry being considered.
Declarations
Acknowledgments
We thank Heiko Enderling for helpful discussions. We thank Eric J. Chaisson for discussion on the Phi parameter. DEF acknowledges funding from Alberta Innovates Health Solutions and the Alberta Cancer Foundation. JAT acknowledges funding from NSERC, the Allard Foundation, Alberta Advanced Education and Technology, the Canadian Breast Cancer Foundation and the Alberta Cancer Foundation. EAR, PH, and LH acknowledge grant number U54CA149233 from the National Cancer Institute. The content is solely the responsibility of the authors and does not necessarily represent the official views of the National Cancer Institute. We thank Philip Winter for computer and software support.
Authors' Affiliations
(1)
Center of Cancer Systems Biology, GeneSys Research Institute,, Tufts University School of Medicine,, Boston,, USA
(2)
Department of Oncology,, Faculty of Medicine and Dentistry, University of Alberta,, Edmonton,, Canada
(3)
H. Lee Moffitt Cancer Center & Research Institute,, Tampa, FL,, USA
(4)
Department of Physics,, University of Alberta,, Edmonton,, Canada
Copyright
© Rietman et al.; licensee BioMed Central Ltd. 2013
This article is published under license to BioMed Central Ltd. This is an Open Access article distributed under the terms of the Creative Commons Attribution License (http://creativecommons.org/licenses/by/2.0), which permits unrestricted use, distribution, and reproduction in any medium, provided the original work is properly cited.