Computing limits on medicine risks based on collections of individual case reports
Theoretical Biology and Medical Modelling
2014
11:15
Received: 22 November 2013
Accepted: 19 March 2014
Published: 24 March 2014
Abstract
Background
Quantifying a medicine's risks for adverse effects is crucial in assessing its value as a therapeutic agent. Rare adverse effects are often not detected until after the medicine is marketed and used in large and heterogeneous patient populations, and risk quantification is even more difficult. While individual case reports of suspected harm from medicines are instrumental in the detection of previously unknown adverse effects, they are currently not used for risk quantification. The aim of this article is to demonstrate how and when limits on medicine risks can be computed from collections of individual case reports.
Methods
We propose a model where drug exposures in the real world may be followed by adverse episodes, each containing one or several adverse effects. Any adverse episode can be reported at most once, and each report corresponds to a single adverse episode. Based on this model, we derive upper and lower limits for the per-exposure risk of an adverse effect for a given drug.
Results
An upper limit for the per-exposure risk of the adverse effect Y for a given drug X is provided by the reporting ratio of X together with Y relative to all reports on X, under two assumptions: (i) the average number of adverse episodes following exposure to X is one or less; and (ii) adverse episodes that follow X and contain Y are more frequently reported than adverse episodes in general that follow X. Further, a lower risk limit is provided by dividing the number of reports on X together with Y by the total number of exposures to X, under the assumption that exposures to X that are followed by Y generate on average at most one report on X together with Y. Using real data, limits for the narcolepsy risk following Pandemrix vaccination and the risk of coeliac disease following antihypertensive treatment were computed and found to conform to reference risk values from epidemiological studies.
Conclusions
Our framework enables quantification of medicine risks in situations where this is otherwise difficult or impossible. It has wide applicability, but should be particularly useful in structured benefit-risk assessments that include rare adverse effects.
Keywords
PharmacovigilancePharmacoepidemiologyBenefit-riskRisk-benefitAdverse drug reactionsAdverse drug reaction surveillancePost-marketingPost-marketing surveillanceSpontaneous reports
Background
Hardly any medicine is risk-free. Some undesirable effects are identified during pre-clinical and clinical testing, for regulatory benefit-risk assessments to decide whether or not the medicine should be granted market access. However, because pre-marketing trials are too small, too short, and too homogeneous with respect to included patients, many adverse effects remain undetected at the time of marketing [1]. Unless one is willing to rely on subjective expert guesswork, any quantitative evaluation of adverse effects from drugs requires data to inform risk estimation. This applies to analyses of single harmful effects and full-scale benefit-risk assessments alike. However, in reality rare adverse effects are very difficult to quantify [2]. Contrary to common belief, not only controlled clinical trials but also epidemiological studies in very large populations are likely to be underpowered for many important adverse effects [3]. Also, the standard epidemiological approach in situations of rare outcomes, the case-control study, can only estimate relative risk, which is of limited value in the decision-oriented context of benefit-risk assessment [4].
Pharmacovigilance is the over-arching scientific and regulatory discipline working to uncover possible new risks with medicines. In this process, the collection and analysis of individual case reports of suspected harm from medicines is a crucial component [5]. These reports are collected continuously in most countries worldwide, cover all types of drugs, and often contain detailed information to assist in the assessment of a possible causal link between drugs and adverse effects. It has also been argued that they can provide some quantitative risk information: because the number of reports on a particular drug-adverse event pair is lower than the actual number of affected patients due to under-reporting, dividing the report count by the number of exposed patients yields a lower limit on the true risk in these patients [6].
Following a recent update of regulatory post-marketing guidelines, companies are expected to complement the detection of a previously unknown and significant adverse effect with a complete benefit-risk assessment [7]. The academic community has contributed with a multifaceted development of quantitative approaches, which are expected to increase the transparency and consistency of benefit-risk assessment [8]. Regulators now express a clear interest in such methods, while companies remain more sceptical [9].
The aim of this work is to explore the boundaries for individual case reports as a source of information on the risk of adverse events under exposure to drugs. We present a conceptual model for the link between reported adverse events, real-world occurrences of adverse events, and exposed patients. We show how this model can be used to incorporate and formalise the above idea on a lower risk limit, and – most significantly – we derive from it an upper risk limit that is not dependent on external exposure data.
A model for linking individual case reporting to the real world
To be able to explain how collections of individual case reports can provide quantitative risk information, we need to define a model that relates events reported as suspected adverse drug reactions to all such adverse events occurring in the real world. We start by a very brief description of individual case reports as such, followed by definitions of the core concepts necessary to understand the model, and then preceed to the actual model itself.
Individual case reports
The origin of individual case reporting is so called spontaneous reporting of adverse drug reactions, with an explicit suspicion of drug attribution [10]. Today regulatory requirements are stricter and solicited reporting occurs in parallel to spontaneous reporting. Another recent phenomenon is that not only healthcare professionals but also patients themselves can report.
A majority of countries have national databases of individual case reports. One example is the Food and Drug Administration in the USA. There are also a few databases that cover several countries, e.g. the WHO global database of individual case safety reports, VigiBase [11]. In addition, all pharmaceutical companies have internal databases that cover their specific products.
All individual case reports must list one or several drugs as suspected, by themselves or in interaction, of having caused one or more adverse events; in addition, concomitant drugs may be listed. Drugs and events are typically coded in dedicated terminologies.
Much more information can be provided on the reports, including indication for use and start and stop dates for drugs, and dates for onset and abatament of events. Other important report fields include the reason for being classified as serious (if any); the dose and route of administration for drugs; and outcome for events.
The results of dechallenge, i.e. withdrawal of a drug, as well as rechallenge, i.e. re-exposure to the same drug, can be specified. Characteristics of the patient, such as age, gender, and medical history should also be provided. Finally, whereas all of the above is coded in structured format, one always has the opportunity to give a free-text description of the case.
Exposure
Here, an exposure is to be understood as an episode of treatment with a given drug in an individual patient. Drugs, in turn, could refer to either substances or medical products, including or excluding vaccines and medical devices. It follows that disparate treatment episodes of the same patient with the same drug are considered as distinct and non-overlapping exposures. Also, the duration of an exposure can range from close to zero (e.g. a single bolus injection) to many years (e.g. life-long maintenance therapy for an incurable disease).
This definition is motivated by the nature of individual case reports, where one typically reports only those drugs that are currently being used or that were recently used by the patient, i.e. the currently relevant exposures. More flexible definitions of exposure are difficult, since patients are not followed continuously over time. For example, different treatment episodes within the same patient are not linked.
Adverse episodes
An adverse episode is here defined as a set of clinical signs and symptoms that occur in an individual patient after exposure to one (or several) drugs. The signs and symptoms are clustered temporally and clinically so that they form an entity that corresponds to a single individual case report, if at all reported. It is therefore implied that an adverse episode can consist of one or several adverse events, which conforms with the appearance of individual case reports in reality.
This definition is very general and not restricted with respect to the time from start of exposure to onset of the adverse episode, nor with respect to the nature of the signs and symptoms contained in the episode. However, such restrictions can be reasonable or even necessary (see Sections 'Low adverse episode density' and 'Using a restricted time to event onset').
Risk
The concept of risk as used here is the probability of experiencing a certain adverse event Y of interest after exposure to a certain drug X of interest, i.e. Pr(Y|X). This probability is given by the incidence of Y after exposure to X: in its most general form, the risk r xy is the fraction of all exposures to X that are followed by at least one occurrence of Y. If there is a requirement that Y occur within a certain time period t from start of exposure to X, this is indicated as . Unless otherwise specified, the risk applies to the entire population at issue.
Model description
Table
1
defines the basic components of our model. Generally, the superscripts R, A, and E are used for reports, adverse episodes, and exposures, respectively. Two fundamental assumptions are that each adverse episode is reported at most once, and that each report describes an adverse episode that actually has occurred. These assumptions would be violated in the presence of report duplication, drug miscoding, or adverse event misdiagnosis. All are real but generally manageable threats in practice; for elaboration see the Section 'General validity of the model'.
Table 1
Components of our linking model between individual case reporting and the real world
| Variable | Type of entities being counted | Context |
| --- | --- | --- |
| | Reports on X | Database |
| | Reports on X together with Y | Database |
| | Adverse episodes that follow exposure to X | Real world |
| | Adverse episodes that follow exposure to X and that include Y | Real world |
| | Exposures to X | Real world |
| | Exposures to X followed by at least one adverse episode that includes Y | Real world |
The quantity of main interest is the population risk
r
xy
, defined above as the proportion among all exposures to
X
, , that is made up by exposures to
X
that are followed by
Y
, :
Our aim is to relate this unknown risk to the known reporting ratio
ρ
xy
between , the number of reports on
X
together with
Y
, and , the total number of reports on
X
:
To be able to do so, we introduce the variables
f
x
and
f
xy
. They measure, respectively, the fraction of all adverse episodes following
X
that are actually reported, and the fraction of adverse episodes following
X
and containing
Y
that are actually reported:
We shall refer to
f
x
and
f
xy
as
reporting coverages
. (The commonly used quantity under-reporting is simply 1 -
f
.) All of the introduced concepts and their interrelations are outlined with a fictional example in Figure
1
.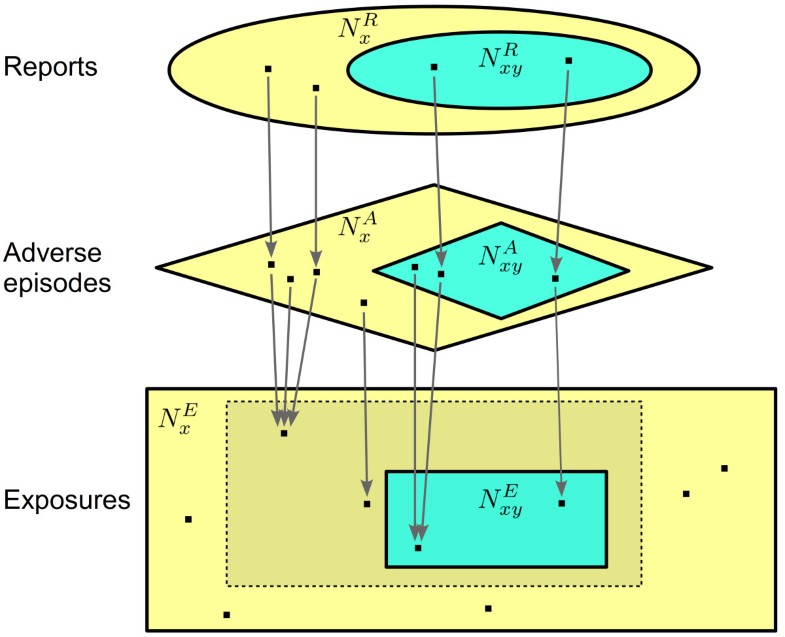 Risk limits and their assumptions
Conditional on this model, we make two claims. First, the reporting ratio ρ xy is an upper limit for the risk r xy if (i) the total number of adverse episodes following exposure to X is less than or equal to the number of exposures itself; and (ii) the reporting coverage for adverse episodes that follow exposure to X and that include Y (f xy ) is higher than or equal to the reporting coverage in general for adverse episodes following X (f x ). These assumptions are clearly fulfilled for the example in Figure 1: (i) ; and (ii) f xy = 8% ≥ 2% = f x . As claimed, then, ρ xy = 2.5% ≥ 0.49% = r xy . We shall refer to (i) as the assumption of low adverse episode density, and (ii) as the assumption of relative over-reporting of Y for X.
In general, the latter assumption should hold if Y is serious in nature, particularly if the link between X and Y is generally recognised or suspected. The former assumption should be more likely to hold the shorter the duration of treatment with X, and the healthier the population treated with X. However, there are possible countermeasures to apply in situations where this assumption is less likely to be valid. More elaboration is provided in the Section 'Validity of the underlying assumptions'.
While a mathematical proof is provided below, ρ xy 's validity as an upper limit for r xy under these assumptions can be heuristically explained by considering the limiting case where each exposure is followed by precisely one adverse episode, so that . Each adverse episode can then be considered an 'observation' of an exposure to X, and if those adverse episodes that contain Y are more likely to be reported than adverse episodes containing any adverse events, a greater proportion of 'observations' of XY end up in the database than 'observations' of X in general. If instead , it could happen that ρ xy fell below r xy even if f xy ≥ f x ; for example, Y may occur only once per exposure in those exposures where it does occur, whereas there could be multiple adverse episodes per exposure in general, each with a possibility of being reported.
Secondly we claim that is a lower limit for the risk r xy if the total number of reports on X with Y is fewer than or equal to the number of exposures to X that are followed by Y. This proviso, which will be referred to as exposure-level under-reporting of XY, is fulfilled for the example in Figure 1: . Here, the proposed lower limit is , which is below r xy = 0.49%. The lower limit requires knowledge about which is external to the database of individual case reports. Clearly, if is unknown, one can always report zero as the natural lower limit for r xy .
The assumption of exposure-level under-reporting should generally be valid. It basically serves to assure that the under-reporting of Y following X at the level of adverse episodes still holds at the level of exposures. This assumption would only ever be violated if Y recurred – and was reported – several times for individual exposures to X. However, it seems unlikely in practice that a recurring adverse event would be reported more than once in relation to the same exposure. Again, more details can be found in the Section 'Validity of the underlying assumptions'.
Proofs
For the upper limit, first note that the assumptions (i) and (ii) can be combined into . This, in turn, is a special case of the more general condition , which is sufficient to guarantee that
ρ
xy
provides an upper limit for
r
xy
:
The implication on the top row holds because both and f xy /f x are positive, while by necessity due to the nature of the mapping from adverse episodes to exposures explained in Figure 1. It is significant that this implication does not necessarily hold from right to left, which explains why ρ xy cannot easily be used as a lower limit for r xy . The equivalence on the third row follows directly from Equation 3, and that on the fourth row from Equations 1 and 2.
The validity of our claim regarding the lower limit for
r
xy
can be trivially proven in the following way:
Real-world examples
Pandemrix and narcolepsy
The A/H1N1 influenza pandemic in 2009 was met by variable immunisation strategies. The two Nordic countries Sweden and Finland both launched mass-immunisation programmes with the specific vaccine Pandemrix. Suspicions arose in those countries regarding a causal relationship in children and adolescents between Pandemrix and the rare sleep disorder narcolepsy, a relationship with increasing support and acceptance [12–16].
The purpose of this example is to illustrate our framework. It was chosen on the basis that the exposure has been publicly reported in both Finland and Sweden, and that the immunisation coverage was substantive enough to enable epidemiological quantification of the risk r xy in these countries. Because of this quantification there is no apparent added value with our framework, which is most useful in situations where there is no other quantitative information available regarding the risk of interest. This was the case for Pandemrix and narcolepsy in August 2010.
Antihypertensive drugs and coeliac disease
In 2011, the US Food and Drug Administration identified unexpectedly many reports for the angiotensin receptor blocker olmesartan together with the adverse event coeliac disease [17]. This discovery was followed by an investigation of the incidence of coeliac disease following use of olmesartan and several other antihypertensive drugs, as a so called modular program within the Mini-Sentinel project [18]. In Mini-Sentinel, data from several different collaborators are pooled together, which enables coverage of a fair proportion of the US population. In mid 2012 there were about 50 million patients enrolled with data on both drug usage and medical events [19]. Although this is not complete or near-complete population coverage as in the Pandemrix studies from the Nordic countries, it should be sufficient to provide reliable reference risk estimates for common drugs.
This particular example was chosen as the most recently completed modular program with an objectively identifiable adverse event: 'Coeliac disease' is a verbatim term both in the International Classification of Diseases used in Mini-Sentinel, and in the Medical Dictionary for Regulatory Activities (MedDRA) used for coding of individual case reports. As with Pandemrix and narcolepsy, the purpose of this example is to illustrate our framework. In particular, we do not intend to make any claims regarding causality. A potential benefit with this example is the minimal amount of public attention, especially for drugs other than olmesartan itself, which leaves little concern for potential reporting biases.
Included drugs
To obtain accurate reference risk estimates, only drugs with at least 100,000 incident users in the Mini-Sentinel study were included: amlodipine, atenolol, hydrochlorothiazide, losartan, olmesartan, and valsartan [18].
Reference risk values
The Mini-Sentinel report provides information on the number of incident users and incident events between 1st January 2007 and 31st December 2011 [18]. To match the definition of risk used here, it must be assumed that each user is exposed to a single treatment episode, and that each event belongs to a unique patient and therefore a unique exposure. These are reasonable assumptions given that antihypertensive drugs are used on a continuous basis, and that the event is rare.
Exposure
For each included drug, the total number of exposures in USA between 1st January 2007 and 31st December 2011, , was estimated based on the reported number of patients in the Mini-Sentinel cohort that were eligible for an incident treatment episode. The actual number of users in the cohort was scaled up to the entire population via the relation between the number of eligible patients and the total US population as of 30th June 2009, according to the US Census Bureau.
Risk limits
The report counts required to compute the upper and lower risk limits for the six included drugs, and , were taken from the subset of VigiBase comprised by US reports with onset dates between 1
st
January 2007 and 31
st
December 2011. All data used to compute the risk limits and the reference values are given in Table
3
, and the results are shown in Figure
3
. The US subset of VigiBase is not identical to the national US database, and slight deviations in the results would be expected had the analysis been performed directly in the national database.
Table 3
Data used to compute limits and reference values for the risk of coeliac disease following antihypertensive treatment
| Drug | * | | ‡ | Reference risk |
| --- | --- | --- | --- | --- |
| Amlodipine | 26 | 23,272 | 8.1 million | 361 events in 991,184 users |
| Atenolol | 12 | 18,166 | 3.7 million | 181 events in 452,985 users |
| Hydrochlorothiazide | 20 | 17,786 | 7.4 million | 294 events in 913,563 users |
| Losartan | 9 | 7,232 | 3.5 million | 174 events in 440,583 users |
| Olmesartan | 31 | 5,243 | 1.2 million | 40 events in 151,461 users |
| Valsartan | 12 | 11,603 | 2.3 million | 118 events in 290,305 users |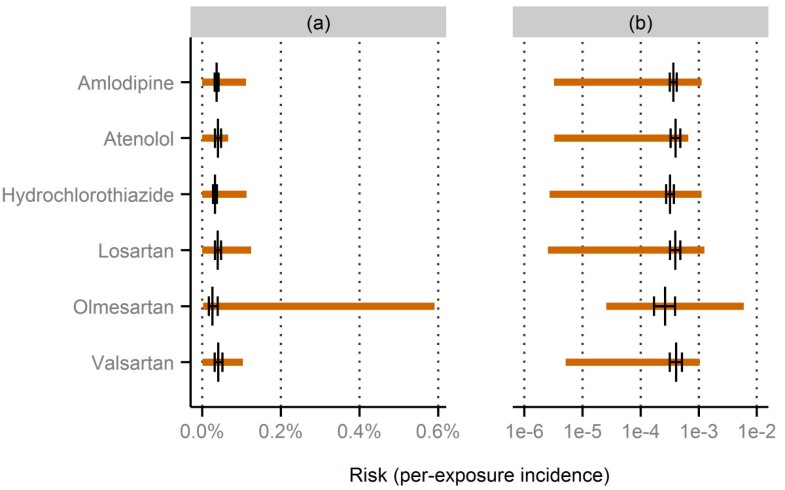 The reference risk estimates for all six drugs, including their 99% confidence intervals, are contained between their corresponding upper and lower risk limits. Compared to the previous example, the reference values generally reside further towards the upper limits here. This is sensible considering that the Pandemrix example features a much shorter duration of treatment and a generally healthier population. (Cf. Section 'Risk limits and their assumptions' above). Olmesartan deviates from the other drugs by having considerably higher risk limits. This is unsurprising since the original concern was raised for this drug in particular, based on US individual case reports.
Practical issues and possible developments
In this section we present and discuss some significant challenges and possible developments related to the practical application of our proposed framework.
Limitations and future directions
A key next step is to complement the modest empirical validation of the suggested approach provided in this article. Two isolated examples can serve mainly as an indication that the theoretical reasoning is correct. On the other hand, the derived upper and lower limits follow logically from a set of assumptions that have been thoroughly discussed. This should allow any potential user to judge whether or not this approach is suitable for the particular problem (s)he is facing.
The empirical validations that consequently should follow are indeed challenging. A major difficulty lies in determining what the true risk is, which is a prerequisite for judging whether the computed risk limits are satisfactory. This is challenging for several reasons: one needs to identify a data source that covers the same population as one's database of individual case reports; one needs to reasonably transfer the exposure definition to that setting; and one needs to define the adverse effect of interest within the medical terminology used in that particular data source. The issue is further complicated by the fact that no data source is likely to have perfect capture of medical events, and therefore in a sense the 'true' risks are likely to be lower limits as well.
For the combination of prescription drugs and adverse events that require medical attention, the most useful data source seems to be databases of electronic health records. Larger controlled trials are another alternative, especially if conducted in heterogeneous patient populations that reasonably resemble clinical reality. Naturally only such adverse effects can be used for validation that are quantifiable in another data source; these are, however, not of primary interest in practice. It may also be possible to consult the literature for a collection of true risks against which to compare. However, most epidemiological studies report measures of relative rather than absolute risks.
We believe that a proper validation should not only compare the computed risk limits with some reference value of true risk, but it should also investigate the underlying assumptions directly. Adding those two aspects together should yield very useful information on the circumstances under which this framework could be expected to work, and on any general tendencies in the relationship between the computed risk limits and the true risk.
Conclusions
This paper presents a conceptual model that links collections of individual case reports to drug exposures and occurrences of adverse events in the real world. Based on this model, necessary assumptions are derived that permit reporting ratios to be used as upper limits for risks in the real world. It is also shown how and when report counts can be combined with external estimates of drug exposure to construct lower risk limits, and the entire framework is applied to data from two real examples with satisfactory results.
Our in-depth discussion of the underlying assumptions shows that the framework is best suited for serious adverse effects, which will typically be those rare effects for which quantification by other means is most difficult. While this discussion also shows that short duration of treatment and a healthy patient population are other factors that favour the validity of the approach, practical countermeasures are presented for other scenarios.
This work will offer a much needed alternative in any quantitative analysis that involves drug risks. It will be particularly useful in structured benefit-risk assessments that include rare adverse effects that cannot be otherwise quantified without retreating to entirely subjective guesswork. Not only are such assessments right on the path along which pharmacovigilance and medicines regulation in general are moving, but already today they are part of regulatory post-marketing guidelines adopted globally.
Endnote
a Both Finland and Sweden belong to the 117 members of the WHO Programme for International Drug Monitoring, and therefore forward their individual case reports to VigiBase. However, to avoid the risk of misrepresenting their respective national data on this sensitive issue, we chose to contact these centres directly and use their locally recorded information.
Declarations
Acknowledgements
The authors are indebted to Leena Sommarberg at the Finnish Medicines Agency and Dr Birgitta Grundmark at the Medical Products Agency in Sweden for sharing data on Pandemrix and consenting to its use in this article. Likewise, the analysis of the example with antihypertensive drugs and coeliac disease was made possible through the kind contribution of individual case reports to VigiBase by the US Food and Drug Administration. No one except the authors are to be held accountable for the opinions and conclusions in this paper.
Authors' Affiliations
(1)
Uppsala Monitoring Centre, Sweden
(2)
Department of Computer and Systems Sciences, Stockholm University, Sweden
(3)
Department of Mathematics, Stockholm University, Sweden
Copyright
© Caster et al.; licensee BioMed Central Ltd. 2014
This article is published under license to BioMed Central Ltd. This is an Open Access article distributed under the terms of the Creative Commons Attribution License (http://creativecommons.org/licenses/by/2.0), which permits unrestricted use, distribution, and reproduction in any medium, provided the original work is properly cited. The Creative Commons Public Domain Dedication waiver (http://creativecommons.org/publicdomain/zero/1.0/) applies to the data made available in this article, unless otherwise stated.