An integrated physiology model to study regional lung damage effects and the physiologic response
Theoretical Biology and Medical Modelling
2014
11:32
Received: 19 December 2013
Accepted: 14 July 2014
Published: 21 July 2014
Abstract
Background
This work expands upon a previously developed exercise dynamic physiology model (DPM) with the addition of an anatomic pulmonary system in order to quantify the impact of lung damage on oxygen transport and physical performance decrement.
Methods
A pulmonary model is derived with an anatomic structure based on morphometric measurements, accounting for heterogeneous ventilation and perfusion observed experimentally. The model is incorporated into an existing exercise physiology model; the combined system is validated using human exercise data. Pulmonary damage from blast, blunt trauma, and chemical injury is quantified in the model based on lung fluid infiltration (edema) which reduces oxygen delivery to the blood. The pulmonary damage component is derived and calibrated based on published animal experiments; scaling laws are used to predict the human response to lung injury in terms of physical performance decrement.
Results
The augmented dynamic physiology model (DPM) accurately predicted the human response to hypoxia, altitude, and exercise observed experimentally. The pulmonary damage parameters (shunt and diffusing capacity reduction) were fit to experimental animal data obtained in blast, blunt trauma, and chemical damage studies which link lung damage to lung weight change; the model is able to predict the reduced oxygen delivery in damage conditions. The model accurately estimates physical performance reduction with pulmonary damage.
Conclusions
We have developed a physiologically-based mathematical model to predict performance decrement endpoints in the presence of thoracic damage; simulations can be extended to estimate human performance and escape in extreme situations.
Keywords
Mathematical modeling
Respiratory gas exchange
Physiology
Physical performance
Fatigue
Lung damage
Background
Mathematical modeling in the area of human respiration is well established for healthy cases, often utilizing homogeneous lungs and uniform gas exchange. Some groups have developed models which account for lung heterogeneity; these models are typically either general and contain little geographical information (lobe/segment detail) [1–4] or are subject-specific and require a CT scan for full characterization [5–7]. Some groups have worked within a middle ground [8–10], however none of these modeling endeavors have incorporated ventilatory control, physical performance, and the impact of regional lung damage. Currently there is a need for a model which incorporates heterogeneous lungs with ventilatory control mechanisms, allowing for the prediction of how regional lung damage can impact gas exchange, respiratory control, and physical performance capabilities.
Pulmonary damage can be induced by external factors such as blast, blunt trauma and chemical injury [11–17]. Pulmonary damage has been quantified by measuring lung weight change or fluid infiltration (edema), which has been shown to impact gas exchange via shunting and altered diffusing capacity [18]. These processes reduce oxygen delivery to the blood, which can potentially reduce physical performance (time to fatigue) [19].
Our group has previously developed a dynamic physiology model (DPM) which predicts the ventilatory responses to oxygen-limiting environments, toxic gas inhalation and exercise [20, 21]. The DPM ties together several independent modules into a single compartmentalized model with the ability to predict the physiological impact (e.g. ventilatory response, blood gas levels, gas exchange kinetics, and metabolism) from external stimuli (e.g. toxic gas exposure, exercise). The airway region is a steady-state two compartment approximation of the lungs which exchanges gas with the pulmonary capillaries. The DPM has been validated and shown to accurately account for the physiological response to several effectors. While the model accurately describes experimental data in healthy cases, the simplified airway compartment may not be adequate when accounting for heterogeneous lung behavior and damage.
The model developed here is an extension of the DPM which replaces the original steady-state airway compartment with a dynamic anatomic pulmonary system. The anatomic pulmonary model incorporates an asymmetric branching airway tree leading to independent lung segments with heterogeneous ventilation and perfusion, allowing for the simulation of regional and total lung damage. Lung injury via blunt trauma or blast damage leads to blood infiltration of the airways, an injury process known as edema. Edema can also be induced chemically with compounds that increase membrane permeability such as oleic acid. Edema from injury is modeled here as an additional barrier to gas transport, reducing the diffusing capacity across the alveolar membrane. Fluid infiltration also blocks oxygen delivery to damaged alveoli, resulting in a fraction of blood bypassing the site of oxygenation (shunt). For the purpose of gas exchange efficiency, the magnitude of lung injury is quantified in terms of fluid infiltration, which can be measured directly with water density changes on CT scans, or can be approximated post-mortem by physical measurements of lung weight and lung fluid levels. The lung injury model presented in this paper is calibrated with published data from animal experiments; injury mechanisms include blast, blunt trauma and oleic acid treatment. Adding this new level of detail into the previous model will allow for the prediction of physical performance impairment in the presence of heterogeneous lung damage.
Discussion
The development and integration of an anatomic pulmonary model into the previously described DPM allows for the possibility of simulating partial or total lung damage and relating that damage to gas exchange and subsequent oxygen delivery to the body. Thus, the DPM fills a gap in current modeling capabilities, allowing for the estimation of the impact of regional lung damage on oxygen and carbon dioxide exchange. The model can be used to understand the impact of pulmonary damage on physical performance.
With the introduction of the new pulmonary module, the first task is to confirm the model maintains the ability to simulate the physiologic responses described in previous reports. The exercise response calculations utilized in the previous model are unchanged in the current version; workload and muscle movement directly impact tidal volume and frequency as described previously [20]. Consequently, the ventilatory response to exercise agrees well with the literature data which the original exercise model was based upon (Figures 3 and 4). The physiological response to exercise and hypoxia also remains accurate (Figure 5). Thus, the introduction of the anatomic pulmonary module does not alter the previously validated response; the same amount of oxygen reaches the alveolar and capillaries in the same time-frame as the data suggests.
While the model in this paper is the first model to couple heterogeneous geographical information (segments and lobes) with ventilation control models, previous groups have developed independent lung models to examine the effects of airway heterogeneity. Tang et al. [3] utilized a 15-compartment model of the airways with symmetric branching based on the Weibel data. This model is capable of simulating pulmonary shunts, as well as ventilation/perfusion mismatches by modeling the alveolar region as 4 compartments with unique ventilation/perfusion ratios. While this model allows for unsteady breath-to-breath simulations of gas exchange, as well as simulated dysfunction via the shunt and V/Q distributions, there is no specific regional information included. This could lead to difficulties in expanding the model to blunt trauma and blast damage, where the geographical location and relative magnitude of damage can be predicted by finite element models. Additional models have been developed by Yem [1, 2] and Whiteley [4] with similar features and drawbacks. Gisolf [47] developed a model which introduced some level of geographical information by assigning nine ventilation/perfusion compartments as parallel vertical slices of the human lung. This model structure allows for more relevant geographical studies in damage and gas exchange. Regardless, no previous model couples the heterogeneous lung with an ability to predict physiologic response to regional damage, as well as ventilation control under exercise, toxic gas exposure and reduced oxygen supply. The integration of pulmonary damage into the DPM allows for the ability to predict the effects of regional lung damage on physical performance endpoints. Lung damage from blunt trauma, blast or chemical injury is modeled as fluid infiltration of the airways; increased fluid levels decreases the diffusing capacity for oxygen transport and can result in blood bypassing the active site of oxygenation. The introduction of regional pulmonary damage allows for the model to be used to simulate human performance in response to stressors including exposure to low oxygen, toxic gas, exercise and heterogeneous thoracic trauma.
Estimating the impact of fluid infiltration on shunt and diffusing capacity is accomplished by examining pulmonary function data from animals treated with oleic acid. OA causes permeability edema and is assumed to act uniformly on the lungs. The model was used to predict the response to damage in OA treated exercising goats. Measurements were taken at baseline, following OA treatment and after 1 day of recovery, giving 3 separate damage conditions. For each case, the model best-fit curve was generated by treating shunt and diffusing capacity as variables. Assuming the lung damage was uniform and steady-state at the time of measurement, a curve was established relating DL and shunt changes to changes in damage level. With limited exercise data for only 3 injury conditions, the estimated relationship between experimental damage level and model damage parameters would benefit from additional data. The linear trend linking shunt and DL should be further explored when more data becomes available; further experiments are also required to understand how the relationship behaves at more extreme damage levels. For the current study, the developed relationship between DL and shunt changes to damage level is assumed to be true in applying damage to the whole lung, or to regional damage such as blast or blunt trauma.
Utilizing this relationship between experimental damage and model damage parameters, shunt and DL changes were then linked with experimental lung weight increases from fluid infiltration in sheep following either OA treatment or blast damage. This link allows for quantitative prediction of the effects of regional damage if regional lung weight change is known. The required model shunt was plotted against lung weight increase (Figure 7) for three separate experiments. The combined model predictions for each experiment yields a linear trend between lung weight increase and the required damage values. This correlation is important, as it allows for linking physical performance in the DPM to blast and blunt trauma damage-prediction algorithms that output lung weight increase estimates such as those developed by MacFadden et al. [48]. This allows for simulation of performance decrement in the presence of complex blast patterns or blunt trauma behind armor. The model has been utilized to predict performance decrement in sheep blasted with shock tubes (Figure 8). The experimental fatigue time aligns with the model predicted fatigue times for all damage levels, and produces a line close to identity.
The model can be used to predict the impact of regional vs. uniform lung damage on human exercise capabilities (Figure
9
). Simulations were run to compare the difference in oxygenation and time-to-fatigue following a step increase in workload (360 watts) for the case of uniform lung damage, and an equivilant amount of regional lung damage. Uniform damage was simulated as 20% lung weight gain across all segments. Regional damage was simulated by lumping all of the damage from the uniform case into the right lung only, which was calculated by scaling the total weight gain percent (20%) by the fraction of right lung volume to total lung volume (0.52), resulting in a weight gain of 38.1% in each of the right lung segments. Simulated power output (Figure
9
a) demonstrates that the damage leads to earlier fatigue than a healthy case (deviation from desired workload of 360 Watts). Regional damage conditions fatigue slightly faster than uniform damage due to the reduced oxygenation (Figure
9
b). This reduced oxygenation in moderate regional damage vs. mild uniform damage is likely due to the alveolar-capillary diffusion limitations in exercise with high blood flow and increased O
2
consumption.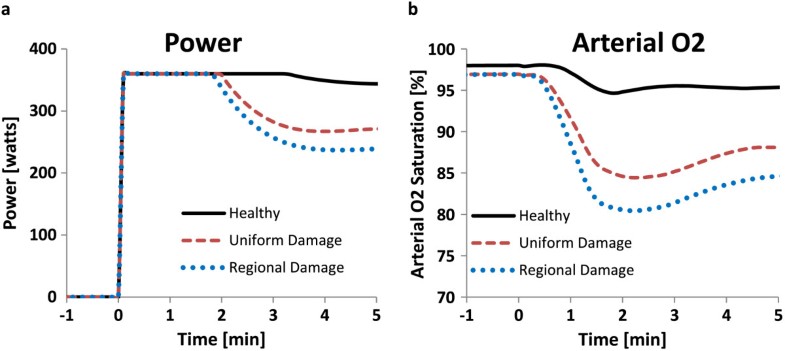 There are limitations to the predictive power of the DPM in terms of response to extreme conditions. The underlying models were derived and validated for several environmental conditions and exercise levels. However, the human response at extremes (e.g. maximum sprinting speed) can be highly variable between subjects. Additionally, the DPM is designed to simulate the average human response under healthy conditions. This paper introduced the ability to describe pulmonary damage, however the DPM still represents the response of a healhy human (e.g. not accurate for disease states).
Conclusion
With the development of the DPM, we have built a unique tool which utilizes a heterogeneous pulmonary model and predicts physical performance decrement in response to stimuli such as exercise, toxic gas exposure, hypoxia, blunt trauma, blast damage and chemical lung injury. The DPM is validated against experimental data, predicting physiologic response to exercise and hypoxia in humans. The damage parameters were calibrated using available animal lung damage experiments; shunt and diffusing capacity reduction caused by fluid infiltration is correlated to experimental lung weight change. The resulting model is capable of predicting physical performance decrement in response to a range of stressors.
Abbreviations
β:

Gas solubility
C:

Gas concentration
D:

Diffusion coefficient
DL:

Alveolar diffusing capacity
f:

Fraction of total alveolar volume
fQ:

Perfusion fraction
Freq:

Respiratory rate
h:

Lung segment height
l:

Thickness of diffusion layer
:

Mass uptake
n:

Number of capillary divisions
p:

Gas partial pressure
Q:

Blood flow
QTot:

Total cardiac output
R:

Gas-constant
T:

Temperature
V:

Volume
:

Flow rate
Vcapillary:

Total lung capillary volume
VT:

Tidal volume.
Alv:

Alveolar region
AW:

Airway region
b:

Blood
c:

Capillary region
E:

Exhalation
in:

Inlet value
I:

Inhalation
i:

Compartment i
j:

Gas j
k:

Segment k
m:

Airway mucus layer
t:

Airway tissue layer.
Declarations
Acknowledgements
This work was sponsored by the US Army Medical Research and Materiel Command under contract W81XWH-11-D-0011. The opinions or assertions contained herein are private views of the authors and are not to be construed as official or as reflecting views of the Department of the Army or the Department of Defense. Cleared for public release on 11 July 2013.
Authors' Affiliations
(1)
L-3 Applied Technologies, Inc., 10770 Wateridge Circle, Suite 200, San Diego, USA
Copyright
© Shelley et al.; licensee BioMed Central Ltd. 2014
This article is published under license to BioMed Central Ltd. This is an Open Access article distributed under the terms of the Creative Commons Attribution License (http://creativecommons.org/licenses/by/2.0), which permits unrestricted use, distribution, and reproduction in any medium, provided the original work is properly credited. The Creative Commons Public Domain Dedication waiver (http://creativecommons.org/publicdomain/zero/1.0/) applies to the data made available in this article, unless otherwise stated.