An immune reaction may be necessary for cancer development
Theoretical Biology and Medical Modelling
2006
3:6
Received: 20 December 2005
Accepted: 03 February 2006
Published: 03 February 2006
Abstract
Background
The hypothesis of immunosurveillance suggests that new neoplasms arise very frequently, but most are destroyed almost at their inception by an immune response. Its correctness has been debated for many years.
In its support, it has been shown that the incidences of many tumor types, though apparently not all, tend to be increased in immunodeficient animals or humans, but this observation does not end the debate.
Alternative model
There is an alternative to the surveillance hypothesis; numerous studies have shown that the effect of an immune reaction on a tumor is biphasic. For each tumor, there is some quantitatively low level of immune reaction that, relative to no reaction, is facilitating, perhaps even necessary for the tumor's growth in vivo. The optimum level of this facilitating reaction may often be less than the level of immunity that the tumor might engender in a normal subject.
Conclusion
The failure of a tumor to grow as well in the normal as it does in the immunosuppressed host is probably not caused by a lack of tumor-cell killing in the suppressed host. Instead, the higher level of immune response in a normal animal, even if it does not rise to tumor-inhibitory levels, probably gives less positive support to tumor growth. This seems more than a semantic distinction.
Keywords
Skin TumorBiphasic EffectSpontaneous TumorImmunogenic TumorImmune Capacity
Introduction
It is now almost 50 years since the first convincing demonstration that implantation of most MCA (3-methylcholanthrene)-induced mouse sarcomas into animals of the same inbred strain as the animal of origin could induce a tumor-specific, growth-inhibiting immunity [1]. The phenomenon proved general; tumors that were induced by other known oncogens, such as other chemical carcinogens, radiation or oncogenic viruses, were usually demonstrably immunogenic in transplantation tests. It was also observed that, at least in the case of MCA-in-paraffin-induced tumors, the degree of immunogenicity tended to be directly related to the concentration of the inducer [2–4], suggesting that sporadic, spontaneous tumors might characteristically have little or perhaps no immunogenicity. This point will be further discussed.
When immunogenic MCA -induced tumors were passaged by transplantation through syngeneic hosts, the immunogenicity proved to be surprisingly stable from one tumor generation to the next [5]. Although both Bartlett [6] and Bubenik [7] demonstrated some selective effects related to immunogenicity, highly immunogenic tumors usually remained highly immunogenic and those of lesser immunogenicity tended to remain as such. However, sometimes a tumor appeared to either gain or lose an aspect of immunogenicity; this could be either a change in immunizing ability [8] or a change in susceptibility to the effect of immunity on the tumor's growth [5]; gain or loss in either of these parameters was often compensated by an opposite change in the other [5]. Although the tumors could change their immunogenic characteristics with time, their surprising overall stability suggested that the changelings had little selective advantage [5]. The expectation that passage would select for nonimmunogenic tumor variants, predicted by the immunosurveillance hypothesis, was at best only partially realized.
Almost a quarter of a century ago, a wide range of observations, including a possible benefit to the fetus of an anti-fetal immune reaction, suggested that immunity might sometimes serve to stimulate or facilitate rather than inhibit tumor growth [
9
,
10
]. This hypothesis was soon supported by experiment. It was shown that a syngeneic, immunogenic tumor-implant in a thymectomized and irradiated mouse was stimulated to grow by mixing the inoculum with a small proportion of specifically immune, as compared with nonimmune, spleen cells. However, larger proportions of the same immune-cell population inhibited tumor growth [
11
]. Owing to the radiation and thymectomy, this finding was believed to be unaffected by the host's native immune mechanisms. Thus, it was concluded that the immune response affected the growth of syngeneic tumor implants in mice biphasically; a quantitatively small immune reaction would facilitate tumor growth, but a larger reaction would be inhibitory. An apparently analogous phenomenon was seen
in vitro
when tumor cells were exposed to varying numbers of specifically immune lymphoctes [
12
]. This putative relationship, as illustrated in a previous publication [
13
], is shown in Fig.
1
.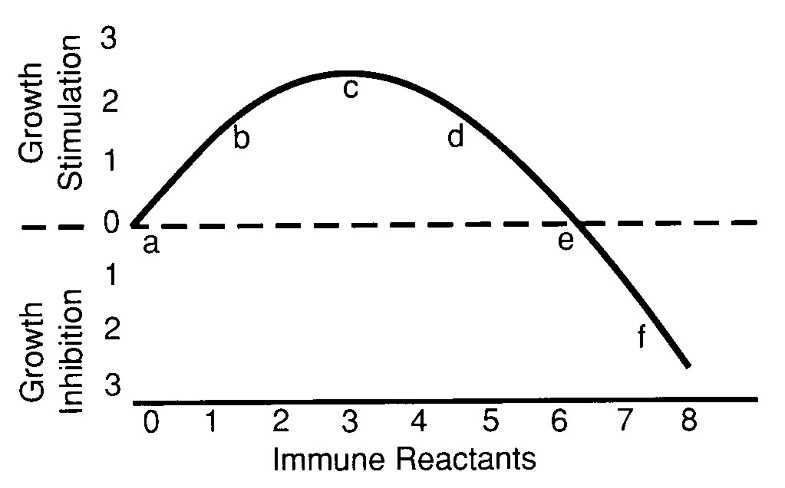 Presumably an immune reaction must be of small magnitude before it becomes large. This presumption is supported by the observation that 5 days after implantation of an immunogenic, MCA-induced tumor, peripheral blood lymphocytes were stimulatory to tumor growth in vitro, but by 12 days they had become inhibitory [14]. This result seems to challenge the surveillance hypothesis: could there be surveillance of incipient tumors if incipient immune reactions are weak and therefore in the tumor-facilitating range? So does the surprising stability of tumor immunogenicity on passage through numerous transplant generations [5], discussed above.
Conclusion
In view of the biphasic curve, it seems that the hypothesis of immunosurveillance, at least as originally conceived, must be discarded. The demonstration of an increased tumor incidence after some degree, even a severe degree, of immunosuppression cannot prove that there might not have been a lower rather than a higher tumor incidence had the immunosuppression been more complete. The reality of the biphasic curve suggests the possibility, even probability, that some level of immune reaction may be necessary for tumor growth in vivo. At least this hypothesis cannot, I believe, be excluded by any presently available data.
Even if a facilitation phenomenon might initially be necessary for the growth of in situ tumors, the immune reaction might develop sufficient strength during later phases of tumor growth to become inhibitory. In this sense, the two hypotheses, facilitation and surveillance, are not necessarily mutually exclusive if temporally displaced. Could actual toxicity to a tumor sometimes follow initial tumor-facilitation? Probably not; the fact that even highly immunogenic, MCA-induced mouse sarcomas are facilitated in situ by the level of immunity they induce [19] suggests that the eventual development of a higher tumor-inhibitory level of immunity is, in the case of most tumors, very unlikely.
For a rather different view of the role of immunity in cancer, see the review by Robert D. Schreiber [35].
Declarations
Acknowledgements
The author wishes to thank Barbara Hugus, Lawrence Loeb, and Liisa Prehn for critically reading the manuscript.
Authors' Affiliations
(1)
Department of Pathology, University of Washington Seattle, USA
Copyright
© Prehn; licensee BioMed Central Ltd. 2006
This article is published under license to BioMed Central Ltd. This is an Open Access article distributed under the terms of the Creative Commons Attribution License (http://creativecommons.org/licenses/by/2.0), which permits unrestricted use, distribution, and reproduction in any medium, provided the original work is properly cited.