Lens stem cells may reside outside the lens capsule: an hypothesis
Theoretical Biology and Medical Modelling
2007
4:22
Received: 18 December 2006
Accepted: 08 June 2007
Published: 08 June 2007
Abstract
In this paper, we consider the ocular lens in the context of contemporary developments in biological ideas. We attempt to reconcile lens biology with stem cell concepts and a dearth of lens tumors.
Historically, the lens has been viewed as a closed system, in which cells at the periphery of the lens epithelium differentiate into fiber cells. Theoretical considerations led us to question whether the intracapsular lens is indeed self-contained. Since stem cells generate tumors and the lens does not naturally develop tumors, we reasoned that lens stem cells may not be present within the capsule. We hypothesize that lens stem cells reside outside the lens capsule, in the nearby ciliary body. Our ideas challenge the existing lens biology paradigm.
We begin our discussion with lens background information, in order to describe our lens stem cell hypothesis in the context of published data. Then we present the ciliary body as a possible source for lens stem cells, and conclude by comparing the ocular lens with the corneal epithelium.
Keywords
Fiber CellCiliary BodyStem Cell PopulationCorneal EpitheliumCorneal Epithelial Cell
Background
Lens background
The vertebrate lens is a transparent cellular structure, specialized to focus and transmit light. The lens is composed of two cell types – epithelial cells that form a single cuboidal layer on the anterior surface, and elongated fiber cells that form the posterior bulk of the lens (Figure
1
). A capsule of extracellular matrix components encompasses the lens.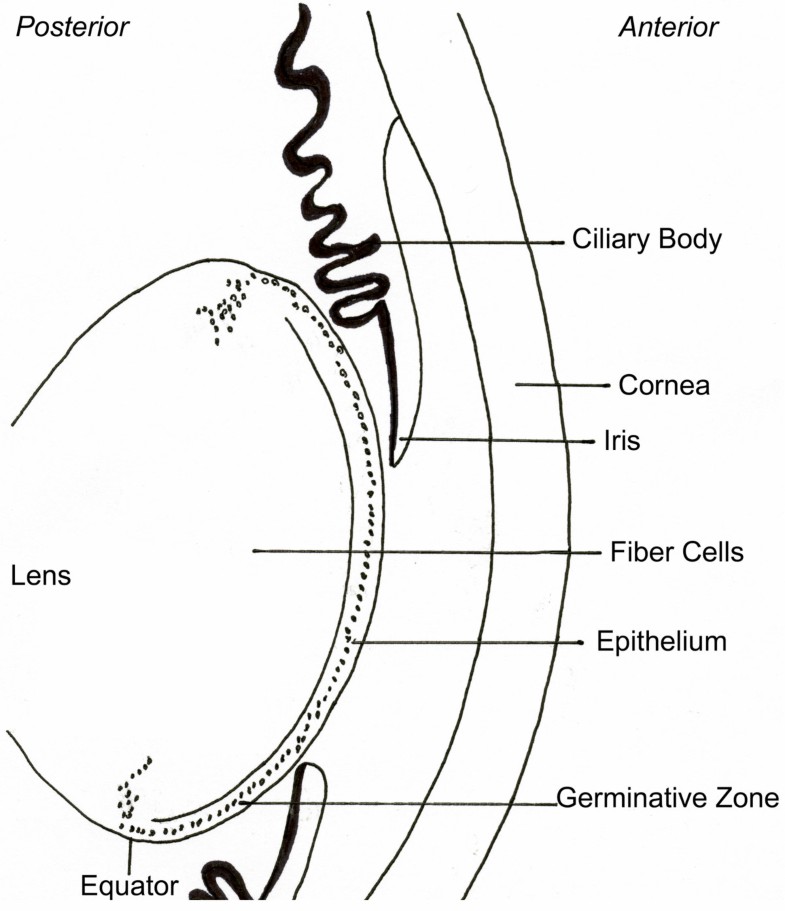 The lens grows slowly throughout life, primarily via cell division in the germinative zone. The germinative zone is a narrow cellular region that rings the lens epithelium toward the periphery of the anterior lens surface. Newly formed cells within the germinative zone elongate and migrate along the inner capsular surface toward the lens equator, forming new lens fiber cells as they continue to elongate and migrate posteriorly beyond the equator. These new fiber cells add to the periphery of the existing fiber cell mass, displacing older fiber cells toward the interior of the expanding lens [1–3]. Central fiber cells are retained for life. Historically, the adult lens has been viewed as a closed system, in which all lens precursor cells or stem cells reside within the capsular confines.
Lens stem cells
We use the following definition of lens stem cells – cells with prolonged self-renewing capacity, that produce one or more differentiated cell types with limited proliferative capabilities [4, 5]. In general, stem cells are small, undifferentiated cells that reside in contact with a basement membrane in a protected location known as a stem cell niche. Infrequent stem cell divisions result in one of two cell outcomes. The new cell either remains in its niche as a stem cell, or leaves as a progenitor cell that migrates from the niche to participate in cell differentiation events. Progenitor cells destined for differentiation increase in number through multiple, finite cell divisions as transit amplifying cells [5–7].
A lifetime of cell division in the lens implies the existence of a lens stem cell population. Typically stem cells reside in a protected niche, which for surface or exposed epithelia is a pigment protected and well vascularized location [8, 9]. The lens lacks both pigment and a vascular system. An additional point is that tumors often arise from stem cells [10, 11], yet the lens does not develop tumors [12, 13].
How might these incongruities be reconciled? We hypothesize that the lens is not a closed system. Specifically, lens stem cells may reside outside the lens capsule. If the adult lens does not contain its own stem cell population, we asked where lens stem cells could exist. The pigmented, vascularized ciliary body lies in close proximity to the lens germinative zone, located outside of the lens capsule [14–17]. We propose that the ciliary body could serve as a potential source of stem cells for the lens. We will discuss the ciliary body in more detail below.
Conclusion
In light of concepts that have evolved in stem cell literature in recent years, we re-examine the ocular lens in the context of features common to other biological tissues. Since the lens grows throughout life and does not naturally develop tumors, we ask whether lens stem cells could reside in a more typical stem cell niche, one that is pigmented and vascularized. We hypothesize that lens stem cells reside outside the lens capsule in nearby pigmented ocular tissue, the ciliary body. Here, we present our review of the lens literature from this novel perspective.
We conclude that a postulated extracapsular source of ocular lens stem cells is consistent with a large body of literature. Future experiments on lens development, stem cell biology, cell migration, and ocular oncology may shed light on the robustness of these concepts. In the meantime, we hope that our provocative ideas will stimulate discussion in the fields of lens and ocular biology, and encourage the consideration of experimental results from multiple perspectives.
Declarations
Acknowledgements
J. Daniel Nelson, M.D., for his commitment to scientific inquiry.
Authors' Affiliations
(1)
Ophthalmology Research, HealthPartners Medical Group and Research Foundation, Regions Hospital, USA
(2)
Department of Biomedical Sciences, Creighton University, Omaha, USA
Copyright
© Remington and Meyer; licensee BioMed Central Ltd. 2007
This article is published under license to BioMed Central Ltd. This is an Open Access article distributed under the terms of the Creative Commons Attribution License (http://creativecommons.org/licenses/by/2.0), which permits unrestricted use, distribution, and reproduction in any medium, provided the original work is properly cited.