Immunostimulation and Immunoinhibition of Premalignant Lesions
Theoretical Biology and Medical Modelling
2007
4:6
Received: 24 November 2006
Accepted: 06 February 2007
Published: 06 February 2007
Abstract
Background
The immune reaction may be either stimulatory or inhibitory to tumor growth, depending upon the local ratio of immune reactants to tumor cells.
Hypothesis
A tumor-stimulatory immune response may be essential for survival of a neoplasm in vivo and for the biological progression from a premalignant lesion to a malignancy. Neither a positive nor a negative correlation between the magnitude of an immune-cell infiltrate and a cancer's prognosis can reveal whether the infiltrate was stimulating or inhibiting to the tumor's growth unless the position on the nonlinear curve that relates tumor growth to the magnitude of the immune reaction is known.
Discussion
This hypothesis is discussed in relation to the development of human malignant melanomas and colorectal cancers.
Keywords
PapillomaPremalignant LesionLymphoid InfiltrateSmad4 GeneBenign Nevus
Background
The dose-response curve (ICR) relating the magnitude of the immune reaction to tumor growth is not linear, at least in the mouse (Figure
1
). The fact that an immune reaction may, under some circumstances, act to enhance rather than inhibit neoplastic growth has been known for many years [
1
]. The first convincing demonstration that more might be involved than a mere blockage of a defensive immunity was probably a study with MCA-induced mouse sarcomas in a totally syngeneic system [
2
]. When various numbers of specifically immune spleen cells were mixed with a fixed number of tumor cells, the growths of the mixtures, when implanted into radiated and thymectomized syngeneic recipients, showed that the spleen cells were, relative to the effect of normal spleen cells, either stimulatory or inhibitory to the tumor's growth. Which result occurred
depended upon the local ratio of immune reactants to tumor cells
;
low ratios stimulated, but high ratios were inhibitory
[
2
]. A suggestively similar relationship was seen in vitro [
3
]. Thus, there is a problem in the interpretation of lymphatic infiltrates, especially in premalignant lesions; when is a lymphatic infiltrate stimulatory and when is it inhibitory to tumor growth?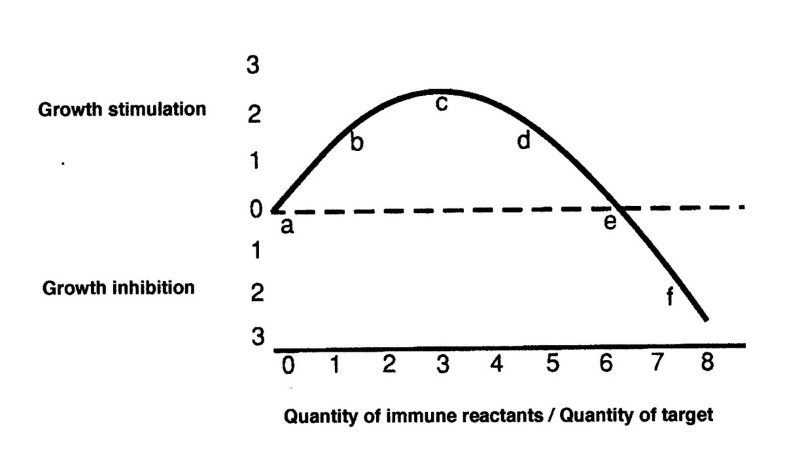 In carcinogenesis, as with implanted tumors, whether stimulation or inhibition occurs probably depends upon where on the immune response curve (Figure 1) the system may be located. This location, in turn, would depend upon the intrinsic immune-capacity of the host and the immunogenicity of the tumor, perhaps as modified by trauma and/or inflammation [4]. It seems probable that an early lesion might be stimulated to grow by a weak incipient immune reaction, but later, as the immune reaction grew in magnitude, the effect might become inhibitory; if immunodepression moved the reaction from "d" to "b" on the curve in Figure 1, no net effect would be seen. Perhaps this is why Stutman, in his exhaustive review, found little evidence for either immunostimulation or immunoinhibition of carcinogenesis [5]. Furthermore, as I will subsequently explain, a correlation between the density of an immune-cell infiltrate and the prognosis cannot indicate whether the infiltrate is helping or hindering the growth of the tumor.
By "immune reaction" I refer to the algebraic sum of all those interacting parts that partake in the complex response to an antigenic stimulus: antibody, T cells, Tregs, NK cells, macrophages etc.; for a fuller discussion see [6, 7]. While this essay is concerned with dosage effects, the quality of the immune reactants is also critical as the following quote from Kim et al. illustrates: "selective loss of Smad4-dependent signalling in T cells leads to spontaneous epithelial cancers throughout the gastrointestinal tract in mice, whereas epithelial-specific deletion of the Smad4 gene does not. Tumours arising within the colon, rectum, duodenum, stomach and oral cavity are stroma-rich with dense plasma cell infiltrates. Smad4(-/-) T cells produce abundant T(H)2-type cytokines including interleukin (IL)-5, IL-6 and IL-13, known mediators of plasma cell and stromal expansion" [8].
Discussion
These considerations lead, I think, to a disturbing question: is it possible that the immune reaction to an autologous or syngeneic cancer is seldom truly tumor-inhibitory? Even in the classical case in which immunity is produced against the growth of a highly immunogenic MCA-induced mouse sarcoma [24], can one really be sure that the increased immune reaction did not move the reaction from "c" on the IRC to "e"; would the tumor fail to grow if the reaction were moved only from "c" to "e" and not further into the truly inhibitory range? Andrew's work (previously discussed [11]) suggests that a tumor might not grow if the reaction were near either "a" or "e"; at neither location would there be effective immunostimulation. It could be that lack of stimulation rather than immune inhibition predominates in many or even in most situations in which immunity is associated with failure of a tumor to grow. But do such considerations really have more than academic importance?
How to determine the position on the IRC of a given cancer-induced immune-reaction would seem to be a matter of considerable importance, but, as far as I can determine, suitable methodologies are yet to be developed.
The mechanism by which an immune reaction can stimulate tumor growth has also not been elucidated. However, it may be useful to mention my own current hypothesis. Rubin has recently reviewed the extensive literature showing that the phenotypic stability of cells is usually maintained, despite their myriad mutations, by the influence of surrounding cells [25]. Thus, I propose that an immune reaction may, when present in less than lethal quantity, interact with cell-surface antigens to liberate tumor-cell growth by interfering with the normal tumor-inhibiting interactions among the cells.
Abbreviations
Abbreviations:

IRC = immune response curve
Abbreviations:

MCA = 3-methylcholanthrene
Declarations
Acknowledgements
The author is indebted to the following for critically reading the manuscript: David Berd, Jason Bielas, Oscar Bustuoabad, Barbara Hugus, Lawrence Loeb, Liisa Prehn, and Raúl Ruggierio.
Authors' Affiliations
(1)
Department of Pathology, University of Washington, Seattle, USA
Copyright
© Prehn; licensee BioMed Central Ltd. 2007
This article is published under license to BioMed Central Ltd. This is an Open Access article distributed under the terms of the Creative Commons Attribution License (http://creativecommons.org/licenses/by/2.0), which permits unrestricted use, distribution, and reproduction in any medium, provided the original work is properly cited.