Sampling and sensitivity analyses tools (SaSAT) for computational modelling
Theoretical Biology and Medical Modelling
2008
5:4
Received: 17 September 2007
Accepted: 27 February 2008
Published: 27 February 2008
Abstract
SaSAT (Sampling and Sensitivity Analysis Tools) is a user-friendly software package for applying uncertainty and sensitivity analyses to mathematical and computational models of arbitrary complexity and context. The toolbox is built in Matlab®, a numerical mathematical software package, and utilises algorithms contained in the Matlab® Statistics Toolbox. However, Matlab® is not required to use SaSAT as the software package is provided as an executable file with all the necessary supplementary files. The SaSAT package is also designed to work seamlessly with Microsoft Excel but no functionality is forfeited if that software is not available. A comprehensive suite of tools is provided to enable the following tasks to be easily performed: efficient and equitable sampling of parameter space by various methodologies; calculation of correlation coefficients; regression analysis; factor prioritisation; and graphical output of results, including response surfaces, tornado plots, and scatterplots. Use of SaSAT is exemplified by application to a simple epidemic model. To our knowledge, a number of the methods available in SaSAT for performing sensitivity analyses have not previously been used in epidemiological modelling and their usefulness in this context is demonstrated.
Keywords
Standardize Regression CoefficientLatin Hypercube SamplingInfectious PeriodExternal ModelSensitivity Analysis Tool
Introduction
Mathematical and computational models today play a key role in almost every branch of science. The rapid advances in computer technology have led to increasingly more complex models as performance more like the real systems being investigated is sought. As a result, uncertainty and sensitivity analyses for quantifying the range of variability in model responses and for identifying the key factors giving rise to model outcomes have become essential for determining model robustness and reliability and for ensuring transparency [1]. Furthermore, as it is not uncommon for models to have dozens or even hundreds of independent predictors, these analyses usually constitute the first and primary approach for establishing mechanistic insights to the observed responses.
The challenge in conducting uncertainty analysis for models with moderate to large numbers of parameters is to explore the multi-dimensional parameter space in an equitable and computationally efficient way. Latin hypercube sampling (LHS), a type of stratified Monte Carlo sampling [2, 3] that is an extension of Latin Square sampling [4, 5] first proposed by McKay at al. [6] and further developed and introduced by Iman et al. [1–3], is a sophisticated and efficient method for achieving equitable sampling of all predictors simultaneously. Uncertainty analyses in this context use parameter samples generated by LHS as inputs in an independent external model; each sample may produce a different model response/outcome. Sensitivity analysis may then be conducted to rank the predictors (input parameters) in terms of their contribution to the uncertainty in each of the responses (model outcomes). This can be achieved in several ways involving primarily the calculation of correlation coefficients and regression analysis [1, 7], and variance-based methods [8].
In response to our need to conduct these analyses for numerous and diverse modelling exercises, we were motivated to develop a suite of tools, assembled behind a user-friendly interface, that would facilitate this process. We have named this toolbox SaSAT for "Sampling and Sensitivity Analysis Tools". The toolbox was developed in the widely used mathematical software package Matlab® (The Mathworks, Inc., MA, USA) and utilises the industrial strength algorithms built into this package and the Matlab® Statistics Toolbox. It enables uncertainty analysis to be applied to models of arbitrary complexity, using the LHS method for sampling the input parameter space. SaSAT is independent of the model being applied; SaSAT generates input parameter samples for an external model and then uses these samples in conjunction with outputs (responses) generated from the external model to perform sensitivity analyses. A variety of methods are available for conducting sensitivity analyses including the calculation of correlation coefficients, standardised and non-standardised linear regression, logistic regression, Kolmogorov-Smirnov test, and factor prioritization by reduction of variance. The option to import data from, and export data to, Microsoft Excel or Matlab® is provided but not requisite. The results of analyses can be output in a variety of graphical and text-based formats.
While the utility of the toolbox is not confined to any particular discipline or modelling paradigm, the last two or three decades have seen remarkable growth in the use and importance of mathematical modelling in the epidemiological context (the primary context for modelling by the authors). However, many of the methods for uncertainty and sensitivity analysis that have been used extensively in other disciplines have not been widely used in epidemiological modelling. This paper provides a description of the SaSAT toolbox and the methods it employs, and exemplifies its use by application to a simple epidemic model with intervention. But SaSAT can be used in conjunction with theoretical or computational models applied to any discipline. Online supplementary material to this paper provides the freely downloadable full version of the SaSAT software for use by other practitioners [see Additional file 1].
Description of methods
In this section we provide a very brief overview and description of the sampling and sensitivity analysis methods used in SaSAT. A user manual for the software is provided as supplementary material. Note that we use the terms parameter, predictor, explanatory variable, factor interchangeably, as well as outcome, output variable, and response.
Sampling methods and uncertainty analysis
Uncertainty analyses explore parameter ranges rather than simply focusing on specific parameter values. They are used to determine the degree of uncertainty in model outcomes that is due to uncertainty in the input parameters. Each input parameter for a model can be defined to have an appropriate probability density function associated with it. Then, the computational model can be simulated by sampling a single value from each parameter's distribution. Many samples should be taken and many simulations should be run, producing variable output values. The variation in the output can then be explored as it relates to the variation in the input. There are various approaches that could be taken to sample from the parameter distributions. Ideally one should vary all (M) model parameters simultaneously in the M-dimensional parameter space in an efficient manner. SaSAT provides random sampling, full factorial sampling, and Latin Hypercube Sampling.
Overview of software
SaSAT has been designed to offer users an easy to use package containing all the statistical analysis tools described above. They have been brought together under a simple and accessible graphical user interface (GUI). The GUI and functionality was designed and programmed using MATLAB® (version 7.4.0.287, Mathworks, MA, USA), and makes use of MATLAB®'s native functions. However, the user is not required to have any programming knowledge or even experience with MATLAB® as SaSAT stands alone as an independent software package compiled as an executable. SaSAT is able to read and write MS-Excel and/or MATLAB® '*.mat' files, and can convert between them, but it is not requisite to own either Excel or Matlab.
The opening screen presents the main menu (Figure
3a
), which acts as a hub from which each of four modules can be accessed. SaSAT's User Guide [see Additional file
2
] is available via the Help tab at the top of the window, enabling quick access to helpful guides on the various utilities. A typical process in a computational modelling exercise would entail the sequence of steps shown in Figure
3b
. The model (input) parameter sets generated in steps 1 and 2 are used to externally simulate the model (step 3). The output from the external model, along with the input values, will then be brought back to SaSAT for sensitivity analyses (steps 4 and 5).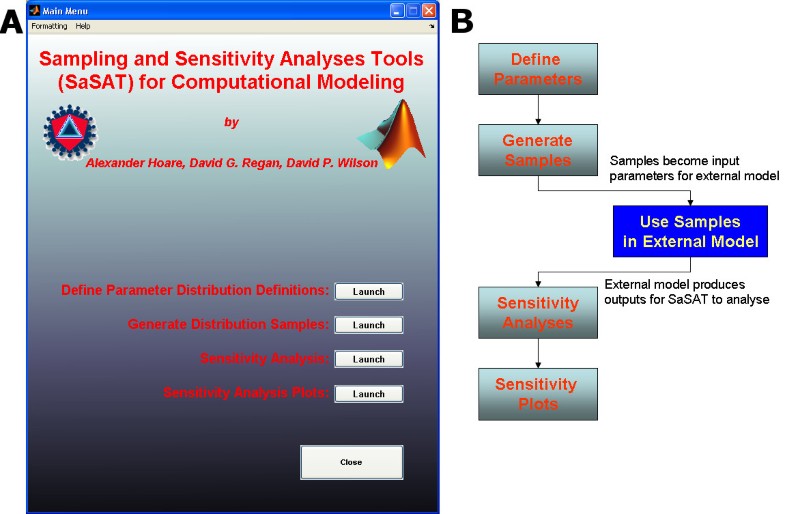 A simple epidemiological example
To illustrate the usefulness of SaSAT, we apply it to a simple theoretical model of disease transmission with intervention. In the earliest stages of an emerging respiratory epidemic, such as SARS or avian influenza, the number of infected people is likely to rise quickly (exponentially) and if the disease sequelae of the infections are very serious, health officials will attempt intervention strategies, such as isolating infected individuals, to reduce further transmission. We present a 'time-delay' mathematical model for such an epidemic. In this model, the disease has an incubation period of
τ
1
days in which the infection is asymptomatic and non-transmissible. Following the incubation period, infected people are infectious for a period of
τ
2
days, after which they are no longer infectious (either due to recovery from infection or death). During the infectious period an infected person may be admitted to a health care facility for isolation and is therefore removed from the cohort of infectious people. We assume that the rate of colonization of infection is dependent on the number of current infectious people
I
(
t
), and the infectivity rate
λ
(
λ
is a function of the number of susceptible people that each infectious person is in contact with on average each day, the duration of time over which the contact is established, and the probability of transmission over that contact time). Under these conditions, the rate of entry of people into the incubation stage is
λ
I
(known as the force of infection); we assume that susceptible people are not in limited supply in the early stages of the epidemic. In this model
λ
is the average number of new infections per infectious person per day. We model the change between disease stages as a step-wise rate, i.e., after exactly
τ
1
days of incubation individuals become infectious and are then removed from the system after an infectious period of a further
τ
2
days. If 1/
γ
is the average time from the onset of infectiousness until isolation, then the rate of change in the number of infectious people at time
t
is given by
The exponential term arises from the fact that infected people are removed at a rate
γ
over
τ
2
days [
49
]. See Figure
5
for a schematic diagram of the model structure. Mathematical stability and threshold analyses (not shown) reveal that the critical threshold for controlling the epidemic is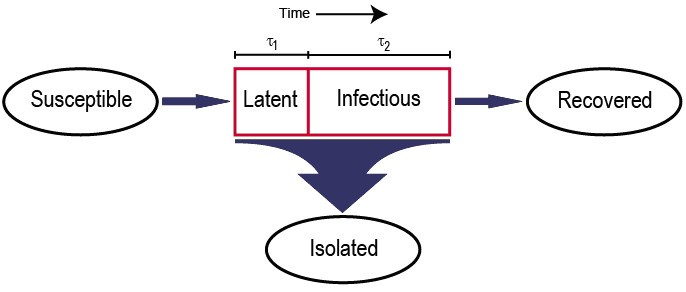 This threshold parameter, known as the basic reproduction number [50], is independent of τ1 (the incubation period). But at the beginning of the epidemic, if there is no removal of infectious people before natural removal by recovery or death (that is, if γ = 0), the threshold parameter becomes R0 = λ τ2. If the infectious period (τ2) is long and there is significant removal of infectious people (γ > 0), then the threshold criterion reduces to R0 = λ /γ. Intuitively, both of these limiting cases represent the average number of days that someone is infectious multiplied by the average number of people to whom they will transmit infection per day.
In order to contain (and effectively eliminate) an epidemic an intervention could involve attempting to quarantine infected individuals sufficiently quickly such that γ > λ. The sooner such an intervention is implemented, the greater the number of new infections that will be prevented. Therefore, an appropriate outcome indicator of the effectiveness of such an intervention strategy is the cumulative total number of infections over the entire course of the epidemic, which we denote as the 'attack number'. This quantity is calculated numerically from computer simulation. To investigate various interventions of quarantining, we model the steady increase from no isolation to a maximum of p% of infectious people that are isolated after an average of τ3 days of symptoms and this level of quarantining is maintained after T days. That is, , where t is the time from the beginning of infectiousness of the first infected person (infectiousness could relate to the onset of symptoms, but not necessarily). Then, provided that p/τ3 > λ and this quarantine level is sustained, the epidemic will be eradicated.
There are three biological parameters that influence disease dynamics: λ, τ1, and τ2 (of which λ and τ2 are crucial for establishing the epidemic); and there are three intervention parameters crucial for eliminating the epidemic (p, τ3) and for reducing its epidemiological impact (T). In order to demonstrate this theoretical model and the tools of SaSAT we choose a hypothetical newly emergent disease with an incubation period of τ1 ~ Γ (9,1/3) which specifies an average of 3 days and standard deviation of 1 day according to a Gamma distribution (Γ); an infectious period of τ2 ~ U(6,10) days (i.e., a uniform distribution over the interval 6–10 days); and a transmission rate of λ ~ N(0.4,0.1) new transmissions per day per infectious person (this is a Normal distribution with mean 0.4 and variance 0.1). This translates to an initial R0 prior to interventions of R0 ~ U(6,10) × N(0.4,0.1) (which has a mean of 3.2 and standard deviation of ~0.93). We also investigate a range of different intervention strategies: isolating (1) 50%, (2) 75%, or (3) 95% of infectious people after an average of (a) 1 day, (b) 2 days, or (c) 3 days of symptoms, and scaling up the intervention to reach the maximal attainable level after either (i) 1 month, (ii) 2 months, or (iii) 3 months. This leads to a total of 27 intervention strategies.
To simulate the epidemics, samples are required from each of the three biological parameters' distributions. SaSAT's 'Define Parameter Distribution Definitions' utility allows these distributions to be defined simply. Then, SaSAT's 'Generate Distribution Samples' utility provides the choice of random, Latin Hypercube, or full-factorial sampling. Of these, Latin Hypercube Sampling is the most efficient sampling method over the parameter space and we recommend this method for most models. We employed this method here, taking 1000 samples, using the defined parameter file. Independent of SaSAT, this set of 1000 parameter values was used to carry out numerical simulations of the time-courses of the epidemic, and in each case we commenced the epidemic by introducing one infectious person. This was then carried out for each of the 27 interventions (a total of 27,000 simulations). For each simulation the time to eradicate the epidemic and the attack number were recorded. These variables became the main outcome variables used for the sensitivity analyses against the input parameters generated by the Latin Hypercube Sampling procedure.
A research paper that is specifically focused on a particular disease and the impact of different strategies would present various figures (like Figure
6
, generated from SaSAT's 'Sensitivity Analysis Plots' utility) and discussion around their comparison. However, for the purposes of this paper in demonstrating SaSAT we chose just one strategy (namely, 2aiii: attaining isolation of 75% of infectious individuals 1 day after symptoms begin, after 3 months from the commencement of the epidemic). The cumulative distribution functions of the distributions of time to eradicate the epidemic and the attack number were produced by SaSAT's 'Sensitivity Plots' utility and shown in Figs.
7a,b
. The time until the epidemic was eradicated ranged from 28 to 583 days (99 median, IQR 81–126), and the total number of infections ranged from 2 to 501,263 (190 median, IQR 55–732). For the sake of illustration, if the goal of the intervention was to reduce the number of infections to less than 100, the importance of parameters in contributing to either less than, or greater than, 100 infections can be analysed with SaSAT by categorising each parameter set as a dichotomous variable. Logistic regression and the Smirnov test were used, within SaSAT's 'Sensitivity Analysis' utility and the results are shown in Table
1
. As far as we are aware these methodologies have not previously been used to analyse the results of theoretical epidemic models. It is seen from Table
1
that
λ
(the infectivity rate) was the most important parameter contributing to whether the goal was achieved or not, followed by
τ
2
(infectious period), and then
τ
1
(incubation period). These results can be most clearly demonstrated graphically by Kolmogorov-Smirnov CDF plots (Fig.
8
).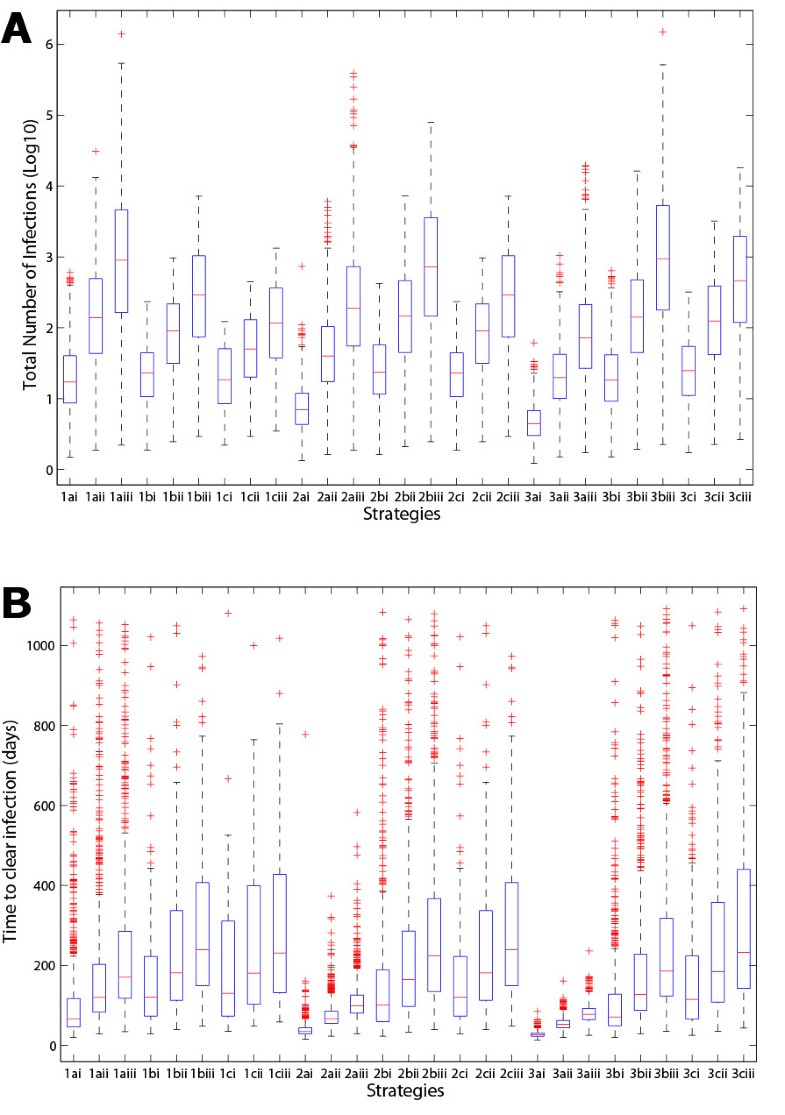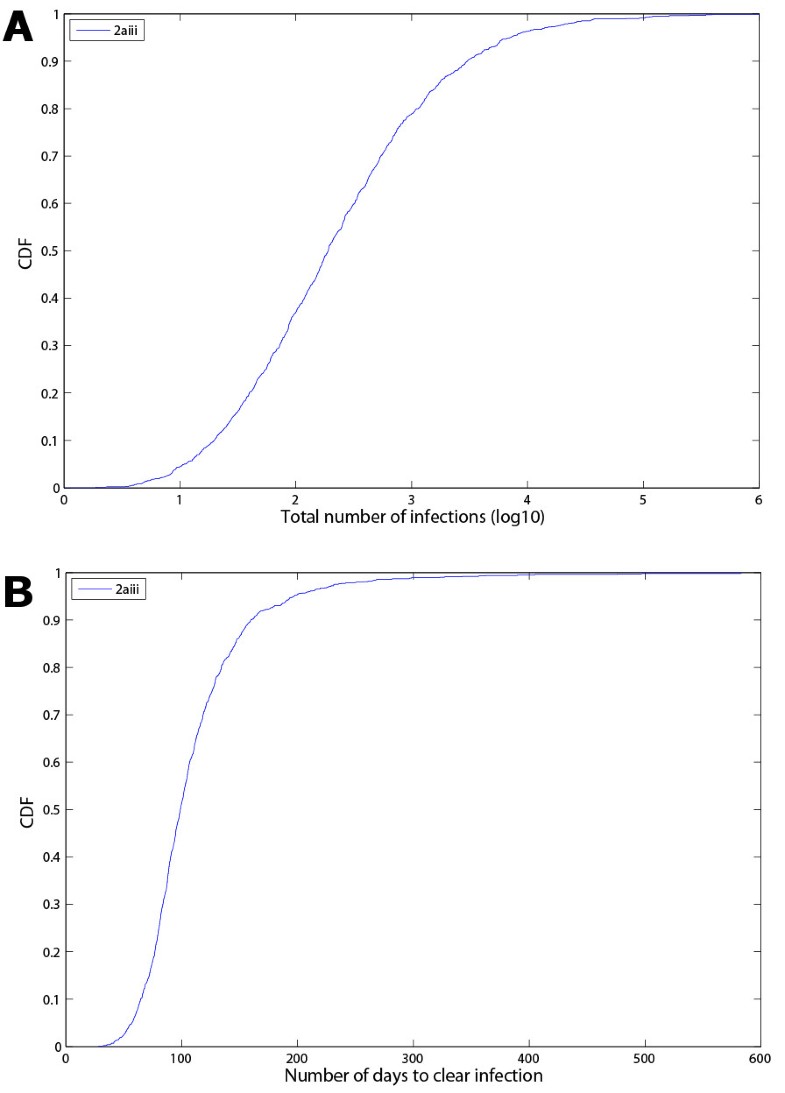 Table 1
Results of dichotomous variable sensitivity analysis: listing of the most important parameters in determining whether or not less than 100 people are infected by the epidemic (as determined by logistic regression and the Kolmogorov-Smirnov test).
Parameter

Logistic Regression (R2= 0.95)

Kolmogorov-Smirnov

infectivity rate (λ)

p < 0.0001

odds > 108

p < 0.0001

maxd = 0.93

incubation period (τ1)

p < 0.0001

odds 3.12

(2.34, 4.17)

p = 0.57

maxd = 0.05

infectious period (τ2)

p = 0.04

odds 1.29

(1.01, 1.64)

p = 0.20

maxd = 0.07
We investigated the existence of any non-monotonic relationships between the attack number and each of the input parameters through SaSAT's 'Sensitivity Plots' utility (e.g. see Figure
9
); no non-monotonic relationships were found, and a clear increasing trend was observed for the attack number versus
λ
, the infectivity rate. Then, it was determined which parameters most influenced the attack number and by how much. To conduct this analysis, SaSAT's 'Sensitivity Analyses' utility was used. The calculation of PRCCs was conducted; these are useful for ranking the importance of parameter-output correlations. Another method that we implemented for ranking was the calculation of standardized regression coefficients; the advantage of these coefficients is the ease of their interpretation in how a change in one parameter can be offset by an appropriate change in another parameter. A third method for ranking the importance of parameters, not previously used in analysis of theoretical epidemic models as far as we are aware, is factor prioritization by reduction of variance. These indicators of importance of parameters provided consistent rankings, as shown in Table
2
; we calculated these indices for linear, interaction, pure quadratic and full quadratic response hypersurfaces and they were all in very close agreement (all indices were equivalent to at least 2 decimal places for each statistical model and so we show results just for the full quadratic case (R
2
= 0.997)). The rankings for all correlation coefficients can also be shown as a tornado plot (see Figure
10a
).


Table 2
Results of sensitivity analysis: impact of the variability in the input variables in influencing variability in the attack number (total cumulative number of infected people), as determined by (i) partial rank correlation coefficients, (ii) standardized regression coefficients, and (iii) factor prioritization by reduction of variance.
| Parameter | Partial rank correlation coefficient | Standardized regression coefficient | Sensitivity index (reduction of variance) |
| --- | --- | --- | --- |
| infectivity rate (λ) | 0.995 | 0.982 | 97.7% |
| incubation period (τ1) | -0.783 | -0.146 | 2.1% |
| infectious period (τ2) | -0.300 | -0.025 | 0.2% |
The influence of combinations of parameters on outcome variables can be presented visually. Response surface methodology is a powerful approach for investigating the simultaneous influence of multiple parameters on an outcome variable by illustrating (i) how the outcome variable will be affected by a change in parameter values; and (ii) how one parameter must change to offset a change in a second parameter. Figure 10b, from SaSAT's 'Sensitivity Plots' utility shows the pairings of the impact of infectivity rate (λ) and the incubation period (τ1) on the attack number. Factor prioritization by reduction of variance is a very useful and interpretable measure for sensitivity; it can be represented visually through a pie-chart for example (Fig. 10c).
Conclusion
In this paper we outlined the purpose and the importance of conducting rigorous uncertainty and sensitivity analyses in mathematical and computational modelling. We then presented SaSAT, a user-friendly software package for performing these analyses, and exemplified its use by investigating the impact of strategic interventions in the context of a simple theoretical model of an emergent epidemic.
The various tools provided with SaSAT were used to determine the importance of the three biological parameters (infectivity rate, incubation period and infectious period) in (i) determining whether or not less than 100 people will be infected during the epidemic, and (ii) contributing to the variability in the overall attack number. The various graphical options of SaSAT are demonstrated including: box plots to illustrate the results of the uncertainty analysis; scatter plots for assessing the relationships (including monotonicity) of response variables with respect to input parameters; CDF and tornado plots; and response surfaces for illustrating the results of sensitivity analyses.
The results of the example analyses presented here are for a theoretical model and have no specific "real world" relevance. However, they do illustrate that even for a simple model of only three key parameters, the uncertainty and sensitivity analyses provide clear insights, which may not be intuitively obvious, regarding the relative importance of the parameters and the most effective intervention strategies.
We have highlighted the importance of uncertainty and sensitivity analyses and exemplified this with a relatively simple theoretical model and noted that such analyses are considerably more important for complex models; uncertainty and sensitivity analyses should be considered an essential element of the modelling process regardless of the level of complexity or scientific discipline. Finally, while uncertainty and sensitivity analyses provide an effective means of assessing a model's "trustworthiness", their interpretation assumes model validity which must be determined separately. There are many approaches to model validation but a discussion of this is beyond the scope of the present paper. Here, with the provision of the easy-to-use SaSAT software, modelling practitioners should be enabled to carry out important uncertainty and sensitivity analyses much more extensively.
Appendix
SaSAT
Sampling and Sensitivity Analysis Tools.
Sampling
Selection of values from a statistical distribution defined with a probability density function for a range of possible values. For example, a parameter (α) may be defined to have a probability density function of a Normal distribution with mean 10 and standard deviation 2. Sampling chooses N values from this distribution.
Mathematical/Theoretical/Computational Model
A set of mathematical equations that attempt to describe a system. Typically, the model system of equations is solved numerically with computer simulations. Mathematical models are different to statistical models, which are usually described as a set of probability distributions or equation to fit empirical data.
Input parameter/predictor/explanatory variable/factor
A constant or variable that must be supplied as input for a mathematical model to be able to generate output. For example, the diameter of a pipe would be an input parameter in a model looking at the flow of water.
Outcome/Output/response variable
Data generated by the mathematical model in response to a set of supplied input parameters, usually relating to a specific aspect of the model, e.g., the amount of water flowing into a container from a pipe/s of a certain diameter.
Uncertainty Analysis
Method used to assess the variability (prediction imprecision) in the outcome variables of a model that is due to the uncertainty in estimating the input values.
Sensitivity Analysis
Method that extends uncertainty analysis by identifying which parameters are important in contributing to the prediction imprecision. It quantifies how changes in the values of input parameters alter the value of outcome variables. This allows input parameters to be ranked in order of importance, that is, the parameters that contribute the most to the variability in the outcome variable.
LHS
Latin Hypercube Sampling. This is an efficient method for sampling multi-dimensional parameter space to generate inputs for a mathematical model to generate outputs and conduct uncertainty analysis.
PRCC
Partial Rank Correlation Coefficient. A method of conducting sensitivity analysis.
Monotonic
A relationship or function which preserves a given trend; specifically, the relationship between two factors does not change direction. That is, as one factor increases the other factor either always increases or always decreases, but does not change from increasing to decreasing.
GUI
Graphical user interface.
Declarations
Acknowledgements
The National Centre in HIV Epidemiology and Clinical Research is funded by the Australian Government Department of Health and Ageing and is affiliated with the Faculty of Medicine, University of New South Wales. DGR is supported by a National Health and Medical Research Council Capacity Building Grant in Population Health. DPW is supported by a University of New South Wales Vice Chancellor's Research Fellowship and this project was supported by a grant from the Australian Research Council (DP0771620).
Authors' Affiliations
(1)
National Centre in HIV Epidemiology and Clinical Research,, The University of New South Wales,, Sydney, Australia
Copyright
© Hoare et al; licensee BioMed Central Ltd. 2008
This article is published under license to BioMed Central Ltd. This is an Open Access article distributed under the terms of the Creative Commons Attribution License (http://creativecommons.org/licenses/by/2.0), which permits unrestricted use, distribution, and reproduction in any medium, provided the original work is properly cited.