Network, degeneracy and bow tie. Integrating paradigms and architectures to grasp the complexity of the immune system
Theoretical Biology and Medical Modelling
2010
7:32
Received: 30 June 2010
Accepted: 11 August 2010
Published: 11 August 2010
Abstract
Recently, the network paradigm, an application of graph theory to biology, has proven to be a powerful approach to gaining insights into biological complexity, and has catalyzed the advancement of systems biology. In this perspective and focusing on the immune system, we propose here a more comprehensive view to go beyond the concept of network. We start from the concept of degeneracy, one of the most prominent characteristic of biological complexity, defined as the ability of structurally different elements to perform the same function, and we show that degeneracy is highly intertwined with another recently-proposed organizational principle, i.e. 'bow tie architecture'. The simultaneous consideration of concepts such as degeneracy, bow tie architecture and network results in a powerful new interpretative tool that takes into account the constructive role of noise (stochastic fluctuations) and is able to grasp the major characteristics of biological complexity, i.e. the capacity to turn an apparently chaotic and highly dynamic set of signals into functional information.
Keywords
Major Histocompatibility Complex ClassStochastic ResonanceFlux Balance AnalysisBiological ComplexityRedundant Functioning
Background - the complexity of the immune system
The vertebrate immune system (IS) is the result of a long evolutionary history and has a fundamental role in host defence against bacteria, viruses and parasites. It comprises a variety of proteins and other molecules, cell types and organs, which interact intensely and communicate in a complex and dynamic network of signals. The IS, like the nervous system, shows features of a cognitive system: it is capable of learning and memory, resulting in adaptive behaviour. Indeed, the IS creates an 'immunological memory' of previous information (primary response to a specific pathogen) and adapts itself for better recognition if the same pathogen recurs, thus providing an enhanced and more effective response. This adaptation process is referred to as adaptive immunity or acquired immunity, and makes vaccination a powerful clinical strategy [1]. Notwithstanding the availability of abundant data, a comprehensive theoretical framework for the functioning of the IS is still underdeveloped [2].
We will briefly illustrate three major conceptualizations that have been proposed to grasp the complexity of biological systems, and we will pay particular attention to the IS as one of the most complex systems in the human body, about which numerous data and several conceptualizations are already available. We will consider the concept of network [3], the functioning principle of degeneracy [4], and the recently-observed bow tie architecture [5]. Such principles are apparently quite pervasive and widespread in the organization of biological and non-biological complex systems. Several critical structures of the IS rely for their functioning on the three above-mentioned principles to afford evolvability, efficiency and robustness (i.e. non-catastrophic response to perturbation/noise) [6]. In order to point out the advantage and heuristic power of this approach, we will briefly summarize the available data on the IS as a network, and we will focus on three key immunological structures - the T Cell Receptor, Toll-like Receptor and the proteasome - to illustrate the usefulness of the concepts of degeneracy and bow tie architecture. We will finally argue that these concepts should be considered together under the perspective of a unitary hypothesis.
The network approach
The success of a new paradigm
Central to systems biology, the paradigm of network is also at the cutting edge of the sciences of complexity (see for example the NetSci conference series on network science at http://netsci2010.net/). Network analysis provides a powerful tool for describing complex systems, their components and their interactions in order to identify their topology, as well as structures and functions emerging from the orchestration of the whole ensemble of elements. This approach has been successfully applied to the representation and analysis of various systems in different fields, from social studies [7] to engineering and technology [8] and life sciences [3, 9, 10], to cite only a few examples.
The power of network conceptualization lies in the ability to grasp the characteristics of generic systems of any type, stable and physically wired (i.e. power grids, telephone/internet cabling) or dynamic and non-wired (air traffic, social networks, protein interactions). Such interdisciplinary and multi-perspective conceptualization makes it possible to consider biological systems as a whole, and to subject them to rigorous mathematical analysis.
Networks and the immune system
Attempts to describe the IS using networks have been pioneered by Jerne [11], and have led to interesting but controversial results. This approach has recently been rejuvenated and extended by many authors with the aim of formalizing the IS more rigorously [2, 12–16] within a systems biology perspective. Network models of the IS based on coupled non-linear differential equations have been used by several authors [17] and also applied to specific problems such as immunological memory [18]. This mathematical approach to the IS has also led to the proposal of IS-inspired paradigms for new types of computation algorithms [19].
Despite the above-mentioned power, usefulness and flexibility, the network approach is limited by inherent difficulties in taking into account the functional diversity of the elements and the wide (qualitative) variety of their interconnections and links, two features that strongly impinge upon the real network dynamics and behaviour of biological systems [20]. Indeed, poor characterization of the attributes of nodes and connections is a major issue in network biology. As an example, while the topological organization of metabolic networks is satisfactorily understood [21, 22], the principles that govern their global functionality and their dynamics are not. Flux balance analysis of metabolism in a given E. coli strain revealed that network use is very unbalanced. Observations led to the conclusion that most metabolic reactions have low flux rates, but the overall metabolic activity is ruled by a number of reactions with very high flux rates. In this scenario, E. coli is able to react to changes in growth conditions by reorganizing the rates of given fluxes mainly within this high-flux backbone [23]. Another important issue is that network analysis is predominantly static. Multiple time points and network states can be collected and analyzed in a longitudinal fashion, but this is not yet a dynamical analysis. A further, in some ways minor, limitation may be the computational intractability of the analysis of large networks characterized by combinatorial properties. To go beyond such limits is a challenge in network theory and systems biology [3].
While the application of the network paradigm revealed the existence of structural complexity, many other layers of complexity in the system became apparent at the same time and evaded clearer comprehension owing to the intrinsic limitations of the network approach.
Among the principles that have been used to tackle these new levels of functional and architectural complexity, the degeneracy principle [4] and the bow tie architecture [5] have been proposed. The general consideration underlying these proposals is that biological complexity probably cannot be explained by a single concept, even a powerful one such as that of network, and that other layers of architectural complexity are present and should be identified, conceptualized and integrated.
The principle of degeneracy
Degeneracy is a most prominent characteristic of biological complexity
Degeneracy has been defined as the "ability of structurally different elements of a system to perform the same function" [4, 24–26]. In other words, it refers to a partial functional overlap of elements already capable of non-rigid, flexible and versatile functionality. Consequently, a system that accounts for degenerate elements is provided with redundant functionality. Redundancy of function confers robustness, i.e. the ability to cope with (sometimes unpredictable) variations in an operating environment with minimal damage, alteration or loss of functionality. In a system composed of degenerate elements, if one fails, others can take over from it in a sort of vicarious functionality, and yield the expected output or at least a similar one (e.g. sails and oars for boat propulsion).
It is important to stress that the classical, engineering concept of redundancy is opposed to that of degeneracy, and often refers to structural similarity, repetition or multiplication. Redundancy thus refers to the one-to-one, or one structure-one function paradigm (e.g. a twin-engine boat). While redundancy in this sense can only support redundant functioning, degeneracy refers to the many structures-one function paradigm (the converse form of degeneracy, pluripotentiality, refers to the one function-many structures paradigm). Indeed, to make redundant use of different structures, they will be required to adapt and sustain a given function. Hence, redundant functioning of a system composed of heterogeneous elements requires degeneracy.
Within this perspective, Edelman and Gally [4] provided a list of various examples of degeneracy at different levels of biological organization: the genetic code, in which different nucleotide sequences encode the same polypeptide; the protein folding process, where different polypeptides can fold so as to be structurally and functionally equivalent; metabolism, for which multiple, parallel biosynthetic and catabolic pathways exist; immune responses, in which populations of antibodies and other antigen-recognition molecules are degenerate; connectivity in neural networks, in which there is enormous degeneracy in local circuitry, long-range connections, and neural dynamics; and many other very interesting cases.
It is to be emphasized that, as in the examples above, degeneracy is a characteristic pertaining to the elements of a system, but it impinges strongly upon the system's dynamics and functionality. Indeed, the architectural characteristics of a system and the features of individual components together play indispensable roles in forming the symbiotic state of the system as a whole and thus its dynamics [27, 28].
Another structural advantage of degeneracy, in comparison to redundancy, lies in the evolvability [4, 29] of the degenerate element and of the whole system. This evolutionary advantage relies on the characteristic that degenerate structures are functionally overlapping and versatile, and rearrange their configuration to meet internal or external (environmental) changes thanks to their interchangeable task capabilities. In other words, degenerate systems have a flexibility that makes them capable of yielding unforeseen functionalities, and may thus show evolutionary advantage. It is noteworthy that on a longer evolutionary time scale, this functional degeneracy coincides with the Gouldian concept of "ex-aptation": while an ad-aptation (ad + aptus, "shaped toward a given fitness or usage") is a feature built by selection for its current role, an ex-aptation is a character evolved for other usage (or no usage, "non-aptation") and only later - from this original usage (ex) - 'co-opted' for its current role [30, 31].
Apart from robustness and evolvability, another intrinsic characteristic of degeneracy is the capacity to integrate different signals. There are examples of biological receptor systems that exploit this feature masterfully. In the retina of the eye, only three types of light receptors exist (one relative to each of the three fundamental colours) and they are degenerate: each is responsive to a wide range of electromagnetic frequencies (i.e. colours) and not to one precise frequency only. The integration of signals from all the degenerate receptors allows the eye to perceive an incredibly wide range of colours [26]. All these characteristics of degeneracy have long been considered fundamentally important in immunology (see Appendix for a historical perspective).
Degeneracy in immunological structures
From a specific immunological perspective, a dynamics of the type that accounts for the retinal receptors drives the immune Toll-Like Receptors (TLRs), collectively a sort of "immunological eye", to recognize immunogenic peptides and to tune the innate immune response [13, 32, 33]. Each single TLR is complementary to the others, and each is able to detect a different repertoire of conserved microbial molecular patterns, so that the whole TLR system, constituted in humans by 10 different receptors [34–36], can collectively sense most if not all microbes.
It is to be noticed that degeneracy in the immunological context was originally referred to as "the ability of a single antigen to activate many different T lymphocyte clones" [4]. The T lymphocyte, or T cell, plays a central role in cell-mediated immunity, and is distinguishable by the presence of a special, hypervariable receptor on its surface (T cell receptor, TCR), which is structurally different in each cell clone. The TCR (and its co-receptors) can bind antigenic peptides presented within the groove of the Major Histocompatibility Complex (MHC) cell surface proteins, expressed by special antigen-presenting cells (APCs).
The "specificity" paradigm of the TCR has been a long-lasting concept: it was believed that each TCR could bind (and consequently initiate a response) one and one with only a specific 'cognate' antigen peptide. Mounting evidence [37] subsequently showed that a dynamics governed by the one antigen-one antibody rule would not have been sustainable for an organism in terms of mass, energy and response time. Today, while it is clear that the TCR maintains exquisite specificity in recognizing and distinguishing antigens, there are unquestionable proofs of TCR degeneracy as an inherent feature essential for sensing the whole antigenic peptide universe [38, 39]. In this perspective, TCR degeneracy can be considered an architectural and functional property that gives rise to an optimized trade-off for reasonably full coverage of the whole potential set of antigenic epitopes [38].
The bow tie architecture
The "bow tie" architecture (so called for its shape; Figure
1
) is a recent concept that tries to grasp the operational and functional architecture of complex and self-organized systems, including organisms. In the most general terms, bow tie architectures refer to ordered and recurrent control system structures that underlie complex technological or biological networks and are capable of conferring a balance among efficiency, robustness and evolvability. Conversely, it has been argued that the bow tie structure shows critical weak points [
5
], which could explain the concomitant characteristic of biological systems, i.e. their fragility towards specific evolved agents [
13
].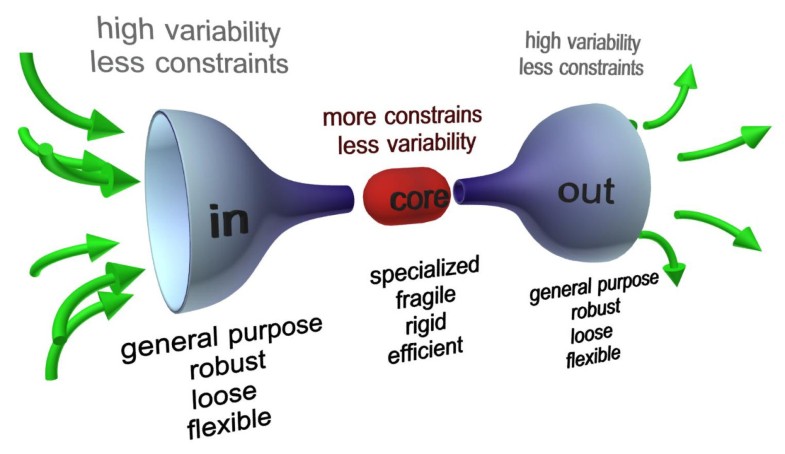 A bow tie architecture shows the ability to accept a wide range of inputs (in Figure
1
the left, input wing) and convert them to a reduced set of universal building blocks (the knot, or core). Here, assembly protocols act on these basic modular building blocks, eventually restoring and fanning out a wide variety of outputs (the right bow). It is interesting to note that the bow tie can be interpreted as the combination of two degenerate systems coupled through a single central element, suggesting that the two concepts of degeneracy and bow tie share a similar conceptual and architectural design, i.e. the
many-to-one
(degeneracy) and
one-to-many
(pluripotentiality) paradigm (Figure
2
).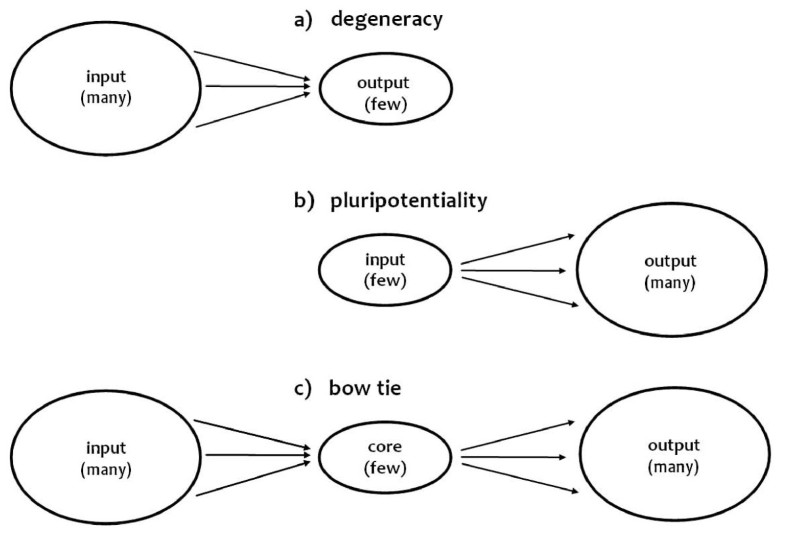 This kind of architecture has been observed in the structural organization of organisms throughout the biological scale as well as in technological and dynamical systems where the management, control and restriction of incoming inputs become central, e.g. metabolic networks [
5
,
40
,
41
], signalling networks [
42
], TCR signaling [
6
], pathways of oxygen signalling and energy of the hypoxia-inducible factor cascade [
43
], the Internet [
44
], large technological installations (see Figure
3
); it also accounts for the dynamics of socio-political phenomena [
45
], so it may be considered wide-ranging [
5
].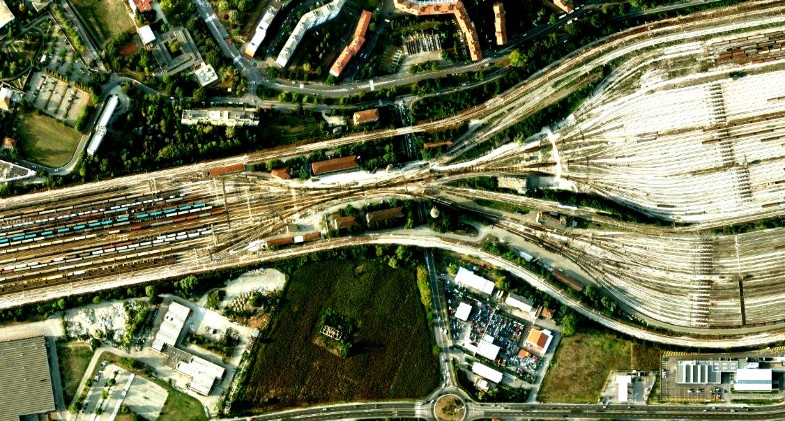 In general terms, bow ties seem to have evolved specifically to deal with a highly fluctuating and "sloppy" environment (represented by the fan in bow) and thus to organize fluxes of information (or matter) optimally into their overall structure. Indeed, in biological systems, the metabolic process shows nested bow tie structures [5, 40, 41]. A large number of different nutrient inputs are catabolized ('fan in') to produce few carriers (i.e. ATP, NADH and NADPH) and just 12 precursor metabolites (pyruvate, fructose 6-phosphate, etc.), which are in turn synthesized into ~70 larger building blocks (nucleotides, amino acids, fatty acids and sugars). The building blocks then fan out into the assembly of larger macromolecules following general-purpose polymerase processing [5, 40]. Thus, in metabolic networks, the core of the bow tie seems to comprise a densely connected, small-world network, which is resistant to single component failure.
The efficacy, success and observed universality of such architecture rely on its functional organization. Bow ties are able to ensure a virtually unlimited scalability, thanks to the ability to accept an incredibly high number of different inputs and, at the same time, to guarantee robustness and evolvability. Indeed, building blocks are modular (functionally independent) and can be recombined and reused through universal protocols to meet the demands of a rapidly changing environment. The core of the modular 'common currencies' facilitates system control, dampening the effects of noisy context and thus reducing fluctuations and disturbances.
Conversely, the same efficient architecture may be prone and vulnerable to fragilities due to specific changes, perturbations, and focused attacks directed against the core set of building blocks and protocols. If a hijacking process can take control over a protocol or other elements in the core, the whole system can collapse under the breakdown of its key regulatory mechanisms, or can be forced to 'execute' processes harmful for the system itself.
Results and discussion - towards an integrative perspective
Conclusion and perspectives
The increasing awareness that biological complexity is not satisfactorily described by widely-used but single and isolated concepts drives the quest for integrative theoretical scaffolds to achieve a more comprehensive, systemic understanding of biological systems, including the IS. It is crucial, in this perspective, to clarify the structure-function relationships of biological systems at all levels of their organization, and in the first instance to have a clearer picture of the architectures that sustain their dynamics.
In this essay we have shown that the operational functions of basic structures of the IS such as the TLR, the TCR, and the proteasome obey global principles, and are organized according to general architectures and structures that work in a strictly and deeply intertwined manner, such as those of network, degeneracy and bow tie. These are the result of evolutionary processes of optimization between economy of resources and capability of reaction. Indeed, from the viewpoint of ecological immunology, it is assumed that immunological defences must be minimized in terms of cost, i.e. energy expenditure [74, 75]. We recently discussed the hypothesis that the bow tie architecture might be suitable for describing the variety of immune-neuroendocrine inputs that continuously target cells and organs while, at the same time, fulfilling the basic requirement of minimizing the cost of immune-neuroendocrine responses [76].
On the other hand, emerging evidence about genetic networks links up wiring patterns of interactions (architecture) with their behaviour in the presence of biological noise, suggesting that noise has a role directly encoded in gene circuit architecture [77].
Recent proposals in the direction of this integrative approach envisage the complex architecture of metabolic pathways as a network of modular and nested bow ties [41]. The advantage of this approach is that the elements of the network are no longer considered as simple entities, but rather as functional modular units, interacting on different functional layers and characterized by a sophisticated level of complexity. The drawback of this approach is the intrinsic difficulty of a rigorous (mathematical) tractability, which is a urgent challenge in systems biology [78]. Similarly, a better understanding of proteasome function will be able to overcome the limits of available models [79], which are still unable to account for the full universe of the generated peptides and its dynamics.
In general, we surmise that a systematic and integrative use of concepts such as degeneracy and bow tie architecture, in combination with and within the framework of a network perspective [3], should be very useful not only for elucidating the general rules governing complex biological systems but also for identifying their hidden and specific fragilities and weak points, which represent the start of pathologies, extending previous suggestions from pioneer scientists [5, 6, 13].
Appendix. History and pervasiveness of degeneracy
Declarations
Acknowledgements
We thank P. Liò and B. Henderson for critical reading, useful comments and suggestions, G. Catalini for the revision, and M. Tieri for the artwork in Figure 1. This work has been partially funded by the BioPharmaNet Emilia-Romagna Region initiative and supported by the EU Grant PROTEOMAGE, FP6-518230. M.M. benefited of the A.V. Humboldt PostDoc fellowship.
Authors' Affiliations
(1)
Interdept. Center "Luigi Galvani" for Bioinformatics, Biophysics and Biocomplexity (CIG), University of Bologna, Bologna, Italy
(2)
Department of Experimental Pathology,, University of Bologna,, Bologna, Italy
(3)
Dept. of Mathematics, University College London,, Institute for Women's Health, University College London,, London, UK
(4)
Institut für Biochemie, Charité - Universitätsmedizin Berlin, Charité Centrum 2 - Grundlagenmedizin,, Berlin, Germany
Copyright
© Tieri et al; licensee BioMed Central Ltd. 2010
This article is published under license to BioMed Central Ltd. This is an Open Access article distributed under the terms of the Creative Commons Attribution License (http://creativecommons.org/licenses/by/2.0), which permits unrestricted use, distribution, and reproduction in any medium, provided the original work is properly cited.