Estimation of the solubility parameters of model plant surfaces and agrochemicals: a valuable tool for understanding plant surface interactions
Theoretical Biology and Medical Modelling
2012
9:45
Received: 12 September 2012
Accepted: 3 November 2012
Published: 14 November 2012
Abstract
Background
Most aerial plant parts are covered with a hydrophobic lipid-rich cuticle, which is the interface between the plant organs and the surrounding environment. Plant surfaces may have a high degree of hydrophobicity because of the combined effects of surface chemistry and roughness. The physical and chemical complexity of the plant cuticle limits the development of models that explain its internal structure and interactions with surface-applied agrochemicals. In this article we introduce a thermodynamic method for estimating the solubilities of model plant surface constituents and relating them to the effects of agrochemicals.
Results
Following the van Krevelen and Hoftyzer method, we calculated the solubility parameters of three model plant species and eight compounds that differ in hydrophobicity and polarity. In addition, intact tissues were examined by scanning electron microscopy and the surface free energy, polarity, solubility parameter and work of adhesion of each were calculated from contact angle measurements of three liquids with different polarities. By comparing the affinities between plant surface constituents and agrochemicals derived from (a) theoretical calculations and (b) contact angle measurements we were able to distinguish the physical effect of surface roughness from the effect of the chemical nature of the epicuticular waxes. A solubility parameter model for plant surfaces is proposed on the basis of an increasing gradient from the cuticular surface towards the underlying cell wall.
Conclusions
The procedure enabled us to predict the interactions among agrochemicals, plant surfaces, and cuticular and cell wall components, and promises to be a useful tool for improving our understanding of biological surface interactions.
Keywords
AgrochemicalsCuticlePlant surfacesSolubility parameterWaxes
Background
Plant surfaces play a major role in protection against multiple potential biotic and abiotic stress factors [1]. To adapt to these multiple functions, the plant epidermis has developed various characteristics, including specialised cell types such as trichomes or stomata [2]. Epidermal cells are surrounded by a cell wall, which plays a crucial structural and physiological role in plant development and survival [3].
Differentiation and maintenance of the epidermis are essential for plant growth and survival and require continuous cross-talk between epidermal cells and their immediate environment [2]. Epidermal cells also provide mechanical support by adhering strongly to each other via a strengthened cell wall, which is usually noticeably thicker on the external surface. In addition to the asymmetrical deposition of cell wall material, epidermal cells secrete a lipid-rich cuticle specifically into the thickened external cell wall matrix [2]. Therefore, the cuticle may be considered a cutinised cell wall, emphasizing the heterogeneous nature of this layer and its interconnection with the cell wall beneath [4]. The main protective role of the cuticle is related to the prevention of uncontrolled exchange of water and gases between the plant and the surrounding environment [5]. The functional relevance of the cuticle to plant growth and survival is evidenced by the significant commitment of epidermal cells to cuticle production [6].
The cuticle is made of a bio-polymer matrix, waxes that are deposited on to (epicuticular) or intruded into (intracuticular) this matrix, and variable amounts of polysaccharides and phenolics [4, 7]. It is an asymmetric membrane [8] generally comprising three distinct layers from the outer to the inner side of the organ, namely: (i) the epicuticular wax layer, (ii) the "cuticle proper" containing waxes and cutin and/or cutan, and (iii) the "cuticular layer" composed of cutin and/or cutan and a high polysaccharide content [9].
Waxes commonly constitute 20 to 60% of the cuticle mass and are complex mixtures of straight chain aliphatics [6]. Wax composition and structure can vary among different species, organs, states of development, and environmental and stress conditions during growth [10, 11]. The mechanisms of epicuticular wax formation and regeneration have been assessed in some studies [12] and it has been proposed that cuticular transpiration is the driving force behind wax movement through the cuticle [13, 14].
The cuticle matrix is commonly made of cutin, which is a biopolymer formed by a network of inter-esterified, hydroxyl- and hydroxy-epoxy C16 and/or C18 fatty acids [15]. At least six different types of cuticular ultrastructures have been identified by transmission electron microscopy (TEM) [9], but their relationship to cutin monomer composition remains unclear [7, 16]. The formation of cutinsomes, which are spherical nanoparticles resulting from the self-assembly of cutin hydroxyacid monomers in a polar environment, has been demonstrated; cutinsomes have been proposed as building units of the bio-polyester cutin [17].
While cutin is depolymerised and solubilised upon saponification, cuticles from some species contain a non-saponifiable and non-extractable polymer known as cutan, which yields a characteristic series of long chain n-alkenes and n-alkanes upon flash pyrolysis [18]. Cutin has been found to be the only polymer present in the cuticles of many fruits and leaves of Solanaceae and Citrus species [9], while different proportions of cutin and cutan have been determined in cuticular membranes extracted from leaves [18] and fruits such as peppers, apples or peaches [19, 20].
Major differences in surface topography have been observed in different species and organs, but three hierarchical levels of structuring may occur in association with: (i) the general shape of epidermal cells, (ii) cuticular folds, and (iii) epicuticular wax crystals [21]. For example, the presence of papillae [22] or trichomes [20] can have a major effect on surface topography and wettability at the microscale level. Also, increased surface roughness and surface hydrophobicity have been reported owing to the occurrence of nano-scale structures provided by epicuticular wax crystals [22, 23].
Different degrees of wettability of leaves from various species have been reported by measuring water contact angles (e.g., [21, 24–26]). In addition, phyllosphere-related factors such as the deposition of aerosols or microorganisms can lead to plant surface heterogeneity [27, 28], especially in urban or polluted habitats [29]. However, non-wettable surfaces have been observed to accumulate particles more slowly than wettable ones [30].
Recently Fernández et al. [20] estimated the surface free energy, polarity and work of adhesion of a model pubescent surface and proposed the implementation of membrane science approaches to exploring the physical-chemical properties of plant surfaces. It has been suggested that the cuticle acts as a "solution-diffusion" membrane for the diffusion of some solvents and solutes [31, 32]. To analyse the permeability of the plant cuticle to solutes and solvents, both the solubility and diffusivity of the compounds must be taken into consideration. While diffusivity is a kinetic parameter associated with the molecular size of a compound in relation to the structure of the matrix, solubility is a thermodynamic parameter that indicates the affinity of a given chemical for the cuticle. Therefore, and as a preliminary step towards the evaluation of plant cuticle permeability, we have analysed for the first time the solubility of model plant surfaces and chemical constituents in relation to agrochemicals of commercial significance, following a thermodynamic approach. Prediction of solubility parameters is commonly used, for example, in the design and fabrication of polymeric membranes [33, 34], in the coating industry [35] and also in pharmacology [36]. However, with the exception of the human skin [37, 38], this procedure has not so far been applied to estimating the properties of biological surfaces.
As model plant surfaces, peach and pepper fruits were selected since they contain alkanes as major wax constituents but have significantly different surface topographies. Juvenile Eucalyptus globulus leaves, which are covered with a dense layer of nano-tubes and contain β-diketones as dominant waxes, were also evaluated for comparison.
For model plant surfaces, cuticular constituents and agrochemicals, the following hypotheses were tested: (i) is it possible to predict the solubility of plant surface constituents and the affinity of agrochemicals for plant surfaces? and (ii) can solubility parameters be used to estimate the properties of the plant cuticle?
Materials and methods
Plant material
The plant materials analysed correspond to intact, undamaged mature peaches (Prunus persica (L.) Batsch. cv. 'Calrico'), red bell peppers (Capsicum annum L. cv. 'Genil') and juvenile Eucalyptus leaves (Eucalyptus globulus Labill. ssp. globulus).
Epicuticular waxes, cutin monomers and cell wall polysaccharides
The properties of the major wax constituents present in
Eucalyptus
leaves, bell peppers and peach fruits were used for calculating the solubility parameters (Figure 
1
, Table 
1
). Alkanes are the dominant class of compounds covering the surface of the peach fruits analysed [
20
]. Alkanes are also the dominant class of wax compounds extracted from pepper fruits, followed by triterpenoids such as
α-
or
β
-amyrin [
39
–
41
].
Beta
-diketones are the dominant class of wax compounds in juvenile
Eucalyptus
leaves, but
n
-nonacosane, heptadecan-2-one and
n
-hexacosanal are also present in significant concentrations [
42
–
46
].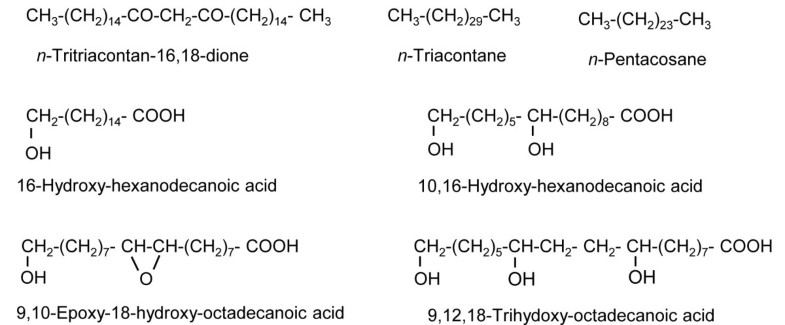 Table 1
Chemical formula and molar volume of the dominant epicuticular waxes extracted from Eucalyptus leaves, pepper and peach fruits and of common cutin monomers found in plant cuticles
| Compound | Chemical formula | ChemSpider ID | Molar volume (cm3 mol-1) |
| --- | --- | --- | --- |
| Epicuticular waxes | | | |
| n-Hentriacontan-14, 16-dione | C31H60O2 | 390212 | 534.4 |
| n-Tritriacontan-16, 18-dione | C33H64O2 | 136445 | 567.4 |
| n-Pentatriacontan-16, 18-dione | C35H68O2 | 104279 | 600.5 |
| Heptadecan-2-one | C17H34O | 17031 | 306.3 |
| Hexadecanal | C16H32O | 956 | 290.0 |
| n-Tricosane | C23H48 | 12017 | 408.1 |
| n-Tetracosane | C24H50 | 12072 | 426.7 |
| n-Pentacosane | C25H52 | 11900 | 441.2 |
| n-Hexacosane | C26H54 | 11901 | 457.1 |
| n-Heptacosane | C27H56 | 11146 | 474.2 |
| n-Nonacosane | C29H60 | 11903 | 507.2 |
| n-Hentriacontane | C31H64 | 11904 | 540.2 |
| α-Amyrin | C30H50O | 65921 | 420.8 |
| Cutin monomers | | | |
| 16-Hydroxy-hexanodecanoic acid | C16H32O3 | 10034 | 284.8 |
| 10,16-Hydroxy-hexanodecanoic acid | C16H32O4 | 390182 | 282.7 |
| 9,10-Epoxy-18-hydroxy-octadecanoic acid | C18H34O4 | 7994062 | 309.6 |
| 9,12,18-Trihydoxy-octadecanoic acid | C18H36O5 | 4446065 | 313.6 |
| Cell wall polysaccharide monomers | | | |
| D Glucose | C6H12O6 | 96749 | 115.7 |
| D-Galacturonic acid | C6H10O7 | 76444 | 109.9 |
To estimate the solubility parameter range of the cuticle matrix, calculations were carried out with model cutin monomers, which have commonly been identified in plant cuticle monomer analyses [47, 48]. The selected ω-hydroxy-fatty acids are: 16-hydroxy-hexanodecanoic acid, 10,16-dihydroxy-hexanodecanoic acid, 9,10-epoxy-18-hydroxy-octadecanoic acid, and 9,10,18-trihydoxy-octadecanoic acid (Table 1). Maximal and minimal solubility parameter values were estimated per monomer according to the potential formation of ester bonds.
The solubility parameter of cellulose, a biopolymer formed from unbranched, unsubstituted (1,4)-
β
-D-glucan chains [
3
], was evaluated by estimating the properties of the D-glucose monomer. The solubility parameter range of pectins was assessed by analysing the structure of homogalacturonans based on
α
-1-4 linked, D-galacturonic acid Table 
2
; [
3
,
49
].
Table 2
Characteristics of the chemicals used for estimation of solubility parameters
| Compound | Chemical formula | Molar volume (cm3 mol-1) | ChemSpider ID | Activity |
| --- | --- | --- | --- | --- |
| Urea | CH4N2O | 45.2 | 1143 | Fertiliser |
| Sorbitol | C6H14O6 | 113.9 | 5576 | Adjuvant |
| Flutolanil | C17H16F3NO2 | 224.9 | 43579 | Fungicide |
| Fenoxycarb | C17H19NO4 | 244.0 | 46739 | Insecticide |
| Chlorothalonil | C8Cl4N2 | 152.8 | 13861400 | Fungicide |
| Formetanate | C11H15N3O2 | 187.5 | 28856 | Insecticide |
| Esfenvalerate | C25H22ClNO3 | 341.4 | 8517510 | Insecticide |
| α-Cypermethrin | C22H19Cl2NO3 | 313.0 | 2809 | Insecticide |
| Triton X-100 | C34H62O11 | 604.5 | 5388 | Surfactant |
| Brij 35 | C58H118O24 | 1130.6 | 2006408 | Surfactant |
| Genapol X-80 | C29H59O9 | 552.3 | - | Surfactant |
Chemicals
Several compounds with different properties and degrees of complexity were selected for calculation of solubility parameters (Figure 
2
, Table 
2
). The densities of urea and sorbitol were obtained from the PubChem Bioassay Database (
http://pubchem.ncbi.nlm.nih.gov
; identification codes: 1176, 5780 and 311, respectively). The molecular structures of plant protection active ingredients (flutolanil, fenoxycarb, chlorothalonil, formetanate, esfenvalerate and cypermethrin) were obtained from ChemSpider with some modifications (Royal Society of Chemistry, UK). Details of the densities of flutolanil, fenoxycarb and fometanate were collected from the Pesticide Properties Database (University of Hertforshire, UK). The densities of chlorothalonil, esfenvalerate and cypermethirn were derived from the European Union Pesticides Database, while data on Genapol X-80 (8 ethylene oxide (EO) units, 13.4 hydrophile-to-lipophile balance (HLB)) and Triton X-100 (assuming 10 EO units and 14.1 HLB) were obtained from Sigma-Aldrich product data-sheets. The density of Brij 35 (23 EO units, 17.1 HLB) was obtained from ChemSpider. Molecular weights were calculated from the number of atoms, and molar volumes were estimated by dividing the molecular weight by the density (Table 
2
).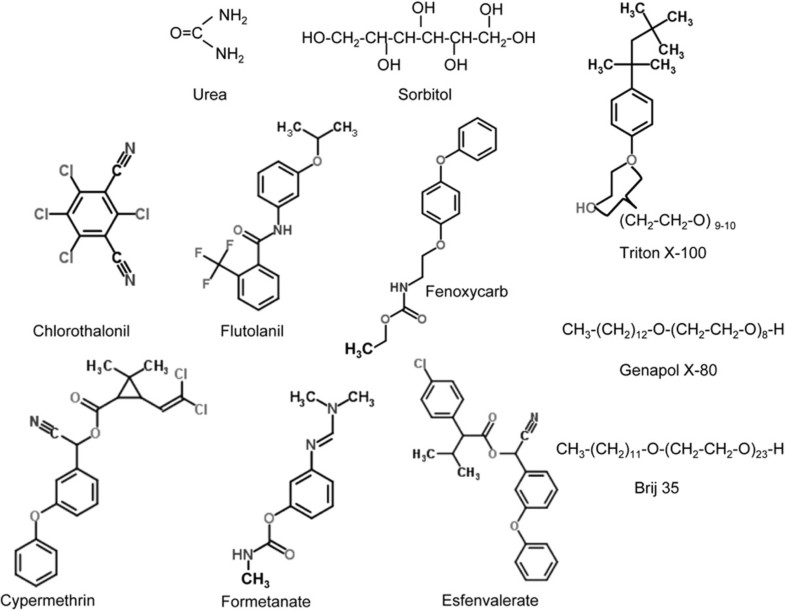 Microscopy
Gold-sputtered intact Eucalyptus adaxial leaves, peach and pepper fruit surfaces were examined with a Hitachi S-3400 N (Tokyo, Japan) and a Philips XL30 (Eindhoven, The Netherlands) scanning electron microscope (SEM).
For TEM observations of Eucalyptus leaf tissue, approximately 1 mm2 sections were cut with a scalpel and fixed in 2% paraformaldehyde plus 2% glutaraldehyde (both from Electron Microscopy Sciences (EMS), Hatfield, USA) for 6 h in ice-cold phosphate buffer (pH 7.2). Samples were subsequently washed five times in phosphate buffer, kept at 4°C overnight, and post-fixed with 1% osmium tetraoxide (TAAB Laboratories, Berkshire, UK) and 1.5% potassium ferrocyanide (Sigma-Aldrich, Munich, Germany) in distilled water (2 h). They were then rinsed in distilled water (3 × 10 min) and dehydrated in an acetone:water (v/v) series of 50, 60, 70, 80, 90, 95 (2 × 10 min each) and 100% (3 × 10 min). The tissues were successively immersed in 1:3 (2 h), 1:1 (2 h) and 1:3 (3 h) Spurr's resin:acetone (v/v) solutions and kept overnight in pure Spurr's resin (TAAB Laboratories). The samples were finally placed in moulds and were incubated at 60°C for three days. Ultrathin sections were stained with uranyl acetate (20 min) and lead citrate (4 min; both chemicals from EMS) and were examined by TEM (Jeol JEM-1010, Tokyo, Japan).
Contact angle measurements and prediction of solubility parameters
Advancing contact angles of drops of double-distilled water, glycerol and diiodomethane (both 99% purity, Sigma-Aldrich) were measured at 25°C using a CAM 200 contact angle meter (KSV Instruments Ltd., Helsinki, Finland). Contact angles were measured on intact Eucalyptus adaxial leaf, peach and pepper fruit surfaces (30 repetitions). The plant surfaces analysed were collected from fruits and leaves previously observed by SEM. No materials that could affect contact angle measurements (e.g., salt deposits or microorganisms) were found to be deposited on them.
Two μL drops of each liquid were deposited on to the plant surfaces with a manual dosing system holding a 3 mL syringe (0.5 mm diameter needle). Side view images of the drops were captured at a rate of 10 frames s-1. Contact angles were automatically calculated by fitting the captured drop shape to the one calculated from the Young–Laplace equation.
For the three plant surfaces evaluated, the total surface free energy, including its three components (i.e. the Lifshitz-van der Waals (LW), acid (+) and base (−) components), was calculated in addition to the surface polarity and work of adhesion [20].
Prediction of solubility parameters
The solubility parameter of each plant surface analysed,
δ
θ
, was calculated from the following equation [
50
]:
where
e
c
(MJ m
-3
) is the cohesive energy density, which is related to the surface free energy,
γ
s
, (mJ m
-2
) as follows:
The solubility parameter of a material can be calculated from either the cohesive energy (Eqn. 1) or the molar attraction constant,
F
((MJ/m
3
)
1/2
 mol
-1
), as:
where v is the molar volume (cm3 mol-1) of the molecule [51].
The solubility parameter has three components taking into account the interactions due to dispersion forces (
δ
d
), polar forces (
δ
p
) and hydrogen (H)-bonding (
δ
h
), and it is expressed as:
According to van Krevelen and Hoftyzer [
52
], the solubility parameter components can be predicted from group contributions, using the following equations:
where F di and F pi are the molar attraction constants of the dispersion and polar components, respectively, E hi is the H-bonding energy and v is the molar volume.
The contributions of the functional groups present in the chemicals and plant structural compounds analysed to the solubility parameter components are shown in Table 
3
. From the solubility parameter components, the total solubility parameter (
δ
) can be calculated from Equation
4
, and is hereafter named
δ
m
for agrochemicals,
δ
wax
for epicuticular waxes and
δ
nm
for cutin and polysaccharide monomers.
Table 3
Contributions of structural groups present in the selected molecules to the solubility parameter component[52]
Structural group

F di ((MJ/m3)

1/2 mol-1)

F pi ((MJ/m3)

1/2 mol-1)

E hi (J/mol)

-CH3

420

0

0

-CH2-

270

0

0

>CH-

80

0

0

=C<

70

0

0

=CH-

200

0

0

>C<

−70

0

0

1430

110

0

1270

110

0

-F

220

0

0

-Cl

450

550

400

-OH

210

500

20000

-O-

100

400

3000

-CO-

290

770

2000

-COO-

390

490

7000

-COOH

530

420

10000

-COH

470

800

4500

-CN

430

1100

2500

>N-

20

800

5000

-NH2

280

0

8400

-NH-

160

210

3100

1 plane of symmetry

—

0.50 ×

—

2 planes of symmetry

—

0.25 ×

—

More planes of symmetry

—

0 ×

0 ×
Finally, to evaluate the affinity of a polymer for a solvent [
51
] or the affinity of an agrochemical for a given plant surface, the following equation was used:
Moreover, to study the affinities of the agrochemicals for plant surfaces as derived from the solubility parameter calculated from contact angle measurements (
δ
θ
), the following equation was applied:
The results from Equations 8 and 9 imply that the lower the values of Δδwax and Δδθ, the higher the affinity between agrochemical and plant surface.
Discussion
In this study, a procedure for predicting the interactions among different structural plant surface constituents and agrochemicals, based on the estimation of solubility parameters, has been introduced for the first time in a plant science context. While prediction of solubility parameters is commonly used in membrane science [33] and also in pharmacology [36], this procedure has not so far been applied to estimating the surface properties of biological materials, with the exception of a few studies focused on human skin [37, 38].
The permeability of a compound through a plant cuticle is the product of its solubility, which is a thermodynamic parameter reflecting the degree of interaction between that compound and the plant cuticle, and its diffusivity through the matrix of the plant cuticle, which is a kinetic parameter associated with the molecular size of the compound and the structure of the matrix. This study is only focused on analysing for the first time the solubilities (not the permeabilities) of model plant surfaces and chemical constituents in relation to agrochemicals of commercial significance, adopting a thermodynamic perspective.
Two different approaches have been followed to assess the solubility parameters of plant surfaces. One is based on contact angle measurements (δ θ ), which reflect both physical and chemical effects associated with the topography and composition of the surface. The other is limited to considering the nature of the dominant epicuticular waxes covering the surface (δ wax ). The three materials selected are good examples of the diversity of plant surface structures in relation to the variability of cell shapes and micro- and nano-structures on the cell surfaces. In addition, the similar chemical composition of the dominant waxes in pepper and peach fruits in contrast to the β-diketones prevailing in juvenile Eucalyptus leaves offers another interesting aspect to evaluate in the plant surfaces investigated. From an agrochemical viewpoint, substances with different activities, polarities, and degrees of complexity were assessed as model compounds.
Conclusions
A novel method for predicting the interactions between plant surface structural constituents, plant surfaces and agrochemicals has been introduced, which was useful for predicting the solubilities of plant surface constituents and the affinities of agrochemicals for plant surfaces. Calculation of the solubility parameters of plant surface constituents led us to observe a solubility parameter gradient established from the cuticular surface towards the wall covering epidermal cells. Comparison of solubility parameters between cuticular and cell wall components will be helpful for clarifying the structure and development of the cuticle from an ontological viewpoint and also for establishing a relationship between the chemical composition and structure of the cuticular membrane, which is currently lacking. The methodology should also be of interest for multiple biological purposes and could help us understand surface phenomena on multiple biological materials.
Abbreviations
EO:

Ethylene oxide
HLB:

Hydrophile-to-lipophile balance
SEM:

Scanning Electron Microscopy
TEM:

Transmission Electron Microscopy.
Declarations
Acknowledgements
The authors wish to thank Dr. M. Steinbauer (La Trobe University, Victoria, Australia), Dr. M.A. Jenks (Western Regional USDA-ARS Biomass Research Center, USA) and E.P. Parsons (Purdue University, USA) for providing information on the composition of epicuticular waxes. We would like to thank the Electron Microscopy National Center (UCM; Madrid, Spain) for technical assistance with TEM. Victoria Fernández is supported by a "Ramón y Cajal" contract (MICINN, Spain), co-financed by the European Social Fund.
Authors' Affiliations
(1)
Department of Applied Physics I, Faculty of Physics, Universidad Complutense, Madrid, Spain
(2)
Genetics and Eco-physiology Research Group, School of Forest Engineering, Technical University of Madrid, Madrid, Spain
Copyright
© Khayet and Fernández; licensee BioMed Central Ltd. 2012
This article is published under license to BioMed Central Ltd. This is an Open Access article distributed under the terms of the Creative Commons Attribution License (http://creativecommons.org/licenses/by/2.0), which permits unrestricted use, distribution, and reproduction in any medium, provided the original work is properly cited.