Agent-based modeling of competence phenotype switching in Bacillus subtilis
Theoretical Biology and Medical Modelling
2013
10:23
Received: 9 November 2012
Accepted: 21 March 2013
Published: 3 April 2013
Abstract
Background
It is a fascinating phenomenon that in genetically identical bacteria populations of Bacillus subtilis, a distinct DNA uptake phenotype called the competence phenotype may emerge in 10–20% of the population. Many aspects of the phenomenon are believed to be due to the variable expression of critical genes: a stochastic occurrence termed "noise" which has made the phenomenon difficult to examine directly by lab experimentation.
Methods
To capture and model noise in this system and further understand the emergence of competence both at the intracellular and culture levels in B. subtilis, we developed a novel multi-scale, agent-based model. At the intracellular level, our model recreates the regulatory network involved in the competence phenotype. At the culture level, we simulated growth conditions, with our multi-scale model providing feedback between the two levels.
Results
Our model predicted three potential sources of genetic "noise". First, the random spatial arrangement of molecules may influence the manifestation of the competence phenotype. In addition, the evidence suggests that there may be a type of epigenetic heritability to the emergence of competence, influenced by the molecular concentrations of key competence molecules inherited through cell division. Finally, the emergence of competence during the stationary phase may in part be due to the dilution effect of cell division upon protein concentrations.
Conclusions
The competence phenotype was easily translated into an agent-based model – one with the ability to illuminate complex cell behavior. Models such as the one described in this paper can simulate cell behavior that is otherwise unobservable in vivo, highlighting their potential usefulness as research tools.
Keywords
Agent-based modeling
Bacillus subtilis
Bistable switch
Competence
Background
The competence state exhibited by Bacillus subtilis is an example of a bacterial phenotype driven by changes in gene and protein expression states rather than changes in genotype[1]. Competence is a DNA uptake mechanism that appears to be a cell survival strategy for either procuring new genetic information or obtaining DNA as food. The emergence of competence is correlated with high cell density and nutrient limiting conditions[1]. In those conditions, approximately 10–20% of a B. subtilis population will express the competence phenotype[1]. The mechanism by which a small fraction of the population becomes competent is presently attributed to the variable expression of specific genes, i.e., genetic "noise." "Noise" in gene expression at present is poorly understood.
The competence phenotype in
B. subtilis
is driven by bistable expression of the
comK
transcription factor[
2
], which is involved in a feedback loop that regulates its own expression and controls the downstream expression of competence genes, as shown in Figure
1
. Bistability refers to a mechanism consisting of two stable genetic regulatory states, in this case 'ON' or 'OFF'[
3
–
5
]. Accumulation of ComK protein (the ON state) enables downstream transcription of the DNA transport genes[
6
] that lead to the observed competence phenotype. Since
comK
is a "switch" that drives a key phenotypic state, its expression is highly regulated[
7
] at both the transcript and protein levels (Figure
1
). The ability of a bistable switch to transition from one state to another seems to be governed by random variations in biochemical reactions[
2
,
8
,
9
], as we see here with the variable expression of competence regulatory genes.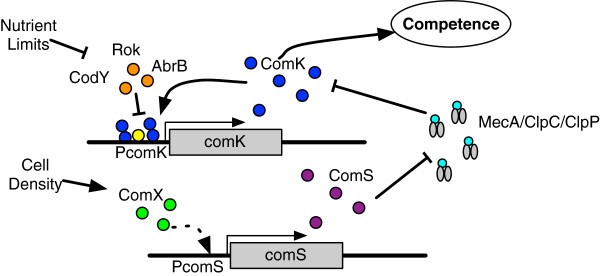 Stochastic intracellular molecular interactions and environmental inputs like changing nutrients and cell density are known to initiate phenotype switching and are sources of noise[3, 10–12]. Yet, the precise molecular interactions driving variable gene expression are difficult to capture in a typical laboratory environment. To educate ourselves about the molecular interactions involved in the competence phenotype, and to speculate if simple temporal and spatial molecular interactions also contribute to genetic noise, we developed a virtual model of a simplified B. subtilis cell in a cell colony-like environment.
A variety of mathematical modeling methods have been employed in an attempt to understand the nature of the competence switching process[2, 13–15]. These models have addressed the stochastic nature of competence by modeling noise in the system with varying degrees of specificity, using pre-defined noise terms and the Gillespie stochastic modeling algorithm[16]. However, to model noise, a stochastic process, we felt that employing a modeling technique that is itself inherently stochastic may offer additional insights about the nature of competence.
We decided to employ an alternative modeling technique – agent-based modeling (ABM). We hypothesized that the randomly interacting agents of an ABM would be suitable for modeling the genetic noise observed in the competence switch. In our ABM, agents simulate large molecules like proteins, RNAs, and DNAs. Agents interact with each other and their environment based on a set of well-defined rules, either literature-based or biologically intuitive.
Recently, ABMs have been used with great success to model phenomena in bacteriology such as biofilm development[17–21], the transmission dynamics of antibiotic resistance[22], and antibiotic resistance mechanisms in Staphylococcus aureus[23]. We recently reported the use of ABMs as applied to the chemotactic switching system in Escherichia coli[24].
Here we report the ABM we designed to mimic the B. subtilis competence phenotype. The model was tuned to simulate a colony of B. subtilis cells where competence emerged in 10–20% of the population. We make the following observations and predictions about genetic "noise": a) random spatial-temporal interactions lead to competence, b) daughter cells which inherit portions of the competence machinery are more likely to exhibit the competence phenotype, and c) dilution events like cell division inhibit competence emergence until stationary phase. The resulting model's source code is openly available for exploration at http://www.giddingslab.org/software, for use with the open-source modeling platform Repast Simphony version 1.2[25].
Discussion
Our interest in phenotype switching derives from studies of antimicrobial-tolerant bacterial phenotypes[46]. These are non-inherited phenotypes that confer tolerance towards many known antibiotic drugs. In bacterial populations, cells exhibiting tolerant phenotypes exist as a small fraction of the population, with the quantity determined in part by growth conditions. For example, stationary phase growth induces an increase in the fraction of phenotypically drug-tolerant cells[47]. However, at the present time, little is known about the mechanisms underlying antimicrobial tolerance in bacteria. So, to explore mechanisms that could explain variable gene expression and to further our knowledge of phenotypic bistable switching, we turned to competence switching in B. subtilis, where the key molecular players are known and well-studied.
Our B. subtilis ABM is a reduced scale model tuned to reflect the bacteria biology and the competence phenotype. Through the Cell Growth Equation (see Model Implementation section) the model closely approximates bacterial growth curves. In addition, cells only turned competent in bulk once stationary phase was entered. Although quantities of molecular agents modeled were a small fraction of the molecules in a live system, the model was able to approximate a real system. We have found similar results in a separate effort modeling chemotaxis in E. coli with an ABM, where preserving biological ratios of molecules was more important than preserving absolute quantities to produce biologically realistic results[24]. However, in the case of this model we found that chance, random interactions between agents had the most effect on the behavior of the model.
In our model, spatial-temporal interactions – not molecular quantities or agent rule execution probabilities – may be the key contributor to the emergence of the competence phenotype, as transcription and translation occur due to chance encounters by the molecules involved. Though it is not yet possible to verify these simulations in vivo, the biological system likely shares similar properties where the apparent randomness of the competence transitions is derived directly from the randomness of spatial distribution in competence-related molecules. Noise in a biological system is typically thought of as a series of events, but our results show it is possible that random spatial arrangement of competence-determining molecules may be its major contributing factor.
In addition to random spatial arrangements, random encounters between key agents also appeared to be important in the emergence of competence. It is interesting to note that changing the quantities of the initial number of agents in the model had more of an effect on the model outcome than the rule probabilities themselves. If there are greater numbers of an agent, then there is a higher chance for encounters between agents to occur. During the parameter estimation process, it was observed that changes in the probability values did not greatly impact model outcomes, although higher probabilities did speed up certain reactions (e.g. translation), which resulted in the production of more agents. This seems logical considering that the rule probabilities do not come into effect until two agents encounter one another, which can occur more frequently as the quantities of agents increase. If there are a large number of agents, there are more chances for them to encounter one another. As parameters have been reported to lack sensitivity in many biological models[48], our parameterization method is somewhat un-formalized as we focused more on looking for biological interpretations of our model after it had reached a life-like representation of the competence switch.
The cell division trees that monitored quantities of ComK displayed an obvious pattern of inheritance. Cells that inherited higher amounts of ComK transcripts and proteins from the parent cell tended to, in turn, pass on higher quantities to their children cells. However, the model also suggests what may be a basic but important facet of the emergence of competence: that dilution of competence-determining molecules during cell division may act to regulate the emergence of competence. Except for the lineages that switched to the competent state early due to inheriting elevated levels of the ComK protein, the remaining competent cells only became so after nutrient limitation and repressor agents inhibited cell division long enough for sufficient quantities of ComK agents to accumulate. The quantities of molecules inherited in this pathway acted in an epigenetic fashion upon subsequent phenotypic outcomes. This explains why competence in B. subtilis typically emerges during stationary phase when nutrients are limited, due to build-up of elements like ComK in the competence gene regulatory network.
The model may therefore reveal an important feature of how the growth stage regulates competence by diluting the mRNA and proteins essential to switching to the competent state. Although we have not verified this experimentally, Roostalu et al.[49] reported fluctuations in a reporter protein after cell division that supports the theory that cell division acts as a dilution event for the competence phenotype. During exponential growth phase, not enough time would pass between cell divisions to allow ComK to build up to sufficient levels, so competence would not occur. While we cannot know whether this is the complete explanation for how competence is limited to stationary phase in B. subtilis cultures, it appears to be a sufficient explanation to guide further experiments.
Conclusions
This study suffers from the same limitations as any model-based research, in that all models are only representations of a biological system. Nevertheless, the design of the model facilitates a thought experiment to represent and clarify the workings behind very complex cell behavior. This discrete model of the competence phenotype provides a readily comprehensible view into each cell's behavior and provides the ability to monitor the variation of molecular concentrations involved in regulating competence. The resulting model is biologically intuitive, with ready translation from biological facts or hypotheses into the model and back. As we used this model to educate ourselves on the mechanisms of the competence phenotype, we see great potential in ABMs as educational tools in the future because they are straightforward to build, visualize, and comprehend.
Declarations
Acknowledgements
We thank Wendy Spitzer and Ashley Lundqvist who provided technical writing services. We also wish to thank Jameson Miller and Miles Parker for sharing their agent-based modeling skill sets, as well as Dr. Kevin Ramkissoon and Dr. Hsun-Cheng Su for fruitful discussions about bacterial growth curves. We thank the members of the Repast-Interest mailing list for their support of the Repast Simphony platform.
A portion of this work was supported by F31DE019594 from the National Institute of Dental & Craniofacial Research to SMS. This work was also supported by NIH R01RR020823 to MCG. The funders had no role in study design, data collection and analysis, decision to publish, or preparation of the manuscript. The content is solely the responsibility of the authors and does not necessarily represent the official views of the National Institute of Dental & Craniofacial Research, the National Center for Research Resources, or the National Institutes of Health.
Authors' Affiliations
(1)
Syngenta Biotechnology, Inc., USA
(3)
College of Arts and Sciences, Boise State University, Boise, USA
(4)
Department of Biochemistry & Biophysics, University of North Carolina at Chapel Hill, Chapel Hill, USA
Copyright
© Stiegelmeyer and Giddings; licensee BioMed Central Ltd. 2013
This article is published under license to BioMed Central Ltd. This is an Open Access article distributed under the terms of the Creative Commons Attribution License (http://creativecommons.org/licenses/by/2.0), which permits unrestricted use, distribution, and reproduction in any medium, provided the original work is properly cited.