Modelling gene expression profiles related to prostate tumor progression using binary states
Theoretical Biology and Medical Modelling
2013
10:37
Received: 4 November 2012
Accepted: 21 May 2013
Published: 31 May 2013
Abstract
Background
Cancer is a complex disease commonly characterized by the disrupted activity of several cancer-related genes such as oncogenes and tumor-suppressor genes. Previous studies suggest that the process of tumor progression to malignancy is dynamic and can be traced by changes in gene expression. Despite the enormous efforts made for differential expression detection and biomarker discovery, few methods have been designed to model the gene expression level to tumor stage during malignancy progression. Such models could help us understand the dynamics and simplify or reveal the complexity of tumor progression.
Methods
We have modeled an on-off state of gene activation per sample then per stage to select gene expression profiles associated to tumor progression. The selection is guided by statistical significance of profiles based on random permutated datasets.
Results
We show that our method identifies expected profiles corresponding to oncogenes and tumor suppressor genes in a prostate tumor progression dataset. Comparisons with other methods support our findings and indicate that a considerable proportion of significant profiles is not found by other statistical tests commonly used to detect differential expression between tumor stages nor found by other tailored methods. Ontology and pathway analysis concurred with these findings.
Conclusions
Results suggest that our methodology may be a valuable tool to study tumor malignancy progression, which might reveal novel cancer therapies.
Keywords
Tumor ProgressionSynthetic DatasetMalignancy ProgressionProstatic Intraepithelial NeoplasiaBinary State
Background
Cancer is a complex and multi-factorial disease. Hanahan and Weinberg define the hallmarks of cancer as the manifestation of alterations in cell physiology, including limitless of replicative potential, sustained angiogenesis, evasion of apoptosis, self-sufficiency of growth signals, insensitivity to antigrowth signals, tissue invasion and metastasis [1]. The order and mechanisms in which these alterations emerge during malignancy progression is thought to vary between individuals and tumor types [1]. Moreover, studies have proven that cancer is a genetic disease [2] which is characterized by mutations in several cancer-related genes such as oncogenes, tumor-suppressor genes and stability genes [3]. The diversity and interconnection of these factors and mutations makes tumor progression difficult to model, study, and predict.
Studies have shown that tumors are heterogeneous in mutations and gene expression during progression to malignancy [4, 5]. The consequence of alterations in oncogenes or their regulators is the constitutive activation compared to wild-type gene. The activity of tumor-suppressor genes (TSG) is affected in the opposite way; disruptions lead in function degradation. In addition to oncogenes and TSG, stability genes or caretakers when mutated promote tumorigenesis by decreasing the restoration of DNA replication mistakes or by the inability to correct all mutations when cells have been exposed to mutagens [2].
Microarray technology for gene expression profiling has proven to be successful in a variety of experimental settings [6, 7] having the potential to discover the diversified and dynamic molecular states during tumor progression. In malignancy progression, it has shown that increases or decreases in activity can be traced by changes in gene expression [5]. The analysis of microarray data is, nevertheless, complex; the results are dependent on the analysis method and noise handling generating ambiguous or complementary results [8]. Besides the microarray data inherent problems, the examination of tumor progression is complicated by the limitation of the sampling time typically performed at diagnosis and by a staging system mainly based on phenotypical features [9]. This raises the issue that cancer samples may be labeled under the same stage regardless of their molecular state. In addition, there are few datasets designed to study tumor progression. Therefore, tools that analyze gene expression by novel approaches are needed and appreciated by medical, biological and scientific community.
Despite the massive efforts made to detect differential expression and biomarkers, few methods have been designed to model the gene expression level to tumor stage during malignancy progression. Such models could help us understand the dynamics and simplify or reveal the complexity of tumor progression. For example, in breast cancer, low and high grades have been in addition divided into six molecular subtypes using principal component analysis followed by a tailored clustering method [10], and gene co-expression networks have been used to form subgroups of different relapse-free survival times [11]. In other cancers, simple differential gene expression combined with enrichment analysis [12] has been used to obtain common transcriptional profiles shared between cancers of several tissues [13], which was further expanded to allow combinations and extensions of experimentally-designed sets of genes to uncover molecular concepts during prostate cancer progression [5]. Recently, other methods have been applied to tumor progression, such as significant minimum spanning trees among clusters of co-expressed genes [14], genes over-expressed between the first and the last tumor stages [15], over-represented pathways of differentially expressed genes between progression stages [16], and temporal re-ordering of samples to by genes of minimum expression changes along progression [17].
In this paper, we contribute a novel yet simple approach to study tumor progression assuming tumor heterogeneity. We propose a method to identify relevant genes related to tumor progression transforming the distribution of gene expression to binary states per sample then modeling the distribution of sample states within a progression stage to assign also a binary state. We believe that this approach is, to some extent, robust to tumor heterogeneity and noise. Our results in two prostate cancer datasets show that significant genes resemble the ideal profiles of oncogenes and TSG during tumor malignancy progression and that a large number of genes were not found in the original publication neither using well-known differential expression methods.
Methods
Binary states model (BSM)
The overall methodology (Figure
1
A) is based on binary states first to individual samples then to tumor stages (Figure
1
B). For individual samples, we generate ideal binary states representing whether a gene is active (value=1) or inactive (value=−1). In addition, we assign a value of 0 when the state for a sample cannot be determined. We hypothesized that the normalized intensity of a gene in a sample can be either above, below or within an uncertainty zone defining the gene as active=1, inactive=−1, or uncertain=0 respectively. The uncertainty region is centered in
t
and limited by
t
-
u
and
t
+
u
, where the parameters
t
and
u
represents the cut-off and uncertainty respectively. Some authors have used similar approaches [
18
–
21
]. Then; we defined the state per stage as active=1 or inactive=−1 when the proportion of samples within that stage and state is higher or equal than a proportion parameter,
mp
. The stage-state can also be designed as uncertain=0 when it could not be assigned as active nor inactive. Next, we simply concatenate the gene state per stage to generate a profile of 1's, 0's, and -1's separated by period for representation. For example, the profile 1.0.-1 would represent that the gene is active in the first stage, undefined in the second stage and inactive in the last stage (Figure
1
C). For a textual description of the algorithm and pseudo-code, see supplementary data.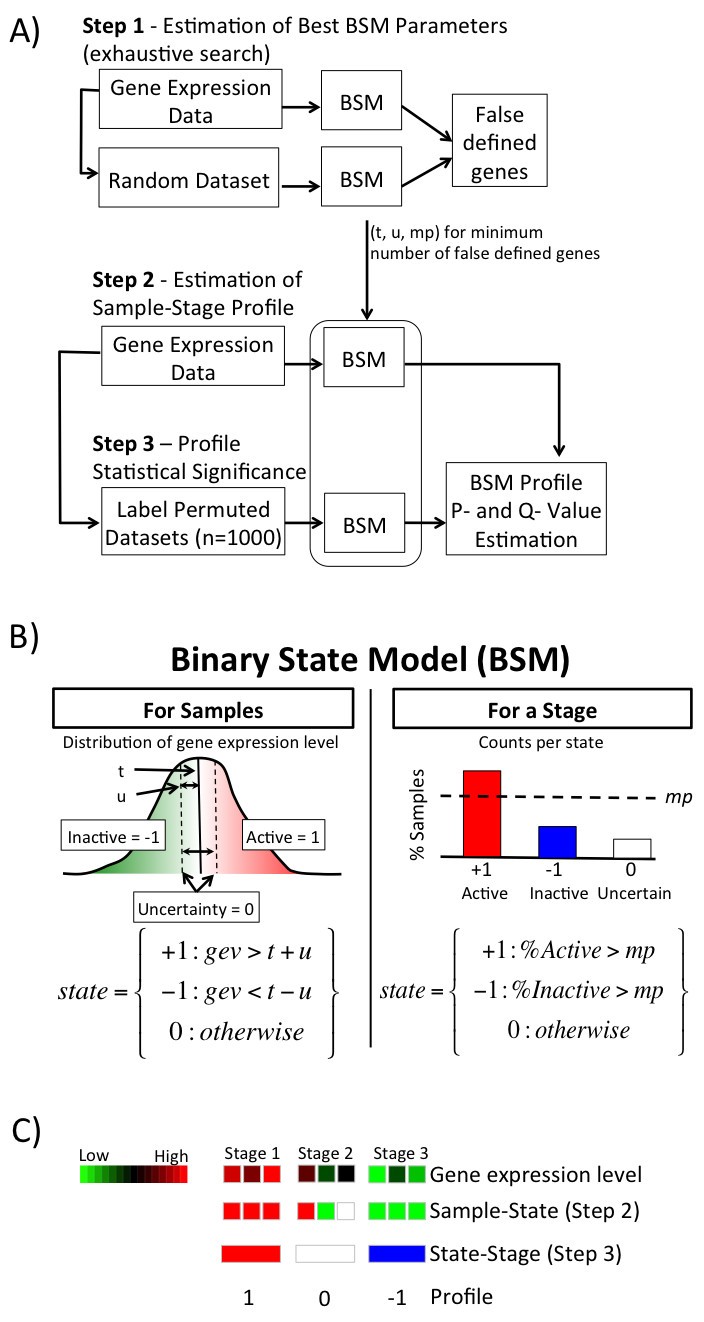 Parameters estimation
To find the best t, u, and mp parameters (shown in Figure 1B), we used an exhaustive search of discrete values comparing observed and bootstrap estimations. For the proportion parameter mp we used 0.5, 0.6, 0.7, and 0.8 representing 50% to 80% of the samples in the same state. Lower values would generate ambiguity, and higher values would be highly stringent. Similarly, for the cut-off value t, we used 0.3, 0.4, 0.5, 0.6, and 0.7. For the uncertainty value u, we used 0, 0.25, 0.5, 0.75, and 1 multiplied by the standard deviation of the dataset to adapt the observed variation per gene and fairly compare genes in the same stage. To determine the best of the 100 value combinations of these parameters, we generated artificial datasets composed by uniform distributed random values between 0 and 1 . We used at least P=100 random datasets (results for P=1,000 and P=10,000 yields the same results, so we used 100 for speeding up the pipeline for final users) and ran each set of parameters on each random dataset. Then, for each gene i in each random dataset p, we set d ip equal to the number of stages that it was defined as active or inactive (thus not considering uncertainties). Next, for each possible number of stages s, from 1 to the total number of tumor progression stages Z, we counted the number of genes that were active or inactive in exactly s stages, D sp = count(d ip =s) and average among all datasets as DR s = sum(D sp ) / P. DR s gives an estimation of the number of genes false assigned as active or inactive to s stages. Next, we defined the ratio of the cumulative number of false defined genes in at least s stages as F s =(D s +Ds+1+…+D Z )/ (DR s +DRs+1+…+DR Z ), from s=1…Z where D k is the observed number of genes defined as active or inactive for k stages in the original dataset. Finally, we estimated the total number of non-false assigned genes by NF=(1-F 1 )*D 1 +(1-F 2 )*D 2 +…+(1-F z )*D z . The combination of parameters that yield highest NF was then chosen.
Estimation of stage-state profile significance
Using the best parameter combination, we calculated an empirical p-value to rank the gene profiles using permutated stage labels such as in SAM [22]. We ran BSM at least 1,000 times to draw the expected probability of each profile by chance. p-values are calculated dividing 1+the number of times of each profile is found in the permutated dataset by the number of genes of all permutations. We assume that the profiles not frequently found in the permuted datasets are the most significant. p-values were adjusted using a false discovery rate method to generate q-values[23, 24], which help to finally select genes with statistical significant state-stage profile.
Simulations on synthetic data
To explore the potential of BSM to identify genes with specific properties for cancer progression, we performed a tailored simulation study generating a dataset containing synthetic gene expression following specific stage-state profiles. To simplify the analysis, we included 2, 3, or 4 stages with 10, 20, 30, 40, or 50 samples each. The range of gene expression was from 0 to 1. To generate active stage-state values (+1), we used Gaussian random numbers whose mean was randomly chosen from .625, 0.750, and 0.875. The standard deviation was randomly chosen from 0.125, 0.250, and 0.375. Only combinations where the mean – sd >= 0.5 were used to ensure an activation level. Similarly, for inactive stage-states (−1), the mean was chosen from 0.125, 0.250, and 0.375, using the same standard deviations and constrained to mean + sd <= 0.5. For states=0, two normal distributions were used, half of the samples are generated with mean=0.75 and the remaining with mean=0.25, both with sd=0.15. Synthetic datasets included 60 positive synthetic genes for 2 stages, 180 for 3 stages, and 200 for 4 stages, using "ideal" oncogene and TSG profiles (e.g. in 4 stages: 1.1.1.-1, -1.1.1.-1, -1.-1.-1.1, 1.-1.-1.1, 1.-1.-1.-1, -1.1.1.1). A heat map representation of synthetic genes is shown in Additional file 1: Figure S1. Synthetic datasets also include around 4,800 negative synthetic genes (up to 5000) from profiles that do not represent "interesting" state-states (those that have no transitions between 1 and −1, e.g. 1.1.1.1, -1.-1.-1.0, 1.0.1.1, 0.-1.0.-1).
Prostate datasets
We used a prostate cancer dataset available in GEO database as GSE6099 [5, 25]. This dataset consists of 20,000 genes in 104 cDNA samples distributed in the following stages ordered by tumor progression: 39 Normal, 13 Prostatic intraepithelial neoplasia (PIN), 32 Prostate cancer (PCA), and 20 Metastases (Met). This dataset was pre-processed from the original raw files using bioconductor [26]. Finally, we uniformized the gene expression values in each sample to values between 0 and 1 in order to eventually compare results from different datasets and technologies. Results with and without uniformization did not change the results of BSM (see Additional file 2: Table S9). The uniformization is performed by changing gene expression values to its corresponding quantile for each sample. We also used the Memorial Sloan-Kettering Cancer Center database of prostate cancer that included 179 prostate samples along four stages (29 normal, 78 Gleason score 5 or 6, 53 Gleason score 7 to 9, and 19 metastasis) [27].
Comparisons with other methods
To determine whether BSM selects similar genes than those selected by other methods, we estimated the degree of overlap from the genes selected by our method to those selected by commonly used methods such as using t-test [13], wilcoxon-test and f-test [28], cancer outlier profile analysis (COPA) and outlier sum [29, 30], SAM [22], and molecular concepts [5]. For t-test and Wilcoxon-test, a comparison of one stage versus all other stages was performed. For COPA, we used the maximum of the quantiles at 75%, 90%, and 95% per stage and took the maximum value. To perform fair comparisons with our method, we used the 215 most significant genes (as those selected by BSM, see results) in all test regardless of the p- and q-values. For simulations, we used the top number of genes equal to the positive synthetic genes.
Ontology enrichment
Results using BSM and SAM were tested for enrichment for Gene Ontology terms and KEGG pathways using WebGestalt (Duncan, et al. 2010). To highlight differences, we used a 20% FDR as cut-off to select significant enrichment.
Conclusions
We showed that simple binary states estimated to samples and then samples grouped into stages can identify genes putative related to tumor progression, which was also supported by biomedical literature. We showed that the profile of selected genes is similar to profiles expected for oncogenes, tumor suppressor genes and metastases suppressor genes and that these genes can be used for prediction purposes. In addition, we found genes with two changes in the activation state that require further investigation. We also demonstrated that our binary state model discovers genes not found by other methods. We conclude that the binary state model proposed here is a valuable tool to analyze tumor progression from gene expression data.
Declarations
Acknowledgements
We would like to thank ITESM Cátedra de Bioinformática CAT0172 and CONACyT grant 83929 for financial support of this research and scholarship for EML.
Authors' Affiliations
(1)
Tecnológico de Monterrey, Campus Monterrey, Cátedra de Bioinformática, Monterrey, México
Copyright
© Martinez and Trevino; licensee BioMed Central Ltd. 2013
This article is published under license to BioMed Central Ltd. This is an Open Access article distributed under the terms of the Creative Commons Attribution License (http://creativecommons.org/licenses/by/2.0), which permits unrestricted use, distribution, and reproduction in any medium, provided the original work is properly cited.