Developing a realistic sexual network model of chlamydia transmission in Britain
Theoretical Biology and Medical Modelling
2006
3:3
Received: 09 November 2005
Accepted: 20 January 2006
Published: 20 January 2006
Abstract
Background
A national chlamydia screening programme is currently being rolled out in the UK and other countries. However, much of the epidemiology remains poorly understood. In this paper we present a stochastic, individual based, dynamic sexual network model of chlamydia transmission and its parameterisation. Mathematical models provide a theoretical framework for understanding the key epidemiological features of chlamydia: sexual behaviour, health care seeking and transmission dynamics.
Results
The model parameters were estimated either directly or by systematic fitting to a variety of appropriate data sources. The fitted model was representative of sexual behaviour, chlamydia epidemiology and health care use in England. We were able to recapture the observed age distribution of chlamydia prevalence.
Conclusion
Estimating parameters for models of sexual behaviour and transmission of chlamydia is complex. Most of the parameter values are highly correlated, highly variable and there is little empirical evidence to inform estimates. We used a novel approach to estimate the rate of active treatment seeking, by combining data sources, which improved the credibility of the model results. The model structure is flexible and is broadly applicable to other developed world settings and provides a practical tool for public health decision makers.
Keywords
Sexual Behaviour
Sexually Transmitted Infection
Pelvic Inflammatory Disease
Transmission Probability
Behavioural Parameter
Background
Chlamydia is a very common, curable sexually transmitted infection (STI) caused by the Chlamydia trachomatis bacteria. Chlamydia prevalence in young women attending general practice in Britain was estimated to be 8.1% in those under 20 and 5.2% in those aged 20–24 [1], and is similar in other developed countries. Many infections are asymptomatic, resulting in a large reservoir of undetected, untreated infections [2]. Untreated chlamydia infection may result in long-term sequelae in women including pelvic inflammatory disease (PID) and ectopic pregnancy [3]. Detection of chlamydia has become easier with the recent introduction of rapid, sensitive, affordable, and non-invasive DNA tests [4]. Treatment is also straightforward and inexpensive with doxycycline or azithromycin [5]. Chlamydia screening therefore, has been or is being implemented in various developed countries including USA, Sweden, Netherlands, and UK [6–9]. However much of the epidemiology of chlamydia remains poorly understood [10] and there are many questions regarding the long term impact of interventions, such as how much PID is attributable to chlamydia infection and what are the economic and health costs and benefits of chlamydia screening? Appropriate mathematical models are required to address these questions adequately. Models are able to compare a variety of "what if" scenarios and inform estimates of biological and epidemiological parameters which are difficult to measure in practice e.g. transmission rate or the proportion of symptomatic cases seeking treatment.
Population-based deterministic models were first used to illustrate the importance of the contact structure and dynamic aspects of infection [11–13]. However population-based models fail to capture important individual level effects in the sexual network. For example, re-infection is dependent on the infection and treatment status of current partners, not the average level of infection in the community. Individual based models of STI transmission with dynamic sexual partnerships have been developed which can incorporate such effects [14, 15]. Ghani et al developed an individual-based, dynamic sexual network model of gonorrhoea transmission within a highly active "core-group" population [15]. Individuals and their partnerships are explicitly represented, enabling detailed analysis of the network structure. Partnerships form according to mixing preferences based on sexual activity level and dissolve dynamically.
There is a growing public health need for a realistic, dynamic model of chlamydia transmission to inform and interpret the potential effect of interventions such as screening programmes and partner notification [16] To this end it was necessary to extend Ghani's model. The distribution of chlamydia is more widespread and less focussed in core groups than gonorrhoea, so a population model was developed [17]. The US Add Health study found a ten-fold higher prevalence of chlamydia (4.19%) compared with gonorrhoea (0.43%) in a probability sample of 18–26 year olds [2]. In the UK there were 104,155 chlamydia diagnoses in GUM clinics in 2004, compared with 22,335 of gonorrhoea [18] To be realistic, the model also requires age-structure, because chlamydia prevalence declines with increasing age [1], and at the population level sexual behaviour and partner choice are strongly age-dependent [19, 20]. Therefore, we extended the model to incorporate age-structured sexual behaviour and partnership preferences in the general population. The final model is a realistic representation of sexual behaviour and chlamydia epidemiology in England, but is also broadly applicable in other developed world settings.
The purpose of this paper is to describe the model parameterisation method and to present the values of selected parameters that will be used in future applications to explore chlamydia screening interventions.
Results
The results of fitting the model to behavioural data are shown in Figure
2
for male and female partnerships in the last year. The best fit parameter values, and the values that gave fits within 95% confidence limits are presented in Table
2
. The model fits better to the male data than the female data, due to the choice of fitting procedure (i.e., the model was fitted to male behavioural data). In both males and females, the model overestimates the number of partners of the youngest age groups, and slightly underestimates in older age groups. The fitted model has a higher rate of partner change in females than observed in the data. The discrepancy between data and model is greatest in the youngest women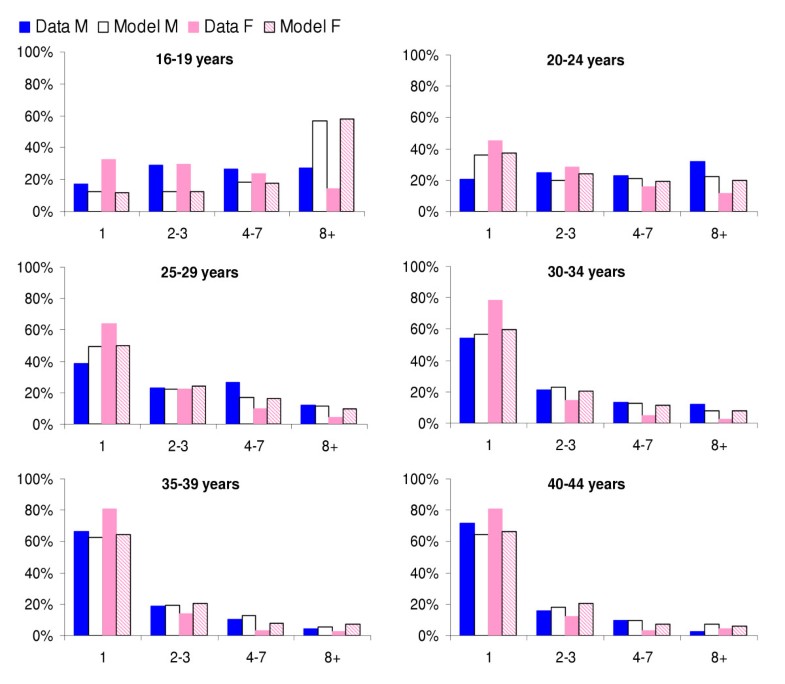 Given the set of behavioural parameters, the estimated biological parameters (and 95% confidence intervals) that produced the best fit are shown in Table
2
. The best fitting model suggests a partner notification efficacy of 20%, per sex act transmission probability of 0.0375 and that a small fraction of cases are treated as a result of active treatment seeking (less than 5% of new female and 0.05% of new male cases). The best fitting model results are shown in comparison with the proportion reporting chlamydia treatment (Figure
3
) and the prevalence of chlamydia in women (Figure
4
).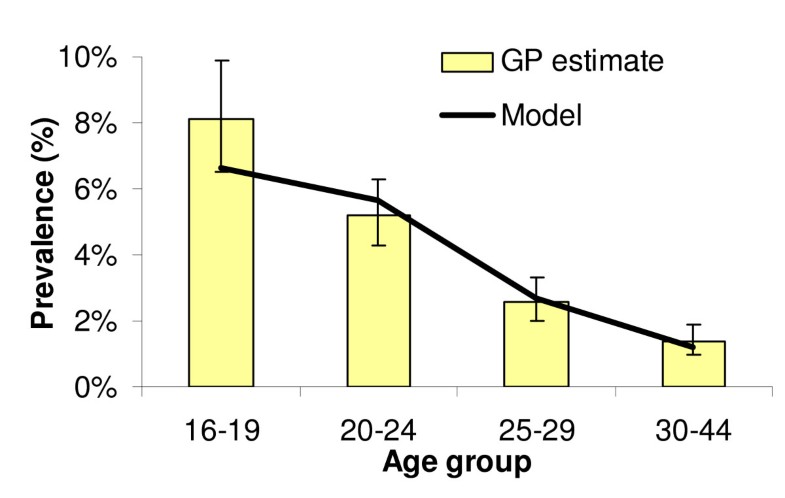 Discussion
The aim of this study was to develop a flexible, credible model of chlamydia transmission in Britain to address public health questions regarding chlamydia epidemiology and interventions including screening. We extended the model of Ghani et al to incorporate relevant features such as age-dependent sexual behaviour [15]. We used multiple data sources and an iterative process of parameter fitting and refinement to estimate sexual behaviour and biological parameters representative of current chlamydia epidemiology in Britain.
The distribution of sexual behaviour in the fitted model is broadly similar to that observed in Britain (Figure 2). In the model the total number of partnerships contributed by men and women are equal, because it is a closed population and partnerships can be counted perfectly. However, the model was fitted to male partnership data from Natsal 2000, which found that men report more partnerships than women [19, 28]. Data available to validate and parameterise the model are based on retrospective accounts of individual's sexual behaviour, which are subject to various biases [31, 32]. The reasons for the observed discrepancy are not fully understood, but could include male over-reporting, female under-reporting or gender differences in the distribution of partners. An Australian study compared reports of sexual behaviour under different survey conditions and found that males' reports were more consistent than females', and that females tended to report fewer partners when they believed the responses were not anonymous compared with when they believed lies would be detected, suggesting a bias towards underreporting [29]. Others have suggested that the difference between men and women primarily lies in the tail of the distribution and that female sex workers, who are likely to be poorly represented in population-based surveys, may supply the extra partnerships reported by men [33, 34]. The true situation is probably a combination of these. We chose to fit the model to behaviour reported by men, as this may be more reliable. However, the sexual activity of women in the model is then higher than that reported in the data. The difference is greatest in the youngest women. If we had fitted to either women or some average of both, the model would have fitted neither data set well, although the overall model behaviour would be roughly similar and the fitted infection parameters would be slightly different.
The distribution of chlamydia by age and the number of people treated for infection follows that observed in young women [1, 21]. Chlamydia prevalence is highest in the youngest age groups and lowest in the oldest. While surveillance data from genitourinary medicine clinics suggest that male prevalence may be highest in the 20–24 year old ages [18], a recent review does not suggest a difference in male and female prevalence, therefore we fitted to female data only. More data on the prevalence and incidence of chlamydia in men are needed to improve the parameter estimates [1].
The estimates of transmission probability are highly dependent on the values of the duration of infection chosen, but there are few reliable data on the timing of treatment or recovery under different scenarios of symptoms, contact tracing and screening. If the average duration of all infections were shorter than we modelled, the transmission probability would need to be higher to fit to the same overall prevalence. The level of partner notification (that is partners of contacts are known to have been tested and treated) predicted by the best fitting model was 20%. Data from the Chlamydia Recall Study suggested that partner notification might be as high as 50% in a study setting [26]. There are problems in interpreting the estimate of 20% as it is also correlated with the other infection parameter estimates and was fitted to the observed low rate of treatment. However the efficacy in a non-study setting is likely to be lower and the importance of maintaining and improving partner notification is crucial to the long-term success and effectiveness of interventions.
The proportion seeking treatment is low compared with other estimates of the proportion symptomatic [3, 24, 35]. This is due to several reasons. Firstly, active treatment seeking is not directly analogous to symptomaticity, which is an assumption in our model. A modelling study has suggested that the proportion of time an infection shows symptoms may be less frequent and also intermittent [30], and therefore may not prompt an individual to seek treatment if his/her symptoms disappear. In a recent US Add Health study, 4.19% of 18–26 year olds were infected with chlamydia, and more than 95% of infections were asymptomatic [2]. In the model, those who have reported treatment for chlamydia may have done so from either seeking treatment or through partner notification. In reality, treatment may be more frequent (with or without confirmed diagnosis) due to co-treatment of gonorrhoea cases or syndromic management of urethritis in men [36]. Secondly, we fitted to very low rates of treatment observed in the population, particularly among men, based on retrospective data collected by Natsal 2000. Recent data from the Health Protection Agency show that chlamydia diagnoses (and presumably treatment) have increased since 2000, from both a real increase in chlamydia prevalence and increased testing and diagnoses through education and screening [18]. We compared our estimates of treatment seeking to those in the model by Kretzschmar et al [24], which is the most thorough study published to date and is broadly comparable to ours in terms of structure and dynamics. We ran our model using the infection parameters from their published model, including a higher proportion of symptomatic infection (higher treatment rate). The model chlamydia prevalence was similar to that observed using our values, but the proportion of 20–24 year olds ever treated was over 45%. This compares with 4.5% in the fitted model and 5.1% (3.7–6.9%, 95% CI) of 20–24 year old women ever treated for chlamydia reported in Natsal 2000. Similarly, the Chlamydia Recall Study found that 8% of women aged 20–24 reported past treatment for chlamydia [26]. We believe that, although the true rate of treatment seeking maybe higher than we estimated, the novel use of data on reported rates of treatment to parameterise the model has led to a more credible model and is justified by the fit to data.
The model is complex and there are many interactions between the parameters. Therefore the values presented here should be considered as a best fitting set of parameters, rather than taken individually. There are limitations to the model structure, e.g. there may be more individual variability between individuals during their sexual life histories than we were able to simulate. There is a trade-off between model complexity and the ability to validate the model with data. More data are needed on sexual life histories as well as further analysis of the sensitivity and robustness of the model assumptions. The advantages of this individual based model over other possible choices are that the history of individuals can be tracked over time, e.g. exposure to infection, previous partners or number of screens. Infection and reinfection events occur within explicitly defined partnerships, which enables partner notification. Finally the model structure is very flexible and additional screening or partner notification strategies and other behavioural patterns or infections can be added.
Conclusion
The model is applicable to other developed world settings. It is being used to investigate the effectiveness of interventions such as chlamydia screening in England (Turner et al, submitted). Modelling is underway to improve understanding of the natural history of pelvic inflammatory disease and estimate the cost-effectiveness of interventions designed to prevent it. The model fitting was as systematic as possible given the limitations of computing time and data. A strength is the use of novel data on past treatment to improve parameter estimates. We therefore believe this model to be a significant improvement in providing a realistic model for use in public health decision-making.
Appendix
The proportion of males in each sexual activity group (defined by the number of partnerships in the last year) by age group is assumed to follow a multinomial distribution. The log-likelihood (L beh ) of the model given the data and the saturated log-likelihood (L beh *) are given by:
where Q ap is the number of males (female results not used for final fitting), age group a (16–19, 20–24, 25–29, 30–34, 35–39, 40–44) and sexual activity group p with a given number of partners (1, 2–3, 4–7, 8+) observed from Natsal, and y ap and z ap are the proportion of males, age group a with p number of partners, from the Natsal 2000 data and observed in the model, respectively. The deviance is given by:
Dev beh = (- 2*(L ap - L ap *))
which was minimised to find the best fitting set of behavioural parameters.
The biological parameters were also fitted using maximum likelihood. As the data are binomial the model log likelihood (L bio ) and saturated log likelihood (L bio *) are given by:
L bio = L bio_prev + L bio_prop
L bio * = L bio_prev * + L bio_prop *
The formula is illustrated for L bio_prev , and is the same for L bio_prop :
where I ga is the observed number of infected, S ga the observed number of susceptibles, and x ga is the model estimate of the proportion of infected, by gender g and age group a. For prevalence, g (females), by four age groups a (16–19, 20–24, 25–29, 30–44) and for the proportion ever treated, g (males, females) by two age groups (16–19, 20–24) and the values summed.
The deviance was calculated and minimised in the fitting routine:
Dev beh = (- 2*(L ap - L ap *)).
Abbreviations
Natsal 2000:

National Survey of Sexual Attitudes and Lifestyles 2000
BASHH:

British Association of Sexual Health and HIV
GP:

General practice
STI:

Sexually Transmitted Infection
Authors' Affiliations
(1)
Health Protection Agency, Centre for Infections, Colindale, UK
(2)
London School of Hygiene & Tropical Medicine, UK
(3)
Department of Primary Care and Population Sciences, University College London, Mortimer Market Centre, UK
Copyright
© Turner et al; licensee BioMed Central Ltd. 2006
This article is published under license to BioMed Central Ltd. This is an Open Access article distributed under the terms of the Creative Commons Attribution License (http://creativecommons.org/licenses/by/2.0), which permits unrestricted use, distribution, and reproduction in any medium, provided the original work is properly cited.