Individualized, discrete event, simulations provide insight into inter- and intra-subject variability of extended-release, drug products
Theoretical Biology and Medical Modelling
2012
9:39
Received: 20 August 2012
Accepted: 24 August 2012
Published: 31 August 2012
Abstract
Objective
Develop and validate particular, concrete, and abstract yet plausible in silico mechanistic explanations for large intra- and interindividual variability observed for eleven bioequivalence study participants. Do so in the face of considerable uncertainty about mechanisms.
Methods
We constructed an object-oriented, discrete event model called subject (we use small caps to distinguish computational objects from their biological counterparts). It maps abstractly to a dissolution test system and study subject to whom product was administered orally. A subject comprises four interconnected grid spaces and event mechanisms that map to different physiological features and processes. Drugs move within and between spaces. We followed an established, Iterative Refinement Protocol. Individualized mechanisms were made sufficiently complicated to achieve prespecified Similarity Criteria, but no more so. Within subjects, the dissolution space is linked to both a product-subject Interaction Space and the GI tract. The GI tract and Interaction Space connect to plasma, from which drug is eliminated.
Results
We discovered parameterizations that enabled the eleven subject simulation results to achieve the most stringent Similarity Criteria. Simulated profiles closely resembled those with normal, odd, and double peaks. We observed important subject-by-formulation interactions within subjects.
Conclusion
We hypothesize that there were interactions within bioequivalence study participants corresponding to the subject-by-formulation interactions within subjects. Further progress requires methods to transition currently abstract subject mechanisms iteratively and parsimoniously to be more physiologically realistic. As that objective is achieved, the approach presented is expected to become beneficial to drug development (e.g., controlled release) and to a reduction in the number of subjects needed per study plus faster regulatory review.
Keywords
FelodipineInterindividual VariabilityDissolution ProfileBioequivalence StudyDose Fraction
Background
Large intrasubject variability in drug bioequivalence (BE) coupled with weak in vitro-to-in vivo correlation can pose significant problems in assessing bioequivalence [1–3]. We observed examples of large intra- and interindividual variability in data from a bioequivalence study. A proposed strategy for exploring plausible explanations, one that has since been abandoned, was individual BE. The focus was to investigate important subject-by-formulation interactions, if they exist [4, 5]. When faced with such data, an obvious question is, what are plausible, mechanistic, root causes of that variability? We used an unconventional modeling and simulation strategy to develop particular, concrete, parsimonious yet plausible abstract answers that strove to avoid accumulating tenuous assumptions. We present individualized answers in the form of subject-by-formulation interactions that emerged within models for a set of eleven subjects drawn from one BE study.
Plausible, conceptual explanations for such variability have been discussed [6]. Several pharmacokinetic modeling and simulation strategies have been offered for deciphering atypical drug absorption profiles, including using a sum of inverse Gaussian functions to describe absorption [7] as part of a parametric, nonlinear mixed effects analysis [8]. Such analyses may fail because mechanisms underlying the data contradict one or more of the assumptions on which the formal approach rests. Sparse data aggravates the problem. That problem can be solved when population mathematical descriptions within nonlinear mixed effect pharmacokinetic models can be expanded to cover more mechanistic assumptions [9–11]. When data are rich, the problem may be addressable using two-stage techniques [9], which allow more flexibility in specifying absorption characteristics of the structural model. However, if the failure is because different mechanisms (i.e., different structural models) seem to apply to subsets of individuals, but not on all occasions, then multiple assumptions made by such mathematical models are violated. In that case, even with rich data, such analyses cannot be relied upon to provide trustable mechanistic insight. The latter situation occurs for many complex controlled release formulations. Hénin et. al. [11] describe an example involving a complex felodipine tablet formulation, and discusses the problem from the conventional modeling perspective. In such situations, different methods, like those presented herein, are needed.
In concluding a review of methods of deciphering atypical drug absorption profiles, Zhou [6] opined, "it can be envisioned that … absorption analysis may move toward more mechanism-based rather than simply abstract number crunching. It may also be expected that more and more novel research techniques and computational tools will be used to greatly facilitate the in-depth understanding of absorption processes." Such progress would expand the "personalized medicine" vision to include complicated oral dosage forms [10, 12]. Before we can develop methods that provide exploitable explanations of atypical drug absorption profiles, we need means to begin achieving deeper, concrete insight into mechanisms that may underlie intra- and interindividual differences in bioavailability data, including subject-by-formulation interactions [5], when they exist.
Why do we need a modeling and simulation approach that is fundamentally different from conventional physiologically based and population pharmacokinetic approaches? The circumstances of a BE study can be characterized by indicating an approximate location on the two scales in Figure
1
. For an established dosage form, for which we have repeated, good correlations between in vitro measures of dissolution and bioavailability measures, little intra-individual variability, and explainable interindividual variability, we would select locations somewhat right of center. Being on the far right (characteristic of many engineering problems) favors developing inductive models that can be precise, accurate, and predictive: the generators of underlying phenomena are well understood, ample quantitative data is available, and precise knowledge about mechanisms is available at all levels of granularity. One's location shifts left when dealing with living systems because uncertainty increases and precise knowledge diminishes. Conceptual mechanisms are less validated (thus less trustworthy) and more hypothetical. The reliable, quantitative data that would be needed to validate (or falsify) even a modestly complicated, explanatory, mechanistic model are often lacking or scarce. When intra- and interindividual variability increases (e.g., complex, extended release formulations), one's location shifts further left, and the risks and associated problems of relying on induction and inductive models begin accumulating. Yet the need for more complicated, particular (rather than generalized) individualized explanations increases. Prior to the introduction of object-oriented methods, there was no sound option but to continue relying on equation based, inductive models such as those used to study oral absorption [
6
,
13
,
14
]. The method for doing so is straightforward and effective under many circumstances, but hinges on an idealized scenario that enables moving far right in Figure
1
, a scenario that is easily described by an equation-based model when some set of assumptions are met. Herein, we are not interested in idealized scenarios, so we elected to explore the approach described below.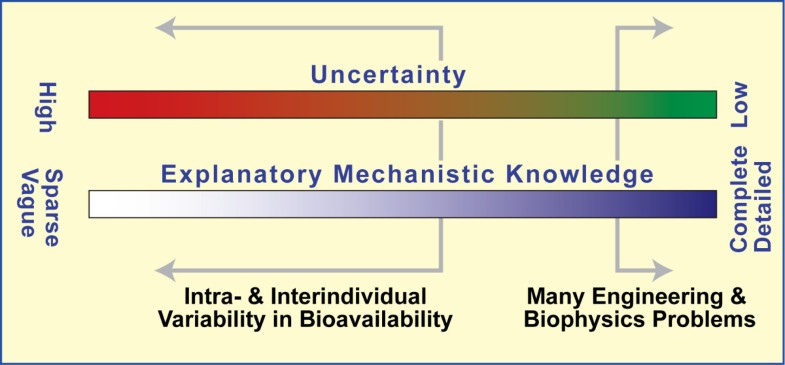 We began answering the question posed above by discovering plausible, abstract yet concrete mechanistic explanations for eleven examples (exhibiting the most intra- and interindividual variability from a study involving 32 subjects) of intra-individual differences in bioavailability and its role in the determination of BE of a generic and originator product. For reasons stated above, we sought new methods that would provide the flexibility needed given considerable uncertainty.
We used object-oriented, discrete event, modeling and simulation methods to build concrete software devices composed of three or more discretized spaces and mobile objects (mapping to drug) that, when measured during simulation, mimic measured features of drug release from a dosage form along with important features of the plasma drug concentration versus time profiles. The device is an analogue of a subject participating in a bioequivalence study. Hunt et al. [15] describe how the approach is fundamentally different from conventional physiologically based and population pharmacokinetic approaches. Our objective was to discover separate, individualized analogues that produce "drug dissolution" and individual "disposition" profiles that closely match their counterparts, as determined by prespecified Similarity Criteria (SC). We adhered to a strong guideline: make each analogue and its mechanisms no more complicated than needed to achieve the SC. We conjectured that once targeted SC have been achieved for a given subject, we could hypothesize that in silico mechanistic details might have had BE-study-subject counterparts [15] at a comparable abstraction level. When simulation results fail to achieve the SC, we can state that the analogue and its mechanisms do not have real world counterparts.
Starting with a simple, prototypal analogue, we used an Iterative Refinement Protocol (IR Protocol) to improve similarity between in silico and corresponding subject plasma profiles. We used medium and stringent, multi-attribute SC. We evaluated three structurally different versions of subject, one simple and two somewhat more complicated. All three achieved the medium SC for all subjects. The gastro-intestinal (GI) component of each subject mapped to a non-homogeneous GI tract. The third subject, the focus of this report, had a two-component, heterogeneous, individualizable "GI tract." Parameterizations were discovered that achieved the stringent SC for all eleven plasma profile pairs. Originator and test product mean dissolution profiles were different; a corresponding difference was built into subjects. To achieve the stringent SC, it was necessary to specify additional, modest intra- and interindividual differences in analogue counterparts to product dissolution. It was also necessary to specify both intra- and interindividual differences in drug disposition within subjects.
The parameterized subjects are simple and intuitive. Coarse-grained dynamic details can be observed during simulations. We hypothesize that all had BE study counterparts. In achieving the stringent SC, subject parameterizations and executions brought into clear focus plausible subject-by-formulation interactions. If evidence becomes available that falsifies one or more events or processes, it is straightforward to use the IR Protocol to make adjustments that reestablish validation. It is easy to conceptualize mappings from events occurring during simulations and counterparts occurring during product dissolution, drug absorption, and disposition within individual subjects. In that way, the simulations facilitate thinking more deeply about the real system. Insights gained from this new class of simulation models may lead to ideas for improving complicated formulations to achieve bioequivalence or enable controlled individualization of product performance.
Results
Prior experience with this class of models provided informal heuristics for manually searching parameter space for parameter vectors that would enable achieving the medium SC. When cycling through the IR Protocol, we typically first adjusted parameters to mimic the dissolution profile. Next, we strove to mimic the plasma profile. As indicated by how SC are specified above, we placed more emphasis on matching Cmax and Tmax and less on matching the plasma profile tail, in part because Cmax and Tmax are emphasized in BE studies. For each originator-test pair, we completed simulations to first match the originator profile, and once successful, we shifted focus to matching the test profile in new, separate simulations. With simple subjects, we discovered parameterizations that enabled achieving the medium SC for all eleven subjects.
Having achieved the medium SC, we next focused on the stringent SC, which required greater similarity for the 0–10 h interval. For subjects 1 and 7, we located parameter vectors that enabled achieving the stringent SC for both the dissolution and plasma profiles of the test product. However, we failed to achieve the stringent SC for the remaining profiles, some of which exhibited noteworthy volatile patterns (e.g., subjects 5 and 8). Those failures falsified the simple subject mechanisms. We shifted to r-subjects. In so doing, we increased the model granularity, increased mechanistic detail, and expanded subject phenotype as reflected in plasma profiles. At that stage, because relevant individual subject physiological details were absent, we did not get into issues of mapping r-subject mechanisms to human reality: to do so would be purely speculative. The increased mechanistic detail enabled achieving the stringent SC for several additional cases (details not shown) but failed to do so for others. Again, those failures falsified the reservoir subject mechanisms.
We then shifted attention to
HGI subjects
. Other strategies for increasing event options within
subjects
could have been explored. Our task was simply to discover one that could achieve the stringent SC. We did not increase model granularity (relative to
r-subjects
), but we did marginally increase mechanistic detail, while also expanding
subject
phenotype. Again, we did not get into issues of mapping
HGI subject
mechanisms to specific GI details. The increased mechanistic detail enabled achieving the stringent SC for all cases. We located parameter vectors (Table
1
) that produced the
plasma
profiles in Figure
4
that more closely resembled the observed profiles, and achieved the stringent SC. Having the additional Interaction Space feature was sufficient for approximating profiles with odd peaks like those observed in subjects 5, 8, and 10. Three additional matched profiles are provided in Additional file
2
.
Table 1
Parameter values for HGI subjects Order: originator/test
| | | Subject | | | | | | | |
| --- | --- | --- | --- | --- | --- | --- | --- | --- | --- |
| Parameter 1 | Default | 1 | 3 | 4 | 5 | 7 | 8 | 9 | 10 |
| XScale | 1 | 0.5 | 0.5/1.0 | 0.25/0.5 | .125 | .25/.5 | .5 | .125/.5 | .125 |
| YScale | 120 | 330 | 220/120 | 120/330 | 220/110 | 110/330 | 110 | 110 | 110 |
| DtoGDelay | 1 | 1 | 1 | 1 | 1 | 1 | 1 | 1 | 1 |
| DtoGFract | .1 | 0.1/0.2 | .13/.33 | .05/0.2 | .03/.05 | .05/.16 | .13/.28 | .05/.25 | .025/.05 |
| DtoGProb | .8 | 0.8 | 0.8 | 0.8 | 0.8 | .8/.85 | .8 | .4/.9 | .8 |
| DiffGRatio | 1 | 0.8/1 | .65/.93 | .94/.9 | .75/.65 | .6/1 | .6/.4 | .9 | .88/.9 |
| GtoPDelay | 0 | 5/4 | 0 | 4/0 | 7/21 | 4/6 | 0/3 | 12/6 | 0/8 |
| GtoPFract | .1 | 1.0/0.3 | .78/.88 | .065/.14 | .25/.1 | .34/.46 | .65/.4 | .2/.38 | .12/.1 |
| GtoPProb | .8 | 1.0/0.8 | .78/.88 | 0.89 | 0.27/.3 | .34/.46 | .65/.4 | .2/.38 | .12/.1 |
| G2toPDelay | 20 | 32/20 | 18/15 | 19/23 | 96/86 | 39 | 20/21 | 97/26 | 0/58 |
| G2toPFract | .1 | 0.3/0.1 | 0.2/0.5 | 1.0/0.3 | 0.12 | .13 | .23/.24 | .11/.23 | .05/.23 |
| G2toPProb | .8 | 0.3/0.8 | 0.2/0.5 | 1.0/0.3 | .13/.12 | .13 | .23/.24 | .11/.23 | .05/.23 |
| PtoEDelay | 0 | 7/0 | 10/3 | 14/7 | 36/0 | 18/11 | 1/11 | 20/0 | 35/48 |
| PtoEFract | 0.1 | .25/.11 | .14/.26 | .69/.9 | .125/.24 | .15/.1 | .14/.12 | .22/.48 | .11 |
| PtoEProb | 0.8 | .6/.88 | .8/.93 | .3/.86 | 0.5/.4 | 1/.8 | 1/.9 | .5/.4 | .8 |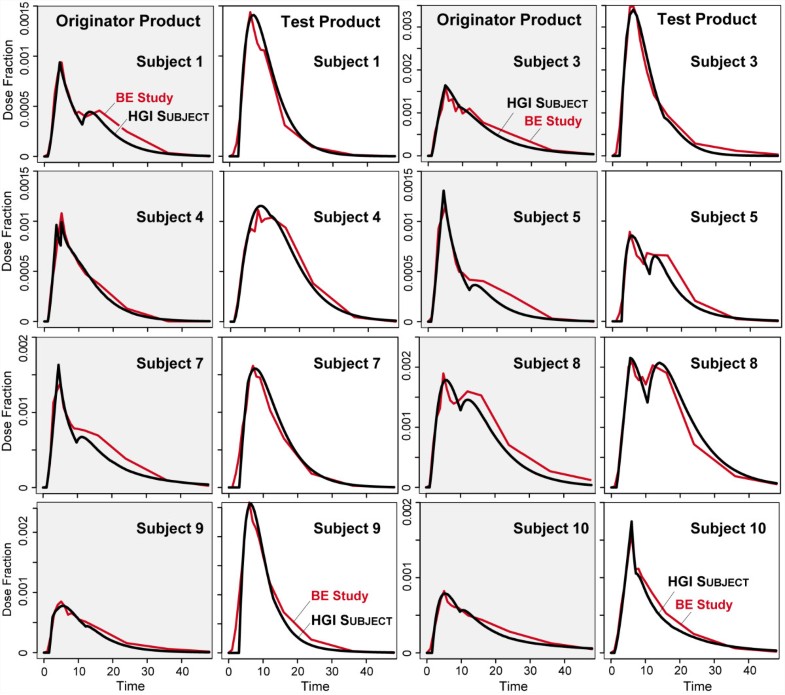 Discussion
A rationale for this new approach is that we can improve insight into the mechanisms responsible for differences in Figure 4 plasma profiles by making the individual mapping from simulated to actual profile concretizable. That can only be done if the simulated profiles are a consequence of actual, observable, processes. At the start of such a process (that is where we are with this report), the actual in silico processes needed for validation will necessarily be abstract and coarse grain.
A traditional, inductive, dissolution-absorption-pharmacokinetic model of the type used in nonlinear mixed effects analyses hypothesizes an explanation of patterns in plasma profile data. The mathematics describe data features predicted to arise from conceptualized mechanisms, which in turn are typically described in sketches and prose [1–3, 6]. There is an unverifiable, conceptual mapping between equations and envisioned mechanisms [15]. The methods used herein are different. They provide three capabilities: 1) an independent, scientific means to challenge, explore, and better understand any inductive mechanism and, importantly, the assumptions on which it rests; 2) an additional experimental means of exploring, discovering, and testing the plausibility of subject-by-formulation interaction details at coarse grain level, along with causes of intra- and interindividual variability observed in bioequivalence study results; 3) a means to leverage the investment in BE studies and the research that preceded them by constructing and studying mechanistic analogues of dissolution and absorption processes contemporaneously with product development.
Measures of plasma during simulation experiments provide a test of the mechanistic hypotheses built into that subject. An acceptable similarity between in silico and BE study data is evidence that a concretizable mapping may exist between the dynamics occurring during simulation and corresponding dynamics thought to occur within that BE study subject, even though the actual events and processes in the two systems are different. To the extent that the mapping is accepted as realistic, we can posit that the implemented mechanisms may also have real counterparts.
However, given complex phenomena such as the profiles in Figure 4, there are, for a prespecified level of granularity, many, equally plausible biomimetic generators. To better understand intra- and interindividual variability, we will need to narrow the set of competing mechanistic explanations, and zero-in on causes of subject-by-formulation interactions, when present. To do that, we need modeling and simulation methods like those presented herein that are intuitive, heuristic, flexible, adaptable, and easily individualized [15, 33]. Even though we present just one plausible, mechanistic explanation for each plasma profile, it is straightforward to develop others when that is needed. An understanding of these mechanisms may be useful in controlled-release formulation development to minimize the type of intra-subject variation observed in Cmax for subjects 1, 2, 3, 5, 9, 10, and 11. So doing would improve in vivo absorption performance.
Subjects have been designed to use relational grounding [15, 32] for maximum flexibility. For mappings to be quantitative, as in Figure 4, an additional model — a method of scaling; a quantitative mapping — is needed to relate a subject's plasma profile directly to the referent plasma profile. That was done using the parameters XScale and YScale. For several subjects, achieving the stringent SC required varying the XScale and/or YScale values between the test and originator plasma profiles. XScale maps time steps to BE study time. By changing the XScale value, we alter the time granularity of simulation relative to in vivo time, which enables adjusting simulation for differences in the subject's physiological condition (as influenced by stress, for example, or the previous day's activities), which affect GI physiology, metabolism or other absorption and disposition related features. XScale does not influence product dissolution. A change in YScale maps to systemic variations in plasma concentration measurements between experiments, which may include changes in effective volume of distribution and bioavailability. It should be noted that changes in XScale and YScale values within or between subjects are evidence that the subject's physiology changed between occasions. If we were to move these scaling models into each subject, we would immediately reduce subject flexibility, which is scientifically undesirable [32].
The levels of temporal, spatial, and mechanistic granularity (which control resolution) are somewhat arbitrary: they need to be sufficiently fine-grain so that a subject's plasma profile meets the stringent SC. Granularity can be easily increased or decreased when that is needed. Because interactions within and between subject components are grounded relationally, an algorithm can be implemented when needed to automatically adjust parameter values to accommodate new levels of granularity so that the consequences of mechanisms and events can remain essentially unchanged.
One might object that the subject in Figure 2 is too abstract: distinguishable GI-like features are absent; there is no drug movement through sequential GI spaces, etc. Such features are absent because they were not needed to achieve the stringent SC. A scientific modeling and simulation good practice is to avoid inclusion of detail that is not part of the validation strategy. However, there is a scientific approach to drill down to additional, plausible, concrete, mechanistic detail. It requires expanding the list of targeted attributes and using the IR Protocol in the context of cross-model validation [24] to validate or falsify the need for that detail. Such attributes may include fine-grained details such as distinct cell types, enzymes, and transporters (see [25] for example). The approach is especially useful because of the scientific role played by experimentation on the current, validated subject analogue.
Further knowledge about specific formulation and dissolution details, which we do not have, can be used to specify additional SC that when met will shrink the space of plausible subject mechanisms, which may bring informative details into focus. That process may lead to identification of patient factors that correlate with subset membership. The insights are expected to enable developing an improved formulation. The subject model on which we focused represents the initial step in that direction. As relevant findings and data from in vivo dissolution become available, we may proceed to iteratively incorporate the information into subjects and achieve new validation. If successful, the descendant models could provide quantitative, mechanistic, clinically useful insight into how and why the in vitro dissolution differs (or not) from in vivo mechanisms. That insight could guide the design and development of formulations to optimize desired dissolution/absorption while minimizing adverse or otherwise undesirable characteristics.
Conclusion
In summary, we used object-oriented, discrete event modeling and simulation methods to build and individually parameterize a subject — a software device — so that when events are measured during simulations, results mimic essential features of drug X dissolution profiles and individual plasma profiles measured during a BE study. In time, the proposed methods may be beneficial to drug development (e.g., controlled release) and to a reduction in the number of subjects needed per study plus faster regulatory review. For a new molecular entity, the strategy is expected to be useful during bridging studies (e.g., change in formulation from clinical to a new to-be-marketed version).
Abbreviations
BE:

Bioequivalence
Cmax :

Plasma profile maximum
GI:

Gastrointestinal
IR:

Iterative refinement
SC:

Similarity criteria.
Declarations
Acknowledgements
This research was supported in part by the CDH Research Foundation and the Alternatives Research and Development Foundation. The funding bodies had no role in study design; in the collection, analysis, and interpretation of data; in the writing of the manuscript; or in the decision to submit the manuscript for publication.
Authors' Affiliations
(1)
Department of Bioengineering and Therapeutic Sciences, University of California, San Francisco, USA
(2)
Office of Clinical Pharmacology, Food and Drug Administration, Washington, USA
Copyright
© Kim et al.; licensee BioMed Central Ltd. 2012
This article is published under license to BioMed Central Ltd. This is an Open Access article distributed under the terms of the Creative Commons Attribution License (http://creativecommons.org/licenses/by/2.0), which permits unrestricted use, distribution, and reproduction in any medium, provided the original work is properly cited.