A review of influenza detection and prediction through social networking sites
Theoretical Biology and Medical Modelling
2018
15:2
Received: 24 July 2017
Accepted: 6 December 2017
Published: 1 February 2018
Abstract
Early prediction of seasonal epidemics such as influenza may reduce their impact in daily lives. Nowadays, the web can be used for surveillance of diseases. Search engines and social networking sites can be used to track trends of different diseases seven to ten days faster than government agencies such as Center of Disease Control and Prevention (CDC). CDC uses the Illness-Like Influenza Surveillance Network (ILINet), which is a program used to monitor Influenza-Like Illness (ILI) sent by thousands of health care providers in order to detect influenza outbreaks. It is a reliable tool, however, it is slow and expensive. For that reason, many studies aim to develop methods that do real time analysis to track ILI using social networking sites. Social media data such as Twitter can be used to predict the spread of flu in the population and can help in getting early warnings. Today, social networking sites (SNS) are used widely by many people to share thoughts and even health status. Therefore, SNS provides an efficient resource for disease surveillance and a good way to communicate to prevent disease outbreaks. The goal of this study is to review existing alternative solutions that track flu outbreak in real time using social networking sites and web blogs. Many studies have shown that social networking sites can be used to conduct real time analysis for better predictions.
Keywords
Flu trendSocial media dataIllness Like Influenza (ILI)
Background
Public health is an important issue. Health care providers should be updated about the public health and disease outbreaks affecting their communities in order to make correct decisions at the right time. This would help them offer better services in an efficient way and at the perfect time. Most of the health care providers depend on the Center of Disease Control and Prevention (CDC) to be informed about disease outbreaks or to be notified about the flu season.
The Center of Disease Control and Prevention (CDC) is a trusted department in the United States. It publishes weekly disease related reports. One of the weekly reports is the influenza epidemic report. The CDC publishes flu-related reports using United States Influenza Like Illness Surveillance Network (ILINet) that gathers flu-related information of outpatients from hundreds of healthcare providers around the states. ILINet shows accurate results in detecting flu outbreaks, but it is costly and takes a long time to issue the required reports. Details of collecting and using CDC ILINet is discussed in [1].
Since we live in the data era, social networking sites (SNS) are widely used to post news, events, and even to express feelings. Therefore, SNSs have played an important role in real time analysis and have been used for faster trend predictions in many areas [2, 3]. The areas include traffic [4–7], disaster prediction [8–12], management [13–15], networking [16, 17], news [18–22] and so on. In the public health area, SNS provides an efficient resource for disease surveillance and also an efficient way to communicate to prevent disease outbreaks [23]. Early detection of seasonal epidemics such as influenza may reduce its impact. The use of SNS data to detect the spread of epidemics such as flu in the population, can help to obtain early warnings. SNS users can be used as sensors that provide data to be analyzed for early trend detections and predictions. New techniques for analysis on search engine logs [24–29] and social media data can be used to get real time analysis for better services [30].
Based on our survey of disease outbreak detection models using social media data, we found that most studies and models were developed to detect influenza outbreak from SNS such as seasonal influenza and the swine influenza. The developed models can potentially be deployed for other disease outbreak detections and predictions. Although prediction and detection terms are used throughout the review, the terms have different definitions. Flu detection refers to the process of discovering flu cases that already occurred. On the other hand, flu prediction collects data to predict flu trends. Furthermore, the term nowcasting refers to the process of predicting flu cases that happened in real time, which surveillance systems overlook. Due to the surveillance system limitations, the need for new techniques and models, such as Google Flu Trend (GFT) are necessary in order to predict non-reflected flu cases. This nowcasting process is integrated into report revisions before the final reports are issued. Aside from nowcasting, the process of forecasting is used to predict real flu cases in the future.
Most studies use the Twitter micro blog because it is the most widely used social networking site. It is an efficient resource to track trends for several reasons. First, the high frequency of posted messages helps to perform minute-by-minute analysis. Second, compared with search engine logs, Twitter posts are more descriptive and available for the public. In addition, more analysis can be performed by analyzing the users' profiles such as demographic data and specific details. Third, users of Twitter are of diverse ages, not only young people, but also middle aged, and technology savvy older population [31].
The focus of this paper is to survey the existing tools, techniques, frameworks, and methods of predicting influenza trends in social media data. The studied methods evaluate the Twitter posts that have keywords related to influenza for faster detection in an effort to achieve and maintain healthier communities.
The rest of the paper is organized as follows. The "Article selection methodology and related work" section first presents the method of article selection and evaluation for this review in addition to the related work. The "Methods" section, then, comprehensively demonstrates different methodologies and techniques of influenza trends detection from social media data. The "Discussion" section presents a discussion and comparison among all the proposed existing methodologies. Then, the "Challenges" section discusses the challenges of using social media data for detection processes. Finally, concluding remarks and future directions appear in the "Conclusion" section.
Article selection methodology and related work
This review paper aims to review the published work in the past recent years that use social media data such as Twitter to detect influenza. Relevant articles were collected from various resources and publishers including IEEE, ACM, BMC, and MDPI. Different keywords were used to collect the relevant articles such as "Influenza trend prediction using social media data". During the collection process the initial number of retrieved articles was 671. The selection process was based on certain criteria such as:
Being relevant to flu outbreak detection and prediction

Analyzing social media data in the detection and prediction process

Being in English Language.
Based on the selection criteria, 602 articles were excluded by reviewing the titles and the abstract of the retrieved articles. Initially, the selected articles were reviewed entirely. Out of 69 of the selected articles, 41 articles satisfied all the criteria. The final number of selected articles that were considered for this review was 27 articles. The other 14 articles were insufficient. Figure
1
summarizes the process of article selection.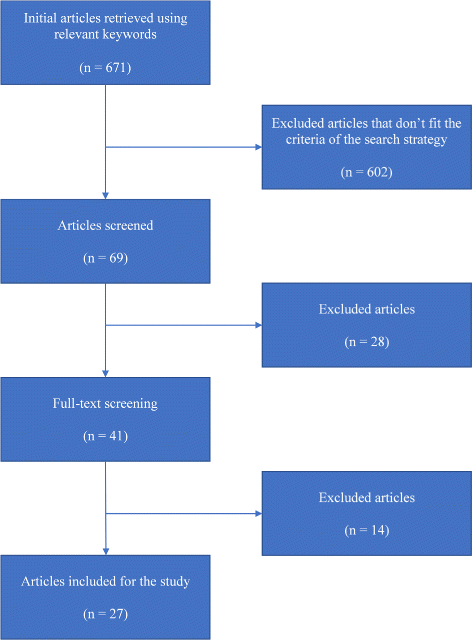 Several prediction and detection models that are using other web data, such as Google Flu Trend (GFT), have been published in the literature for flu outbreak prediction and detection. Some of these models, such as PROFET, are included in this review to clarify that they can potentially work with the available social media data. Some other publications in the literature present flu surveillance related tools and web applications that don't use social media data for flu detections and predictions. Some of these applications and tools are listed below:
Methods
There are many ways to discover knowledge and predict flu trends from Twitter data. This section glances at various existing techniques. The studies for this review were selected to include the existing methods and techniques applied to SNS data for earlier influenza outbreak prediction. The studied methods and techniques are within the past recent years that fall under one of the main categories of graph data mining, text mining, topic models, machine learning, math/statistical models or mechanistic models.
Challenges
Using social media data for disease outbreak detections call for certain challenges to be addressed [76–80].
Data collection
The first challenge is the restriction on data collection. Social media providers use unknown and undocumented sampling filtration algorithms that allow for collecting only a sample of the overall data. In addition, there are restrictions on some private data that may be needed for the detection process. Also, users may not include some other important information. This may lead to inaccurate results produced by the tools of disease trend detection.
Data size
The size of social media data is another issue. Today, social networking sites have become very popular and have millions of users. This would make it difficult to process such size of data by certain techniques.
Language
The used language in social networking sites is usually informal and sometimes with spelling mistakes. Users may spell one word in different ways.
Heterogeneity
Social media is heterogeneous. It has different kinds of users with different capabilities, activities, ages, and languages. This leads to the need for awareness of what to analyze using the data of social networking sites.
Sampling bias
One of the serious challenges is the bias of data samples. The user population of social networking sites may not represent a sample of a society [78–80]. Alan Mislove et al. [78] analyzed the data of a very large number of Twitter users from United States to compare the Twitter population to the actual one. It has been shown in the study that the twitter users are not a random sample of the whole population and misrepresent the real distribution of race or ethnicity. Understanding this challenge will help in correcting the prediction process using social networking data if there is any bias. The correction process includes using different methods of bias quantification for further analysis and adjustment [79].
Dataset consistency
Social media providers such as Twitter don't allow sharing collected datasets. This is a limitation when it comes to comparing between a new proposed method and the existing ones. It is required to use consistent datasets for fair comparisons.
User location
There is a lack of accurate user locations in SNS. A user may not share location information. In addition, the users who release this information may not update it when moving or visiting a different place.
Proxy population
There are difficulties of defining a target population for the purpose of analysis. Populations are not self-labeled. Therefore, researchers tend to use proxy populations such as all users who use pain relievers to study the impact of pain. It has been shown that using proxy population is biased and may lead to incorrect results [79].
Spams
There are many spam accounts that appear as normal and are frequently used to post about different topics. Researchers should be aware about these accounts and find a way to exclude them when analyzing SNS data.
Evaluation
Evaluation is a challenging process. CDC ILINet data can be used as a ground truth for the Influenza trend detections but there is lack of ground truth for some other diseases.
Conclusion
Social networking sites have become part of people's lives. This has provided researchers with the opportunity to conduct different studies and researches to enhance event detections and prediction process from the data of social networking sites. In the public health area, the data of social networking sites can be used to provide early warnings of disease outbreaks such as seasonal influenza. The survey shows that the researchers have developed various methods and frameworks of flu trend detection from social networking sites. From the survey, we conclude that the research in this area is still active. More methods and frameworks may be developed to improve the accuracy of the results which can potentially be used for other disease outbreak detections for better public health.
Abbreviations
ACF:

Autocorrelation function
ARMA:

Auto regression moving average
ATAM:

Ailment topic aspect model
CDC:

Center of disease control and prevention
GFT:

Google flu trend
HFSTM:

Hidden flu-state from tweet model
HPA:

Health protection agency
ILI:

Influenza like illness
PAHO:

Pan American Health Organization
SNS:

Social networking sites
SNEFT:

Social network enabled flu trends
Declarations
Acknowledgements
Not applicable.
Availability of data and materials
Not applicable.
Authors' contributions
The manuscript was written by AA and MF. AA performed the literature survey and analysis under the supervision of MF. Both authors have read and approved the final manuscript.
Ethics approval and consent to participate
Not applicable.
Consent for publication
Not applicable.
Competing interests
The authors declare that they have no competing interests.
Publisher's Note
Springer Nature remains neutral with regard to jurisdictional claims in published maps and institutional affiliations.
Open Access This article is distributed under the terms of the Creative Commons Attribution 4.0 International License (http://creativecommons.org/licenses/by/4.0/), which permits unrestricted use, distribution, and reproduction in any medium, provided you give appropriate credit to the original author(s) and the source, provide a link to the Creative Commons license, and indicate if changes were made. The Creative Commons Public Domain Dedication waiver (http://creativecommons.org/publicdomain/zero/1.0/) applies to the data made available in this article, unless otherwise stated.
Authors' Affiliations
(1)
Department of Computer Science and Engineering, School of Engineering, University of Bridgeport, Bridgeport, USA
(2)
Department of Biomedical Engineering, School of Engineering, University of Bridgeport, Bridgeport, USA