Statistical distribution of blood serotonin as a predictor of early autistic brain abnormalities
Theoretical Biology and Medical Modelling
2005
2:27
Received: 09 March 2005
Accepted: 19 July 2005
Published: 19 July 2005
Abstract
Background
A wide range of abnormalities has been reported in autistic brains, but these abnormalities may be the result of an earlier underlying developmental alteration that may no longer be evident by the time autism is diagnosed. The most consistent biological finding in autistic individuals has been their statistically elevated levels of 5-hydroxytryptamine (5-HT, serotonin) in blood platelets (platelet hyperserotonemia). The early developmental alteration of the autistic brain and the autistic platelet hyperserotonemia may be caused by the same biological factor expressed in the brain and outside the brain, respectively. Unlike the brain, blood platelets are short-lived and continue to be produced throughout the life span, suggesting that this factor may continue to operate outside the brain years after the brain is formed. The statistical distributions of the platelet 5-HT levels in normal and autistic groups have characteristic features and may contain information about the nature of this yet unidentified factor.
Results
The identity of this factor was studied by using a novel, quantitative approach that was applied to published distributions of the platelet 5-HT levels in normal and autistic groups. It was shown that the published data are consistent with the hypothesis that a factor that interferes with brain development in autism may also regulate the release of 5-HT from gut enterochromaffin cells. Numerical analysis revealed that this factor may be non-functional in autistic individuals.
Conclusion
At least some biological factors, the abnormal function of which leads to the development of the autistic brain, may regulate the release of 5-HT from the gut years after birth. If the present model is correct, it will allow future efforts to be focused on a limited number of gene candidates, some of which have not been suspected to be involved in autism (such as the 5-HT4 receptor gene) based on currently available clinical and experimental studies.
Keywords
Carcinoid TumorBlood PlateletAutistic GroupAutistic IndividualAutistic Brain
Background
Our ability to treat and prevent autism is severely limited by our lack of knowledge of what biological abnormality causes this developmental disorder. Since autism is considered primarily a brain disorder, much of the research over the past decades has focused on the autistic brain. Different groups have reported a wide range of anatomical abnormalities in autistic brains, such as reduced numbers of Purkinje cells in the cerebellum [1–3]; an unusually rapid growth of the cerebral cortical volume and head circumference during the first years after birth [4–9]; abnormal cortical minicolumns [10–13]; abnormalities of the limbic system [14–19]; abnormalities of the brainstem [20–22]; and other brain alterations [23–25].
Considering the complexity of brain development and its highly dynamic nature, these abnormalities may be the result of a long, complex chain of events. The original abnormality that caused them may occur early in development [26] and may be no longer obvious by the time autism is diagnosed. For example, an autistic-like loss of Purkinje cells may be caused by a mutation of the toppler gene, which causes severe ataxia in mice and appears to be irrelevant to autism [27]. Post-mortem analysis of younger autistic brains is not an option, because it is usually not clear until age 2 or 3 which brains are autistic and which are not.
Fortunately, evidence suggests that at least one biological factor that causes the development of the autistic brain has a different function outside the central nervous system (CNS), where it continues to operate well into childhood and perhaps even into adulthood. Since the early 1960s, the most consistent biological finding in autistic individuals has been their statistically elevated serotonin (5-hydroxytryptamine, 5-HT) levels in blood platelets, or platelet hyperserotonemia [28–33]. Unlike many of the reported alterations in the brain, this finding has been replicated numerous times by different groups, some of which have used large numbers of subjects. According to Anderson [33], "the platelet hyperserotonemia of autism [...] is generally considered to be one of the more robust and well-replicated findings in biological psychiatry". The main reason why we have not capitalized on this major finding is that we have not been able to understand its origin or its relation to the brain.
It is unlikely that the autistic platelet hyperserotonemia is induced by the brain. The human blood-brain barrier (BBB) becomes mature around one year after birth, if not earlier [34, 35], and is virtually impenetrable to 5-HT. Tryptophan, a 5-HT precursor, can cross the BBB, but tryptophan levels do not appear to be altered in autistic individuals [36]. Unlike the anatomy of the mature brain, platelet 5-HT levels should be actively maintained, because the half-life of platelets is only a few days [37, 38]. This suggests that the factor that causes the platelet hyperserotonemia continues to be functionally active years after birth.
The statistical distribution of platelet 5-HT levels in normal and autistic groups has certain characteristic features [
31
], but only recent studies have attempted to describe them in detail [
39
,
40
]. These distributions are likely to contain information about the underlying processes controlling platelet 5-HT levels and, therefore, may help identify the factor that causes the platelet hyperserotonemia of autism. This same biological factor may be active during brain development (not necessarily in the same role), but there its identity may be obscured by the final complexity of a several-year-old autistic brain (Fig.
1
). In the present study, published distributions of blood 5-HT levels are analyzed by a novel, quantitative approach that may help trace early, experimentally undetectable brain abnormalities leading to autism.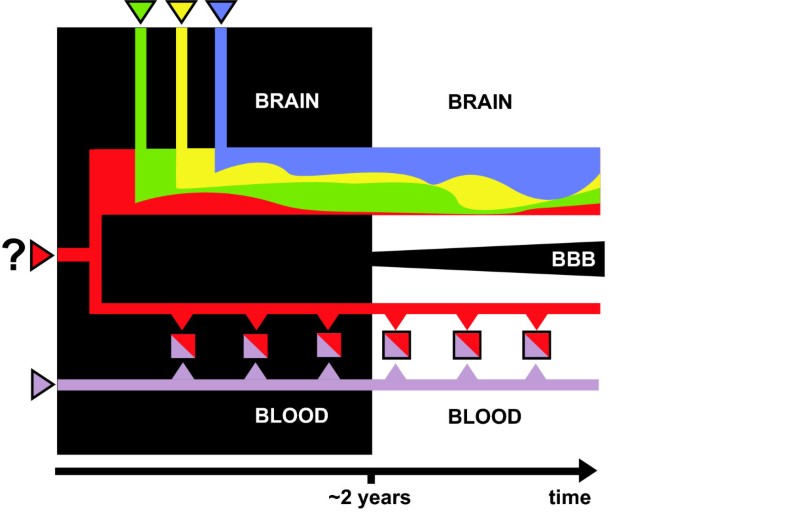 Discussion
The presented model is based on the hypothesis that at least one factor that interferes with normal brain development in autism also participates in the regulation of 5-HT release from enterochromaffin cells. When applied to the data of three published studies, the model predicts that this factor is virtually non-functional in autistic individuals (Table 1).
Before the biological nature of this factor is discussed, it should be noted that the parameter values obtained for each of the three published studies were virtually the same (Table 1). This underlying consistency of the data is not trivial, since Mulder et al. [39] have suggested that their autistic distribution may be bimodal and thus qualitatively different from the control (normal) distribution, whereas Coutinho et al. [40] have reported a clearly unimodal autistic distribution that so overlapped with the control distribution that their means were not statistically significant. It should also be noted that initially γ was allowed to vary from zero to one, but the numerical optimization based on the published data narrowed this range down to approximately 0.8 – 1.0 (Table 1). This agrees well with actual experimental data. An early study has approximated the dog's γ as 0.99 and shown that the 5-HT clearance by the lungs varies from 0.80 to 0.98 [60]. The mean human γ may be somewhat smaller, because the rate of 5-HT release by gut enterochromaffin cells has been predicted to be around 3000 ng/min [53] and the arterial flow of free 5-HT has been estimated to be around 210 ng/min [48, 53, 70]. This suggests that, in humans, approximately 93% of free 5-HT is cleared in one circulation and, therefore, the value of γ is close to 0.93. The model predicted similar γ distributions in normal and autistic groups, supporting the hypothesis that the frequencies of SERT and MAO polymorphisms in normal and autistic groups may be the same.
The most significant result is that the factor that regulates 5-HT release from EC cells (represented by the parameter α) appears to be virtually non-functional in autistic individuals (Table 1). What is the biological nature of α? Evidence suggests that EC cells may express 5-HT3, 5-HT4 and 5-HT1A receptors [55, 88–90] and that they may also express 5-HT2 receptors [89]. Some of these receptors appear to be involved in the autoregulation of 5-HT release [89, 90]. While one report has failed to find 5-HT3 and 5-HT4 receptor mRNAs in cultured EC cells [91], the regulation of 5-HT release from EC cells may also be indirect, by way of enteric neurons. These neurons are known to express various 5-HT receptors [54, 55, 92, 93] and can control 5-HT release from EC cells by acting on their cholinergic and other receptors [88, 94–96].
The model is based on a negative feedback loop. It has been shown that such negative feedback may be mediated by 5-HT4 receptors expressed by EC cells and that this negative feedback appears to dominate over the positive feedback mediated by 5-HT3 receptors [89, 90]. A recent study has suggested that under normal circumstances (as opposed to conditions such as carcinoid tumors) the concentration of endogenous 5-HT may not be high enough to activate 5-HT4 receptors and alter the 5-HT release from EC cells [89]. At least superficially, this mirrors recent findings in the brain, where 5-HT1A and 5-HT1B receptors, long assumed to act as autoreceptors, may not actually be activated by extracellular 5-HT unless its concentration reaches excessive levels [51]. Since precise measurements of 5-HT release in the gut and the brain are difficult, it is more likely that these receptors do control 5-HT release under normal circumstances, but that their effect on 5-HT release is more subtle than we expect. The model's small value of α appears to predict such subtle regulation.
Can 5-HT4 receptors be involved in autism? One agonist used to study the effects of 5-HT4 receptors on the 5-HT release from EC cells has been 5-methoxytryptamine (5-MT) [89, 90], which has high affinity for these receptors [57]. While 5-MT has been reported to inhibit the 5-HT release from EC cells, subcutaneous 5-MT injections in pregnant rats produces pups with autistic-like symptoms [97] and subcutaneous 5-MT injections in pregnant mice may lead to an autistic-like disruption of cortical columns in the pups [11, 81]. Normal brain development may be altered if brain 5-HT4 receptors are compromised, because these receptors appear to be expressed in the marginal zone of the adult human brain [98] and, therefore, may also be expressed in Cajal-Retzius cells of the developing brain. It has been recently shown that an abnormal serotonergic input to Cajal-Retzius cells during development may lead to autistic-like cortical abnormalities [81]. Interestingly, the expression of the 5-HT4 receptor is very low in the cerebral cortex of the guinea pig [99], suggesting that this receptor may play a specific role in the primate brain. Generally, we are only beginning to understand the role of the 5-HT4 in brain development, because the human 5-HT4 receptor gene consists of at least 38 exons and at least eight C-terminal splice variants of the human 5-HT4 receptor have been described [57].
Other 5-HT receptors, as well as other mechanisms, may be involved both in the regulation of 5-HT release from the gut and in brain development. For example, 5-HT1A and 5-HT2 receptors have been implicated in autism [31, 100–102]. As already discussed, these receptors can also regulate the 5-HT release from EC cells. Moreover, 5-MT is a rather non-specific 5-HT receptor agonist [103] and appears to be co-localized with 5-HT in most brain neurons [104]. Therefore, some of its effects may be produced by its acting on a few types of 5-HT receptors at the same time, both in the gut and the brain.
The model assumes that the 5-HT clearance rate (γ) and the gain of 5-HT release (α) are independent. Generally, the expression of neurotransmitter receptors or their sensitivity can dynamically change depending on the availability of the neurotransmitter. For example, gut 5-HT3 receptors undergo structural and functional changes in SERT-knockout mice [105] and 5-HT1A receptors in the human brain have different affinities in individuals with different SERT polymorphic variants [106]. These and other related findings are likely to become indispensable for understanding the platelet hyperserotonemia of autism; unfortunately, too little information is currently available for quantitative modeling of these relationships.
Intriguingly, α may be represented by biological mechanisms other than 5-HT receptors. For example, adenosine and ATP may modulate the 5-HT release from human EC cells [107, 108] and ATP also activates microglia in the brain [109]. A study, called by some researchers "the most important postmortem study of autism to date" [110], has found an abnormal activation of microglia in autistic brains [111].
It should be noted in conclusion that the mathematical framework of the model allows it to be modified so that it no longer depends on free 5-HT in the blood. In fact, one could conceivably build a model where 5-HT is released by EC cells, cleared by SERT-expressing cells locally, and where the remaining extracellular 5-HT acts on the mechanisms controlling 5-HT release from EC cells, without leaving the gut. Assuming γ now denotes the local clearance and α is the gain of the 5-HT release, one again may arrive at a system of equations similar to equations (1) and (2).
Conclusion
The origin of autism is as much a conceptual problem as it is experimental. The theoretical approach introduced here brings together information on the "central" and "peripheral" 5-HT and offers new insights into early abnormalities of the developing autistic brain that may otherwise escape direct experimental detection.
Methods
All symbolic and numerical calculations were done in Mathematica 5.0.0, 5.0.1, 5.1.0, or 5.1.1 (Wolfram Research, Inc.). Where the numerical minimization of the error function produced different sets of numerical values in different releases of Mathematica, the values that yielded the smallest error were used (for the purpose of this study, Mathematica 5.1.1 was superior to the earlier releases). The figures were generated in Mathematica and prepared for publication in Adobe Illustrator 10 or CS (Adobe Systems, Inc.).
Declarations
Acknowledgements
I thank Dr. P. Rakic and the National Alliance for Autism Research (NAAR) for their financial support, the anonymous reviewers for their valuable suggestions, and Dr. G.M. Anderson, Dr. A.E. Ayoub and Michael Fischer for their comments on the revised manuscript. I also thank Vaiva, my inspiration.
Authors' Affiliations
(1)
Department of Neurobiology, Yale University School of Medicine, New Haven, USA
Copyright
© Janušonis; licensee BioMed Central Ltd. 2005
This article is published under license to BioMed Central Ltd. This is an Open Access article distributed under the terms of the Creative Commons Attribution License (http://creativecommons.org/licenses/by/2.0), which permits unrestricted use, distribution, and reproduction in any medium, provided the original work is properly cited.