A multiscale mathematical model of cancer, and its use in analyzing irradiation therapies
Theoretical Biology and Medical Modelling
2006
3:7
Received: 28 September 2005
Accepted: 10 February 2006
Published: 10 February 2006
Abstract
Background
Radiotherapy outcomes are usually predicted using the Linear Quadratic model. However, this model does not integrate complex features of tumor growth, in particular cell cycle regulation.
Methods
In this paper, we propose a multiscale model of cancer growth based on the genetic and molecular features of the evolution of colorectal cancer. The model includes key genes, cellular kinetics, tissue dynamics, macroscopic tumor evolution and radiosensitivity dependence on the cell cycle phase. We investigate the role of gene-dependent cell cycle regulation in the response of tumors to therapeutic irradiation protocols.
Results
Simulation results emphasize the importance of tumor tissue features and the need to consider regulating factors such as hypoxia, as well as tumor geometry and tissue dynamics, in predicting and improving radiotherapeutic efficacy.
Conclusion
This model provides insight into the coupling of complex biological processes, which leads to a better understanding of oncogenesis. This will hopefully lead to improved irradiation therapy.
Keywords
Cell Cycle RegulationCell Cycle PhaseMultiscale ModelQuiescent CellTumor Control Probability
Background
Mathematical models of cancer growth have been the subject of research activity for many years. The Gompertzian model [1, 2], logistic and power functions have been extensively used to describe tumor growth dynamics (see for example [3] and [4]). These simple formalisms have been also used to investigate different therapeutic strategies such as antiangiogenic or radiation treatments [5].
The so-called linear-quadratic (LQ) model [6] is still extensively used, particularly in radiotherapy, to study damage to cells by ionizing radiation. Indeed, extensions of the LQ model such as the 'Tumor Control Probability' model [7] are aimed at predicting the clinical efficacy of radiotherapeutic protocols. Typically, these models assume that tumor sensitivity and repopulation are constant during radiotherapy. However, experimental evidence suggests that cell cycle regulation is perhaps the most important determinant of sensitivity to ionizing radiation [8]. It has been suggested that anti-growth signals such as hypoxia or the contact effect, which are responsible for decreasing the growth fraction, may play a crucial role in the response of tumors to irradiation [9].
Nowadays, computational power allows us to build mathematical models that can integrate different aspects of the disease and can be used to investigate the role of complex tumor growth features in the response to therapeutic protocols [10]. In the present study we propose a multiscale model of tumor evolution to investigate growth regulation in response to radiotherapy. In our model, key genes in colorectal cancer have been integrated within a Boolean genetic network. Outputs of this genetic model have been linked to a discrete model of the cell cycle where cell radiosensitivity has been assumed to be cycle phase specific. Finally, Darcy's law has been used to simulate macroscopic tumor growth.
The multiscale model takes into account two key regulation signals influencing tumor growth. One is hypoxia, which appears when cells lack oxygen. The other is overpopulation, which is activated when cells do not have sufficient space to proliferate. These signals have been correlated to specific pathways of the genetic model and integrated up to the macroscopic scale.
Methods
Oncogenesis is a set of sequential steps in which an interplay of genetic, biochemical and cellular mechanisms (including gene pathways, intracellular signaling pathways, cell cycle regulation and cell-cell interactions) and environmental factors cause normal cells in a tissue to develop into a tumor. The development of strategies for treating oncogenesis relies on the understanding of pathogenesis at the cellular and molecular levels. We have therefore developed a multiscale mathematical model of these processes to study the efficacy of radiotherapy. Several mathematical frameworks have been developed to model avascular and vascular tumor growth (see [
11
–
14
]). Here we propose a multiscale mathematical model for avascular tumor growth, which is schematically presented in Figure
1
. This model provides a powerful tool for addressing questions of how cells interact with each other and their environment. We use the model to study tumor regression during radiotherapy.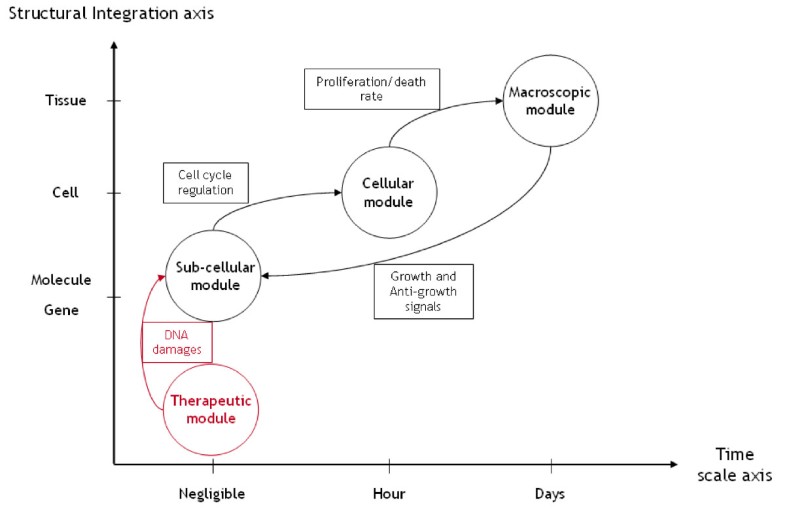 Results and discussion
We divide our results and discussion into three parts. The first section concerns simulations of the model without therapeutic interactions (Sections 3.1–3.2). The second part deals with the interactions between tumor growth and the effect of therapeutic protocols (Section 3.3). Finally, we investigate the sensitivity of the results to model parameters and initial conditions (Section 3.4). Genetic mutations are simulated by running the model, having set the Boolean values of particular genes constant (see Table 2). Since the genetic model is run until steady state is reached, simulation of mutated cell growth is equivalent to simulation of cells that are not sensitive to particular anti-growth signals. In the following, we will refer to cells with at least one mutation as 'cancer cells'. Cells with no mutations are called 'normal cells'.
Conclusion
We have presented a multiscale model of cancer growth and examined the qualitative response to radiotherapy. The mathematical framework includes a Boolean description of a genetic network relevant to colorectal oncogenesis, a discrete model of the cell cycle and a continuous macroscopic model of tumor growth and invasion. The basis of the model is that the sensitivity to irradiation depends on cell cycle phase and that DNA damage is proportional to the radiation dose. Anti-growth regulation signals such as hypoxia and overpopulation activate the SMAD/RAS and APC genes, respectively, and inhibit proliferation through cell cycle regulation.
Simulation results show the different features of the antigrowth signal activation and propagation within the tumor (see Figure 8). The overpopulation signal mediated by the APC gene initially induces oscillatory growth owing to a combination of proliferating and quiescent cells (see Figure 6). Because of its non-local effect, the hypoxia signal mediated by genes SMAD/RAS appears later but develops quickly within the tumor masses, and leads the mitotic fraction to collapse (see Figures 11 and 14). These features make the evolution of the number of quiescent cells and thus the efficacy of irradiation protocols depend on the type of anti-growth signals to which the tumors are exposed. Figure 11 and Table 1 show that efficacy could be improved, without increasing radiation doses, by planning schedules that take account of the features of tumor growth through cell cycle regulation.
The proposed framework emphasizes the significant role of gene-dependent cell-cycle regulation in the response of tumors to radiotherapy. Clinical studies have recognized p53 status as a major predictive factor for the response of rectal cancer to irradiation. Nevertheless, some results encourage investigation of other different factors [46]. In particular, it has been suggested that macroscopic factors such as hypoxia and tumor volumes are important [47]. The present modeling framework integrates these factors through cell cycle regulation and allows consideration of other factors at the genetic, cellular or tissue level.
Some modeling assumptions must be discussed. We chose a continuous approach that provides cell density rather than actual cell number. This assumes that the region of interest is large since we have restricted our analysis to late-stage tumor development. We have not considered cell shape, which has been shown to be important for the correct description of growth control processes [48]. Individual-based models of cell movement, e.g. the Potts model [49, 50] and the Langevin model [51], would improve our approach. We reduced the system to two dimensions. A three-dimensional tumor model could reveal new factors in the dynamics.
The aim of this study is to understand the qualitative effect of therapeutic protocols on colorectal cancer. Our analysis raises some interesting points about the influence of anti-growth regulation signals and genetic pathways on the efficacy of the standard protocol. Efforts have been made to improve the LQ model by taking into account multiple factors such as tumor volume and repopulation between treatment cycles [52]. However, we have produced a multiscale model that is more realistic and demonstrated its use in comparing efficacy of treatment protocols.
Declarations
Acknowledgements
BR is funded by the ETOILE project: "Espace de Traitement Oncologique par Ions Légers dans le cadre Européen". Part of this work was carried out during the "Biocomplexity Workshop 7" held at Indiana University (Bloomington Campus) in May 9–12, 2005. The workshop was sponsored by the National Science Foundation (Grant MCB0513693) and the National Institute of General Medical Science/National Institutes of Health (Grant R13GM075730). BR is very grateful for the hospitality of the Indiana University School of Informatics and the Biocomplexity Institute during his visit May 8–14. The authors wish to acknowledge particularly the two referees for their useful comments; Professor Jean-Pierre Boissel and François Gueyffier for manuscript review; Professor Emmanuel Grenier, Dr Didier Bresch, and Nicolas Voirin for their valuable advice regarding model implementation; and Dr Ramon Grima and Edward Flach for critical comments.
Authors' Affiliations
(1)
Institute for Theoretical Medicine and Clinical Pharmacology Department, Faculty of Medicine R.T.H Laennec, University of Lyon, Lyon Cedex 08, France
(2)
Mathématiques Appliquées de Bordeaux, CNRS UMR 5466 and INRIA futurs, University of Bordeaux 1, Talence Cedex, France
(3)
Indiana University School of Informatics and Biocomplexity Institute, Bloomington, USA
Copyright
© Ribba et al; licensee BioMed Central Ltd. 2006
This article is published under license to BioMed Central Ltd. This is an Open Access article distributed under the terms of the Creative Commons Attribution License (http://creativecommons.org/licenses/by/2.0), which permits unrestricted use, distribution, and reproduction in any medium, provided the original work is properly cited.