A generalized physiologically-based toxicokinetic modeling system for chemical mixtures containing metals
Theoretical Biology and Medical Modelling
2010
7:17
Received: 18 February 2010
Accepted: 2 June 2010
Published: 2 June 2010
Abstract
Background
Humans are routinely and concurrently exposed to multiple toxic chemicals, including various metals and organics, often at levels that can cause adverse and potentially synergistic effects. However, toxicokinetic modeling studies of exposures to these chemicals are typically performed on a single chemical basis. Furthermore, the attributes of available models for individual chemicals are commonly estimated specifically for the compound studied. As a result, the available models usually have parameters and even structures that are not consistent or compatible across the range of chemicals of concern. This fact precludes the systematic consideration of synergistic effects, and may also lead to inconsistencies in calculations of co-occurring exposures and corresponding risks. There is a need, therefore, for a consistent modeling framework that would allow the systematic study of cumulative risks from complex mixtures of contaminants.
Methods
A Generalized Toxicokinetic Modeling system for Mixtures (GTMM) was developed and evaluated with case studies. The GTMM is physiologically-based and uses a consistent, chemical-independent physiological description for integrating widely varying toxicokinetic models. It is modular and can be directly "mapped" to individual toxicokinetic models, while maintaining physiological consistency across different chemicals. Interaction effects of complex mixtures can be directly incorporated into the GTMM.
Conclusions
The application of GTMM to different individual metals and metal compounds showed that it explains available observational data as well as replicates the results from models that have been optimized for individual chemicals. The GTMM also made it feasible to model toxicokinetics of complex, interacting mixtures of multiple metals and nonmetals in humans, based on available literature information. The GTMM provides a central component in the development of a "source-to-dose-to-effect" framework for modeling population health risks from environmental contaminants. As new data become available on interactions of multiple chemicals, the GTMM can be iteratively parameterized to improve mechanistic understanding of human health risks from exposures to complex mixtures of chemicals.
Keywords
CadmiumArsenicToxic MetalInorganic ArsenicCadmium Intake
Background
Physiologically based toxicokinetic (PBTK) models are an important class of dosimetry models that are useful in estimating internal and target tissue doses of xenobiotics for risk assessment applications [1]. PBTK models employ mass balances on compartments within a human or animal body, for the purpose of estimating the time-course profiles of toxicant concentrations in tissues and fluids. These models are also useful for understanding therapeutic outcomes from internal tissue exposures to pharmaceuticals [2]. In conjunction with epidemiological and demographic data, and models of environmental pollution and exposure, PBTK models are applied to assess population health risks and provide a scientific basis for regulating the production and use of chemicals [3]. PBTK models provide a critical mechanistic linkage between exposure models and biologically-based dose-response models. Thus, PBTK models for complex mixtures should form a central component of any human exposure and health risk modeling framework that aims to address multiple contaminants [4].
Humans are typically exposed to multiple xenobiotic chemicals, such as pharmaceuticals, cosmetics, alcohols, metals, solvents, pesticides, volatile and semi-volatile organic compounds, etc., simultaneously. For this reason, there have been efforts to incorporate metabolic interactions in PBTK models for mixtures of selected chemicals [5]. Concurrently, there have been increasing numbers of applications involving "whole-body" physiologically-based toxicokinetic (WBPBTK) models that aim to reduce model uncertainties and better characterize inter-individual variabilities [6]. These whole-body models account for all major tissues and exposure pathways, and are capable of incorporating detailed physiological data. However, comprehensive mixture modeling efforts have not been pursued in the field of toxic metal compounds, and there are currently no available PBTK models for mixtures of metals. Indeed, toxicokinetic models have only focused on individual metals separately, despite evidence of interactions of toxic metals with other toxic metals [7], with essential metals [8], and even with nonmetal pollutants [9]. Recent developments in the field of molecular biomarkers have identified toxic interactions among metals such as arsenic, lead, and cadmium (including some toxic effects that are not seen in relation to single component exposures) [7]. Though, in the long term, there is a need for developing mechanistic toxicodynamic models for mixtures of metal compounds, in the short term there is a need for a PBTK modeling system that is capable of simulating multiple interacting metals and nonmetals simultaneously. Such a system should also incorporate realistic whole-body physiology of members of both the general and of susceptible populations.
Toxicological interactions among metals
Due to their similarities to essential metals, toxic metals are transported and eliminated through many common cellular mechanisms by "molecular mimicry" [10]. As a result, there exist toxicokinetic and toxicodynamic interactions among toxic and essential metals [7, 8]. Metal absorption, elimination, and toxicokinetics should therefore be considered highly correlated for exposed individuals, with susceptibilities resulting in differential effects of multiple metals. Population susceptibilities resulting from essential element status are often a significant source of uncertainty and variability for metals risk assessment [11]. For example, iron inhibits lead and cadmium intestinal uptake due to shared absorption mechanisms [12]; conversely, toxic metals may inhibit essential element absorption [13]. Cadmium and zinc are also known to have a variety of interactions due to the metal-binding protein metallothionein [14]. Selenium may potentially alter both arsenic and methylmercury toxicity [15]. Other nutrients such as antioxidants, Vitamins A/C/E, magnesium, phosphorus, riboflavin, and methionine are also known to impact toxic metal susceptibility [16].
Low essential element status or illnesses may result in higher absorption of multiple metals [17]. This has direct implications for PBTK applications to population risk assessment, since failing to account for high correlations in the absorption of individual metals may lead to misinterpretations of biomarker data. In cases where susceptible individuals are exposed to mixtures of toxic metals while exhibiting high absorption, there is a greater likelihood of toxic effects, either due to additive or synergistic interactions. This is particularly important since some metals exhibit common toxic effects such as hepatic, renal, and neurological toxicity. Molecular biomarkers of toxic metal health effects are becoming sensitive enough to detect some toxic interactions [7]. Synergistic toxic interactions in the liver and kidneys between arsenic and cadmium [18], and lead and cadmium [19] have been observed in exposed human populations.
Toxicological interactions among metals and nonmetals
Toxic metals affect the toxicokinetics of additional classes of chemicals such as pesticides, polychlorinated biphenyls (PCBs), polycyclic aromatic hydrocarbons (PAHs), and volatile organic compounds (VOCs). Indeed, these toxic metals can accumulate in the liver and kidneys and, due to their long half-lives, affect the hepatic and renal levels of Cytochrome P450 (CYP450) enzymes, which metabolize other xenobiotics [
9
]. Therefore, there is a need for a framework that links metal toxicokinetics, CYP450 dose-responses, and the subsequent impact of metals on the toxicokinetics of nonmetals. Since many PCBs, pesticides, and organic pollutants also induce or inhibit CYP450 enzymes, additional metabolic interactions are expected to occur. Table
1
lists some of the CYP450 enzymes that are affected by toxic metals, along with the classes of substrates metabolized by those enzymes. Many other effects are possible in addition to CYP450-related interactions: for example, a recent PBTK modeling study found that co-exposure to PCBs leads to an increased lactational transfer of methylmercury in mice [
20
].
Table 1
Selected interactions between metals and CYP450 enzymes in humans and animals
| Metals | CYP450 effects | Potential substrates† | Reference |
| --- | --- | --- | --- |
| Cadmium | Induced 2A6 | Carbamates, drugs | [32] |
| | Induced 2E1 | Halogenated aliphates, triazines, organophosphates, VOCs, drugs | [32] |
| | Induced 2C9 | Drugs, organophosphates, triazines | [32] |
| Lead | Inhibited 2A6 | Drugs | [63] |
| | Inhibited 1A2 (rats) | Arylamines, organophosphates, triazines, VOCs, PCBs, drugs | [64] |
| Arsenic | Induced 1A1 (rats) | PAHs, VOCs, PCBs, triazines | |
| Metal mixtures | Altered 1A1/2 induction by PAHs/TCDD (rats) | PAHs, VOCs, PCBs, triazines, organophosphates, drugs | |
Methods
Despite the critical need for a multi-chemical PBTK model that considers toxic metals, discussed in the previous section, unique modeling challenges have so far prevented the implementation of such a system. The half-lives of key toxic metals in humans are highly variable, spanning time scales of days (e.g. arsenic), months (e.g. methylmercury), and decades (e.g. lead and cadmium). As shown in Figure
1
, available model formulations for each metal differ greatly with respect to their basic conceptual and mathematical structures, making considerations of interaction and integration of multiple models for assessing cumulative exposures difficult or impossible. Current PBTK software platforms are not flexible enough to simultaneously allow the direct incorporation of a complex diffusion model of lead in bone, the model of pregnancy for fetal methylmercury exposure, and a biokinetic model of cadmium. However, in spite of these modeling differences, many similarities exist in the toxicokinetics of metals. The Divalent Metal Transporter 1 (DMT1) is a common gastrointestinal absorption pathway [
12
], and metallothionein plays an important role in overall absorption, distribution, elimination and toxicity [
21
]. Metabolism of metal and metalloid compounds is limited to redox reactions, methylation/demethylation, and protein conjugation [
22
]. Elimination of absorbed dose occurs primarily by renal excretion [
23
]. Such commonalities narrow the focus of the potential mixture effects to those which may have the highest impact on toxicokinetics.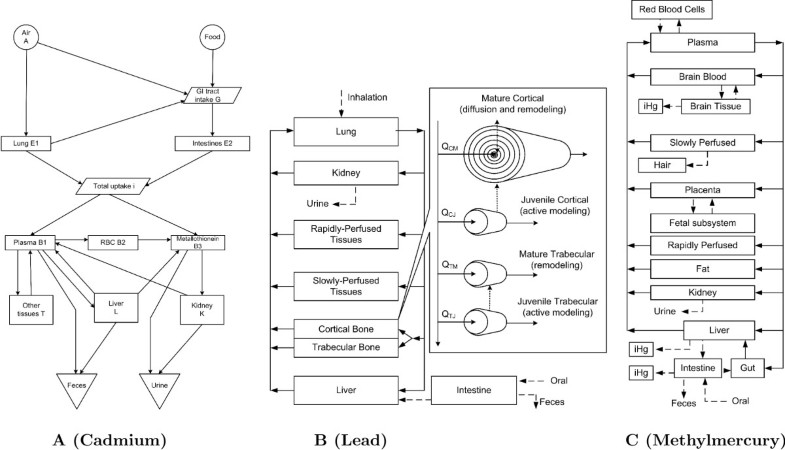 Results
The GTMM was evaluated with respect to its ability to predict toxicokinetics of multiple toxic metals "individually" (i.e. "one metal at a time"). Predictions of biomarkers by the GTMM were compared with the estimates from the corresponding single-metal PBTK models, using the same input data as the original literature evaluation studies of these models. For the case studies involving individual metals, the major physiological parameters for the GTMM were set to the values used in these original modeling case studies, so as to ensure direct comparison. Evaluations were performed for four toxic metals (cadmium, arsenic, lead, chromium), and a toxic metal compound (methylmercury). In all cases, the GTMM explained the available data and replicated the predictions of the various metal-specific formulations. Subsequently, the GTMM was applied to a hypothetical case involving interactions between metals and nonmetals.
Discussion and Conclusions
The previous sections outlined the need, development, implementation, and evaluation of a Generalized Toxicokinetic Modeling system for Mixtures (GTTM), applicable to both metals and non-metals. At the evaluation stage, the implementations of the GTTM for individual chemicals (metals or metal compounds) employed assumptions that were used in the formulations or applications of literature models, but were harmonized via consistent whole body physiology. The GTMM is a step in the on-going development of an integrative toxicokinetic/toxicodynamic system that simulates binary and higher order metal interactions.
The GTMM provides a central component of a novel framework that aims to account for total exposures (cumulative and aggregate) of individuals and populations to mixtures of chemicals; these mixtures can arise from many sources and routes, including environmental releases, use of consumer products, and dietary intake. Specifically, the GTMM has been developed as a component of two complementary and evolving systems that provide the above-mentioned framework: the Modeling ENvironment for TOtal Risk studies (MENTOR) that addresses the "source-to-dose" steps in the exposure and risk modeling sequence [61], and the DOse Response Information ANalysis system (DORIAN) that addresses the biological "dose-to-effect" steps [4]. In the case of MENTOR, the GTMM links to various multimedia/multipathway exposure modules for chemical mixtures, while in the case of DORIAN the GTMM has been designed to provide links to biologically-based dose-response (BBDR) modules for toxicodynamic processes, as these become available.
In addition to providing linkages of PBTK models for metal mixtures with biologically-based dose-response (BBDR) models for toxic effects, the framework should eventually also provide links with PBTK/BBDR models for essential elements. A manganese PBTK model for humans (which is in the early stages of development [62]) can be used to study interactions of toxic and essential metals via the GTMM. For mixtures of metals such as lead, cadmium, and arsenic, there is a need for BBDR models of renal and hepatic effects, because renal dysfunction impacts the elimination of essential and toxic metals in the plasma, and hepatic dysfunction may lead to potential interactions with organics, drugs, PCBs and pesticides. The magnitudes of these interactions in vivo are not currently known. However the GTMM can be used to study hypotheses regarding impacts of exposures from multiple metals and nonmetals, and to help identify priority areas for studying environmental health risks from exposures to complex chemical mixtures. The incorporation of whole-body physiology via linkages to up-to-date parameter databases is also useful in examining the distributions of risks within both the general population and selected susceptible subpopulations.
Declarations
Acknowledgements
This work was supported primarily by USEPA-funded Environmental Bioinformatics and Computational Toxicology Center (ebCTC) under STAR Grant No. GAD R 832721-010, and the USEPA funded Center for Exposure and Risk Modeling (CERM) under Cooperative Agreement No. CR-83162501. Additional support was provided by the NIEHS sponsored UMDNJ Center for Environmental Exposures and Disease under Grant No. P30ES005022.
Authors' Affiliations
(1)
Environmental and Occupational Health Sciences Institute, A joint institute of UMDNJ - Robert Wood Johnson Medical School and Rutgers University, Piscataway, USA
(2)
UMDNJ-Robert Wood Johnson Medical School Department of Environmental and Occupational Medicine, Piscataway, USA
(3)
Rutgers University Department of Chemical and Biochemical Engineering, Piscataway, USA
Copyright
© Sasso et al; licensee BioMed Central Ltd. 2010
This article is published under license to BioMed Central Ltd. This is an Open Access article distributed under the terms of the Creative Commons Attribution License (http://creativecommons.org/licenses/by/2.0), which permits unrestricted use, distribution, and reproduction in any medium, provided the original work is properly cited.