The Proteomic Code: a molecular recognition code for proteins
Theoretical Biology and Medical Modelling
2007
4:45
Received: 02 September 2007
Accepted: 13 November 2007
Published: 13 November 2007
Abstract
Background
The Proteomic Code is a set of rules by which information in genetic material is transferred into the physico-chemical properties of amino acids. It determines how individual amino acids interact with each other during folding and in specific protein-protein interactions. The Proteomic Code is part of the redundant Genetic Code.
Review
The 25-year-old history of this concept is reviewed from the first independent suggestions by Biro and Mekler, through the works of Blalock, Root-Bernstein, Siemion, Miller and others, followed by the discovery of a Common Periodic Table of Codons and Nucleic Acids in 2003 and culminating in the recent conceptualization of partial complementary coding of interacting amino acids as well as the theory of the nucleic acid-assisted protein folding.
Methods and conclusions
A novel cloning method for the design and production of specific, high-affinity-reacting proteins (SHARP) is presented. This method is based on the concept of proteomic codes and is suitable for large-scale, industrial production of specifically interacting peptides.
Keywords
Genetic CodeQuery ProteinAmino Acid PairCodon PairNucleic Acid Structure
Background
Nucleic acids and proteins are the carriers of most (if not all) biological information. This information is complex, well organized in space and time. These two kinds of macromolecules have polymer structures. Nucleic acids are built from four nucleotides and proteins are built from 20 amino acids (as basic units). Both nucleic acids and proteins can interact with each other and in many cases these interactions are extremely strong (Kd ~ 10-9-10-12 M) and extremely specific. The nature and origin of this specificity is well understood in the case of nucleic acid-nucleic acid (NA-NA) interactions (DNA-DNA, DNA-RNA, RNA-RNA), as is the complementarity of the Watson-Crick (W-C) base pairs. The specificity of NA-NA interactions is undoubtedly determined at the basic unit level where the individual bases have a prominent role.
Our most established view on the specificity of protein-protein (P-P) interactions is completely different [
1
]. In this case the amino acids in a particular protein together establish a large 3D structure. This structure has protrusions and cavities, charged and uncharged areas, hydrophobic and hydrophilic patches on its surface, which altogether form a complex 3D pattern of spatial and physico-chemical properties. Two proteins will specifically interact with each other if their complex 3D patterns of spatial and physico-chemical properties fit to each other as a mold to its template or a key to its lock. In this way the specificity of P-P interactions is determined at a level higher than the single amino acid (Figure
1
).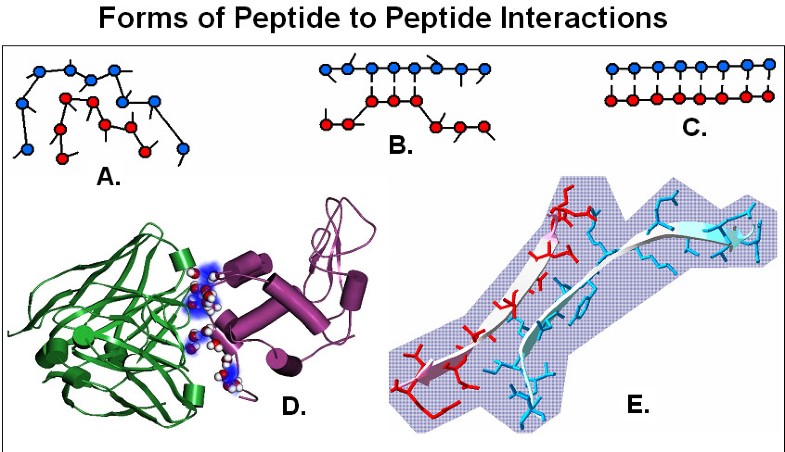 The nature of specific nucleic acid-protein (NA-P) interactions is less understood. It is suggested that some groups of bases together form 3D structures that fits to the 3D structure of a protein (in the case of single-stranded nucleic acids). Alternatively, a double-stranded nucleic acid provides a pattern of atoms in the grooves of the double strands, which is in some way specifically recognized by nucleo-proteins [2].
Regulatory proteins are known to recognize specific DNA sequences directly through atomic contacts between protein and DNA, and/or indirectly through the conformational properties of the DNA.
There has been ongoing intellectual effort for the last 30 years to explain the nature of specific P-P interactions at the residue unit (individual amino acid) level. This view states that there are individual amino acids that preferentially co-locate in specific P-P contacts and form amino acid pairs that are physico-chemically more compatible than any other amino acid pairs. These physico-chemically highly compatible amino acid pairs are complementary to each other, by analogy to W-C base pair complementarity.
The comprehensive rules describing the origin and nature of amino acid complementarity is called the Proteomic Code.
The history of the Proteomic Code
People from the past
This is a very subjective selection of scientists for whom I have great respect; I believe they contributed – in one way or another – to the development of the Proteomic Code.
Linus Pauling is regarded as "the greatest chemist who ever lived". The Nature of the Chemical bond is fundamental to the understanding of any biological interaction [3]. His works on protein structure are classics [4]. His unconfirmed DNA model, in contrast to the established model, gives some theoretical ideas on how specific nucleic acid-protein interactions might happen [5, 6].
Carl R Woese is famous for defining the Archaea, the third life form on Earth (in addition to bacteria and eucarya). He also proposed the "RNA world" hypothesis. This theory proposes that a world filled with RNA (ribonucleic acid)-based life predates current DNA (deoxyribonucleic acid)-based life. RNA, which can store information like DNA and catalyze reactions like proteins (enzymes), may have supported cellular or pre-cellular life. Some theories about the origin of life present RNA-based catalysis and information storage as the first step in the evolution of cellular life.
The RNA world is proposed to have evolved into the DNA and protein world of today. DNA, through its greater chemical stability, took over the role of data storage while proteins, which are more flexible as catalysis through the great variety of amino acids, became the specialized catalytic molecules. The RNA world hypothesis suggests that messenger RNA (mRNA), the intermediate in protein production from a DNA sequence, is the evolutionary remnant of the "RNA world" [7].
Woese's concept of a common origin of our nucleic acid and protein "worlds" is entirely compatible with the foundation of the Proteomic Code.
Margaret O Dayhoff is the mother of bioinformatics. She was the first who collected and edited the Atlas of Protein Sequence and Structure [8] and later introduced statistical methods into protein sequence analyses. Her work was a huge asset and inspiration to my first suggestion of the Proteomic Code [9–11].
George Gamow
was a theoretical physicist and cosmologist and spent only a few years in Cambridge, UK, but he was there when the structure of DNA was discovered in 1953. He developed the first genetic code, which was not only an elegant solution for the problem of information transfer from DNA to proteins, but at the same time explained how DNA might specifically interact with proteins [
12
–
17
]. In his mind, the codons were mirror images of the coded amino acids and they had very intimate relationships with each other. His genetic code proved to be wrong and the nature of specific nucleic acid-protein interactions is still not known, but he remains a strong inspiration (Figure
2
) [
18
,
19
].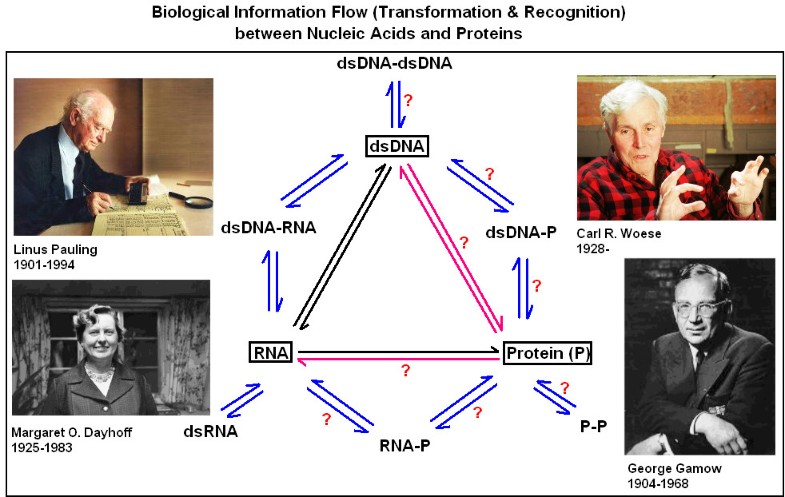 First generation models for the Proteomic Code
The first generation models (up to 2006) of the novel Proteomic Code are based on perfect codon complementarity coding of interacting amino acid pairs.
Experimental evidence
Experiments based on the idea of a Proteomic Code usually start with a well-known receptor-ligand type protein interaction. A short sequence is selected (often <10 amino acids long) that is known or suspected to be involved in direct contact between the proteins in question (P-P/r). A complementary oligopeptide sequence is derived using the known mRNA sequence of the selected protein epitope, making a reverse complement of the sequence, translating it and synthesizing it.
The flow of the experiments is as follows:
(a) choose an interesting peptide;
(b) select a short, "promising" oligo-peptide epitope (P);
(c) find the true mRNA of P;
(d) reverse-complement this mRNA;
(e) translate the reverse-complemented mRNA into the complementary peptide (P/c);
(f) test P-P/c interaction (affinity, specificity);
(g) use P/c to find P-like sequences (for histochemistry, affinity purification);
(h) use P/c to generate antibodies (P/c_ab);
(i) test P/c_ab for its interaction with the P-receptor (P/r) and use it for (e.g.) labeling or affinity purification of P/r;
(j) use P_ab (as well as antibodies to P, P_ab) to find and characterize idiopathic (P_ab-P/c_ab) antibody reactions.
An encouraging feature of Proteomic-Code based technology is that the amino acid complementarity (information mirroring) does not stop with the P-P/c interaction but continues and involves even the antibodies generated against the original interacting domains; even P_ab-P/c_ab, i.e., antibodies against interacting proteins, will themselves contain interacting domains. They are idiotypes.
Peptides and interactions involved in Proteomic Code-based experiments are summarized in Figure
5
.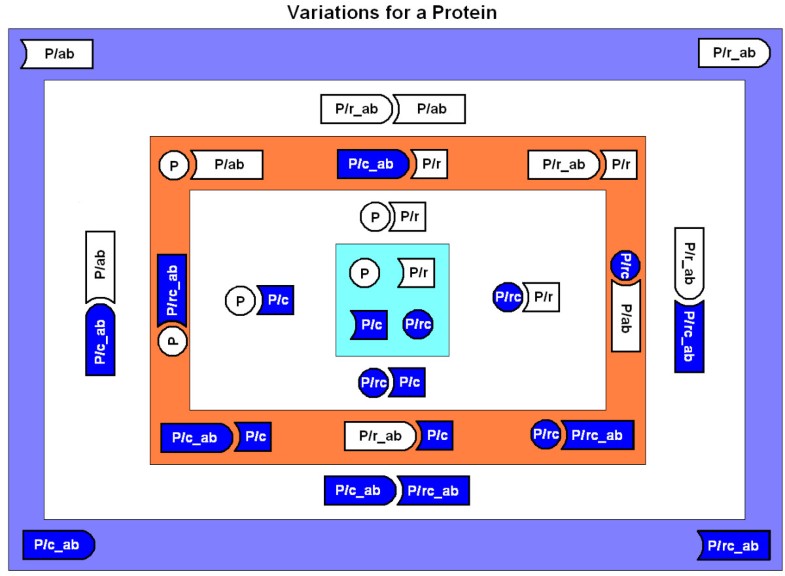 An impressive example of this technology and its potential is given by Bost and Blalock [27] (described above), It is reviewed by Heal et al. [37] and McGuian [45]. A collection of examples [see Additional file 1] presents a number of experiments of this kind.
Some experiments or types of experiments require further attention.
The antisense homology box, a new motif within proteins that encodes biologically active peptides, was defined by Baranyi and coworkers around 1995. They used a bioinformatics method for a genome-wide search of peptides encoded by complementary exon sequences. They found that amphiphilic peptides, approximately 15 amino acids in length, and their corresponding antisense peptides exist within protein molecules. These regions (termed antisense homology boxes) are separated by approximately 50 amino acids. They concluded that because many sense-antisense peptide pairs have been reported to recognize and bind to each other, antisense homology boxes may be involved in folding, chaperoning and oligomer formation of proteins. The frequency of peptides in antisense homology boxes was 4.2 times higher than expected from random sequences (p < 0.001) [46].
They successfully confirmed their suggestion by experiments. The antisense homology box-derived peptide CALSVDRYRAVASW, a fragment of the human endothelin A receptor, proved to be a specific inhibitor of endothelin peptide (ET-1) in a smooth muscle relaxation assay. The peptide was also able to block endotoxin-induced shock in rats. The finding of an endothelin receptor inhibitor among antisense homology box-derived peptides indicates that searching proteins for this new motif may be useful in finding biologically active peptides [47–49].
A bioinformatics experiment similar to Baranyi's was performed by Segerstéen et al. [50]. They tested the hypothesis that nucleic acids, encoding specifically-interacting receptor and ligand proteins contain complementary sequences. Human insulin mRNA (HSINSU) contained 16 sequences that were 23.8 ± 1.4 nucleotides long and were complementary to the insulin receptor mRNA (HSIRPR, 74.8 ± 1.9% complementary matches, p < 0.001 compared to randomly-occurring matches). However, when 10 different nucleic acids (coding proteins not interacting with the insulin receptor) were examined, 81 additional sequences were found that were also complementary to HSIRPR. Although the finding of short complementary sequences was statistically highly significant, we concluded that this is not specific for nucleic acid coding of specifically interacting proteins.
There are two kinds of antisense technologies based on the complementarity of nucleic acids: (a) when the production of a protein is inhibited by an oligonucleotide sequence complementary to its mRNA; this is a pre-translational modification and it usually requires transfer of nucleic acids into the cells; (b) when the biological effect of an already complete protein is inhibited by another protein translated from its complementary mRNA; this is a post-translational modification and does not block the synthesis of a protein.
Many experiments [see Additional file 1] indicate that antisense proteins inhibit the biological effects of a protein. This suggests the possibility of antisense protein therapy. The P-P/c reaction is in many respects similar to the antigen-antibody reaction, therefore the potential of antisense protein therapy is expected to be similar to the potential of antibody therapy (passive immunization against proteinaceous toxins, such as bacterial toxins, venoms, etc.). However, antisense peptides are much smaller than antibodies (MW as little as ~1000 Da compared to IgG ~155 kDa). This means that antisense proteins are easy to manufacture in vitro; antibodies are produced in living animals (with non-human species characteristics). However, the small size is expected to have the disadvantage of a lower Kd and a shorter biological half-life.
Immunization with complementary peptides produces antibodies (P/c_ab) as with any other protein. These antibodies contain a domain that is similar to the original protein (P) and specifically binds to the receptor of the original protein (P/r). This property is effectively used for affinity purification or immuno-staining of receptors. The P/c_ab is able to mimic or antagonize the in vivo effect of P by binding to its receptor. This property has the desired potential to treat protein-related diseases such as many pituitary gland-related diseases. A vision might be to treat, for example, pituitary dwarfism, with immunization against growth hormone complementary peptide (GH/c), or Type I diabetes with immunization against insulin/c peptide.
Reverse but not complementary sequences
The biochemical process of transcription and translation is unidirectional, 5'→3', and reversion does not exist. However, there are many examples of sequences present in the genome (in addition to direct reading) in reverse orientation, and if expressed (in the usual 5'→3' direction) they produce mRNA and proteins that are, in effect, reversely transcribed and reversely translated.
An interesting observation is that direct and reverse proteins often have very similar binding properties and related biological effects even if their sequence homology is very low (<20%). For example, growth hormone-releasing hormone (GHRH) and the reverse GNRH specifically bind to the GHRH receptor on rat pituitary cells and to polyclonal anti-GHRH antibody in ELISA and RIA procedures although they share only 17% sequence similarity and they are antagonists in in vitro stimulation of GH RNA synthesis and in vitro and in vivo GH release from pituitary cells [51].
The same phenomenon is observed in complementary sequences. A peptide expressed by complementary mRNA often specifically interacts with proteins expressed by the direct mRNA and it does not matter if they are read in the same or opposite directions. A possible explanation is that many codons are actually symmetrical and have the same meaning in both directions of reading. The physico-chemical properties of amino acids are preferentially determined by the 2nd (central) codon letter [52] so the physico-chemical pattern of direct and reverse sequences remains the same. In addition, I found that protein structural information is also carried by the 2nd codon letters [53].
Controversies regarding the original Proteomic Codes
All proteomic codes before 2006 required perfect complementarity, even if it was noticed that the "biophysical and biological properties of complementary peptides can be improved in a rational and logical manner where appropriate" [36].
Expression of the antisense DNA strand was simply not accepted before large scale genome sequences confirmed that genes are about equally distributed on both strands of DNA in all organisms containing dsDNA.
Spatial complementarity is difficult to imagine between longer amino acid sequences, because the natural, internal folding of proteins will prohibit it in most cases.
Usually, residues with the same polarity are attracted to each other, because hydrophobes prefer a hydrophobic environment and lipophobes prefer lipophobic neighbors. Amphipathic interactions seem artificial to most chemists.
Only complementary (but not reversed) sequences were found as effective as direct ones. This requires 3'→5' translation, which is normally prohibited.
The results are inconsistent; it works for some proteins but not for others; it is necessary to improve results, e.g., "M-I pair mutagenesis" [36].
Protein 3D structure and interactions are thought to be arranged on a larger scale than individual amino acids.
The number of possible amino acid pairs is 20 × 20/2 = 200. The number of perfect codons is 64, i.e., about a third of the number expected. This means that two-thirds of amino acid pairs are impossible to encode in perfectly complementary codons.
are these amino acid pairs not derived from complementary codons at all?
are these amino acid pairs derived from imperfectly complementary codons?
Development of the second generation Proteomic Code
What did we learn about the Proteomic Code during its first 25 years (1981–2006)? My first and most important lesson is that I realize how terribly wrong it was (and is) to believe in scientific dogmas, such as sense vs nonsense DNA strands. It is almost unbelievable today that many of us were able to see a difference between two perfectly symmetrical and structurally identical strands.
We were able to provide multiple independent strands of convincing evidence that the concept of the Proteomic Code is valid. At the same time we had to understand that the first concepts – based on perfect complementarity of codons behind interacting amino acids – were imperfect. There is protein folding information in the nucleic acids – in addition to or within the redundant genetic code – but it is unclear how is it expressed and interpreted to form the 3D protein structure.
A major physico-chemical property, the hydropathy of amino acids, is encoded by the codons. Proteins translated from direct and reverse as well as from complementary and reverse-complementary strands have the same hydropathic profiles. This is possible only if the amino acid hydropathy is related to the second, central codon letter.
There is a clear indication that some biological information exists in multiple complementary (mirror) copies: DNA-DNA/c→RNA-RNA/c→protein-protein/c→IgG-IgG/c.
Some theoretical considerations and research that led to the suggestion of the 2nd generation Proteomic Codes are now reviewed.
Definition of the 2nd generation Proteomic Code
The Proteomic Code is a set of comprehensive rules by which information in genetic material is transferred into the physico-chemical properties of amino acids and determines how individual amino acids interact with each other during protein folding and in specific protein-protein interactions. The Proteomic Code is part of the redundant genetic code. The theory of Proteomic Code contains the following observations:
Co-locating (interacting) amino acids in native proteins are encoded by partially (imperfect) complementary codons in reverse (5'→3'/5'→3') orientation.
Partial complementarity means that the 1st and 3rd codon bases are complementary (Watson-Crick) bases to each other, while the 2nd bases may or may not be complementary to each other.
The physico-chemical characteristics of the coded and interacting amino acids are determined mainly by the 2nd (central) codon residues.
The physico-chemical properties of the interacting amino acids (size, charge, and hydropathy) are compatible with each other at the individual amino acid level.
Nucleic acids (exons) contain protein folding information within (or in addition to) the redundant genetic code.
Nucleic acids may directly assist protein folding as chaperons.
There are four different Proteomic Codes at this moment. PC1_C and PC1_RC are the original codes based on the perfect complementarity of all three codon bases in complementary (C, 5'→3'/3'→5') readings; PC2_C and PC2_RC are the recently extended codes requiring base pair complementarity at the 1st and 3rd codon positions but not necessarily at the 2nd. PC1 is part of PC2. The PC_C variants require 3'→5' translations, which do not exist, therefore I regard this variant as an artifact, caused by the symmetry of many codons. Only a small percentage codon and amino acid pairs belongs to PC1; ~50% of all amino acid pairs and >60% of all codon pairs can be classified into PC2_RC (Figures
31
and
32
).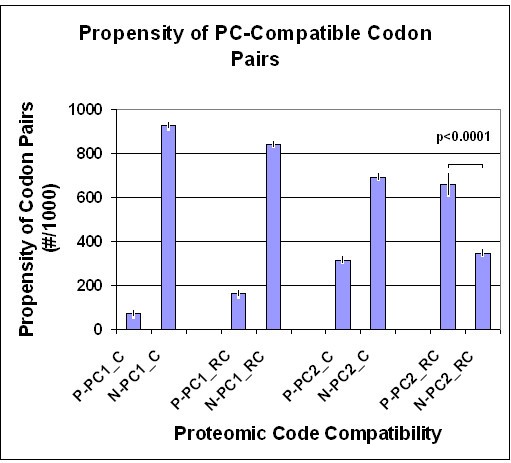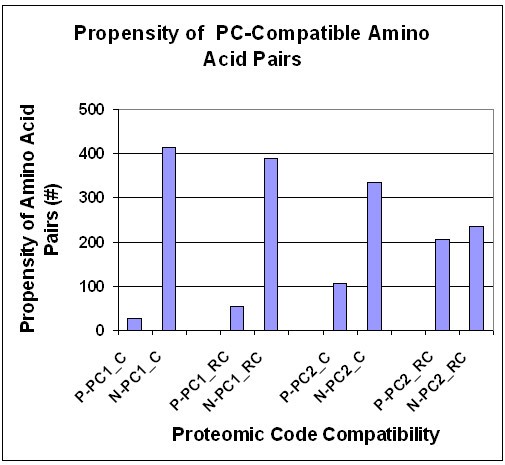 All possible amino acid pairs (21 × 21 = 441, including the virtual pairs formed with the Stop/End signal), are listed in a Table [see Additional file 2]. The most important physico-chemical parameters (molecular weight (MW), isoelectric point (pI), hydropathy (HP)) and the derived values of three compatibility indexes (charge (CCI), size (SCI) and hydropathy (HCI) compatibility indices [58]) as well as the expected frequency of the amino acid pairs (natural frequency (NF), calculated from codon table 1) are included in Table 4. P (positive) and N (negative) indicate whether an amino acid pair may or may not be coded by a given Proteomic Code.
The Origin of Proteomic Code as part of the Genetic Code
The theory of Ikehara [reviewed in [96, 97]] about the origins of gene, genetic code, protein and life is especially interesting regarding the Proteomic Code. Ikehara suggests (and support with experimental evidence) that gene-protein system, comprised of 64 codons and 20 amino acids developed successfully during the evolution.
The development started with a GNC-type primeval genetic code (G: guanine, C: Cytosine, N: any of the four nucleotides), coding only four amino acids (Gly: [G], Ala: [A], Asp: [D], Val: [V]) forming the so called [GADV]-proteins. This minimal set of only four amino acids and the [GADV]-proteins are able to represent the 6 major (and characteristic) protein moieties/indices (hydropathy, a-helix, b-sheet and b-turn forms, acidic amino acid content and basic amino acid content) which are necessary for appropriate three-dimensional structure formation of globular, water-soluble proteins on the primitive earth. The [GADV]-proteins (even randomized) have catalytic properties and able to facilitate the syntheses of other [GADV]-proteins (also random).
The primeval genetic code continued to develop toward a more complex SNS-type primitive genetic code (S: G or C) containing 16 codons and encoding 10 amino acids (L, P, H, Q, R, V, A, D, E, G) before the recent 64 codon/20 amino acid-type recent genetic code became established.
Furthermore, Ikehara concluded from the analysis of microbial genes that newly-born genes are products of nonstop frames (NSF) on antisense strands of microbial GC-rich genes [GC-NSF(antisense)] and from SNS repeating sequences [(SNS)n] similar to the GC-NSF(antisense).
The similarity between GNC/SNS-type primitive codons (which are expressed even from the reverse-complement strands as GC-rich non-stop genes) and the Proteomic Code is obvious. Both concepts suggest and agree with each other regarding
a) the connection between 2nd codon residue and the fundamental physicochemical properties of the coded amino acids,
b) the importance of 1st and 3rd codon letters in determining the nucleic acid (as well as protein) structure,
c) the importance of compositional difference between 1st, 3rd and central codon residues (to emphasize the codon boundaries),
d) the importance of complementarity (even in the mRNA) in development of protein structure and function,
e) the importance of GC at the 1st and 3rd codon positions (as the source of lower Gibbs energy, than central codon positions have, where even AT are permitted).
I think, that the concept of GNC/SNS-type primitive codons and the Proteomic Code are convergent ideas, both reflecting the same fundamental aspects of the connection between nucleic acid and protein structure and function.
System and method for obtaining oligo-peptides with specific high affinity for query proteins
I have developed a system and method for obtaining oligo-peptides with specific high affinity for query proteins [
98
]. The method is based on the second generation Proteomic Code. Figures
33
and
34
show the steps in this system for producing the target proteins with a high affinity for query proteins; it is assumed the primary structures of the query proteins are known.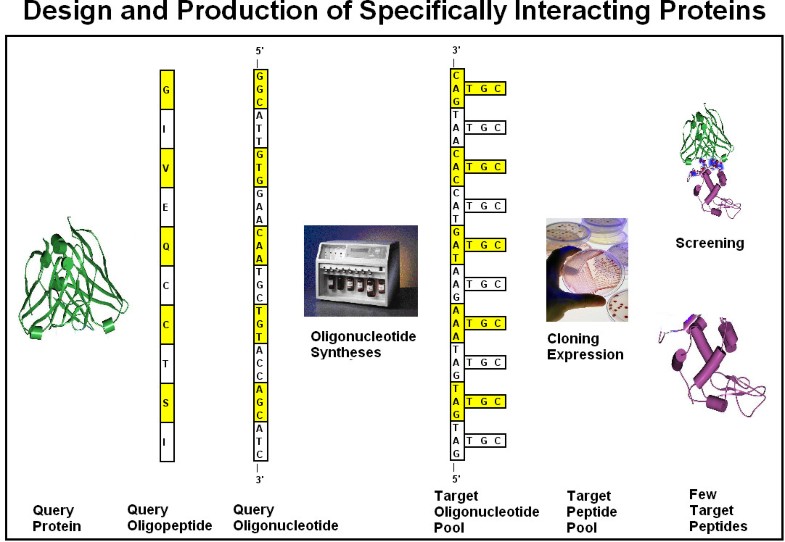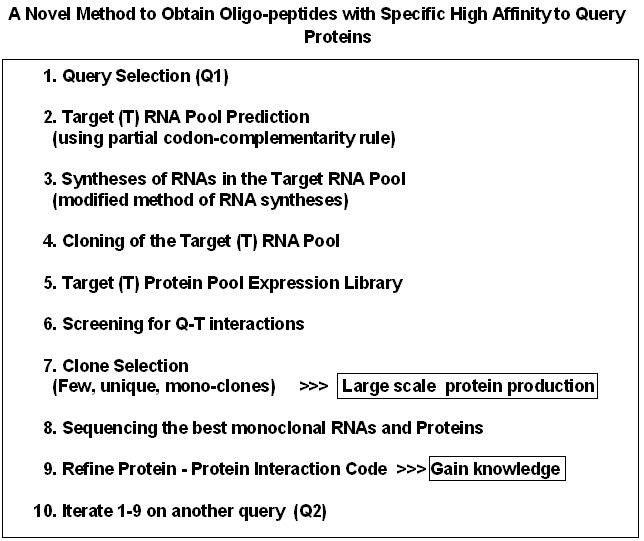 There is no limitation to the size of the query; however, the sequence is preferably in the range 5–40 amino acid residues, and best in the range 7–15. Preferably, the real and natural coding sequence is known for the query protein. However, there might be some special cases in which the sequence is not exactly known, for example designed or artificially modified proteins. Thus, it is possible to fabricate a virtual coding sequence with back translation using Codon Usage Frequency Tables. The present method relies on the entire information carried by the naturally-occurring DNA/mRNA and not only that used for coding of the protein primary sequence.
The query sequence should be a "promising" domain of the query protein and specific domains are more important, including domains that: (a) are known to be antigenic; (b) are located on the surface of the query protein; (c) are not simple (repetitive) sequences; (d) contain less frequent amino acids; and (e) contain charged amino acid residues.
Once the promising area of the known amino acid sequence is chosen and the nucleotide sequence is determined, then construction of nucleic acid sequences encoding the target proteins is initiated. The target nucleotide (RNA or DNA) prediction should follow a simple rule, namely that the 1st and 3rd codon letters of the target nucleotide sequences should be reverse-complementary to the 1st and 3rd codon nucleotide residues of the query nucleotide sequence, but the middle, 2nd residue can be any of the four possible nucleotides. The expected number of predicted target RNAs will be 4 n , where n is the number of amino acids (= number of codons, = number of 2nd codon letters).
Nucleotide sequences can be produced readily, for example, directly synthesizing the fragment by chemical means, applying nucleic acid reproduction technology such as PCR, or excision of selected DNA fragments from recombinant plasmids containing appropriate inserts and suitable restriction enzyme sites. However, synthesis of predicted (max. 4n) sequences on a one by one basis does not seem practical. Thus, a simple mass-production method is needed that will result in a mixture containing all possible sequences in the predicted RNA/DNA pool. Fortunately, the regular nature of the nucleotides in the pool makes it possible to synthesize the entire pool of sequences as if it were only one single nucleotide sequence. For example, the usual step-by-step (base by base) protocol can be followed except at the positions for the synthesis of the 2nd codon residue. At those points in the synthesis process, an equal mixture of the four nucleotides should be provided instead of a single nucleotide. The result of this modified oligo-nucleotide synthesis should be a mixture of the desired potential target RNAs.
The predicted and synthesized RNAs in the pool are cloned by the standard procedure, which involves insertion of RNA into vector (plasmid or other carrier) and multiplying the sequences in bacteria or yeast as described in the literature. Expression vectors of the system may comprise polynucleotides operatively linked to an enhancer-promoter such as a prokaryotic or eukaryotic promoter. Further, an enhancer may be included in the vector. A major function of an enhancer is to increase the level of transcription of a coding sequence in a cell that contains one or more transcription factors that bind to that enhancer. Unlike a promoter, an enhancer can function when located at variable distances from transcription start sites so long as a promoter is present.
Expression vectors of the present system comprise polynucleotides that encode the target peptides of the pool. Where expression of recombinant polypeptide is desired and a eukaryotic host is contemplated, it is best to employ a vector such as a plasmid that incorporates a eukaryotic origin of replication. In addition, for the purposes of expression in eukaryotic systems, it is desired to position the peptide-encoding sequence adjacent to and under the control of an effective eukaryotic promoter such as those used in combination with Chinese hamster ovary cells. To bring a coding sequence under the control of a promoter, whether it is eukaryotic or prokaryotic, what is generally needed is to position the 5' end of the translation initiation side of the proper translational reading frame of the polypeptide between about 1 and 50 nucleotides 3' of (or downstream with respect to) the promoter chosen. Furthermore, where eukaryotic expression is anticipated, one would typically desire to incorporate an appropriate polyadenylation site into the transcriptional unit that includes the different target peptides.
pRc/CMV (available from Invitrogen) is an exemplary vector for expressing a peptide in mammalian cells, particularly COS and CHO cells. Target polypeptides of the present invention under the control of a CMV promoter can be efficiently expressed in mammalian cells. The pCMV plasmids are a series of mammalian expression vectors of particular utility in the present system. The vectors are designed for use in essentially all cultured cells and work extremely well in SV40-transformed simian COS cell lines. The pCMV1, 2, 3 and 5 vectors differ from each other in certain unique restriction sites in the polylinker region of each plasmid. The pCMV4 vector differs from these 4 plasmids in containing a translation enhancer in the sequence prior to the polylinker. While they are not directly derived from the pCMV1-5 series of vectors, the functionally similar pCMV6b and c vectors, available from the Chiron Corp. (Emeryville, CA), are identical except for the orientation of the polylinker region, which is reversed in one relative to the other. The pCMV vectors have been successfully expressed in simian COS cells, mouse L cells, CHO cells and HeLa cells.
Means of transforming or transfecting cells with exogenous polynucleotide such as the nucleotide molecules of the present system are well known and include techniques such as calcium-phosphate- or DEAE-dextran-mediated transfection, protoplast fusion, electroporation, liposome-mediated transfection, direct microinjection and adenovirus infection. The most widely-used method is transfection mediated by either calcium phosphate or DEAE-dextran. Although the mechanism remains obscure, it is believed that the transfected DNA enters the cytoplasm by endocytosis and is transported to the nucleus. Depending on the cell type, up to 90% of a population of cultured cells can be transfected at any one time. Because of its high efficiency, transfection mediated by calcium phosphate or DEAE-dextran is the method of choice for experiments that require transient expression of the foreign DNA in large numbers of cells. Calcium phosphate-mediated transfection is also used to establish cell lines that integrate copies of the foreign DNA, which are usually arranged in head-to-tail tandem arrays into the host cell genome.
The application of brief, high-voltage electric pulses to a variety of mammalian and plant cells leads to the formation of nanometer-sized pores in the plasma membrane. DNA is taken directly into the cytoplasm either through these pores or as a consequence of the redistribution of membrane components that accompanies closure of the pores. Electroporation can be extremely efficient and can be used both for transient expression of cloned genes and for establishment of cell lines that carry integrated copies of the gene of interest. Electroporation, in contrast to calcium phosphate-mediated transfection and protoplast fusion, frequently gives rise to cell lines that carry one, or at most a few, integrated copies of the foreign DNA.
Liposome transfection involves encapsulation of DNA or RNA within liposomes, followed by fusion of the liposomes with the cell membrane. The mechanism by which DNA or RNA is delivered into the cell is unclear but transfection efficiencies can be as high as 90%.
Direct microinjection of a DNA molecule into the nucleus has the advantage of not exposing DNA to cellular compartments such as low pH endosomes. Microinjection is therefore used primarily as a method for establishing lines of cells that carry integrated copies of the DNA of interest. A transfected cell can be prokaryotic or eukaryotic.
In addition to prokaryotes, eukaryotic microbes such as yeast can also be used. Saccharomyces cerevisiae is the most commonly used eukaryotic microorganism, although a number of other strains are also available. For expression in Saccharomyces, the plasmid YRp7, for example, is commonly used. This plasmid already contains the trpl gene, which provides a selection marker for a mutant strain of yeast lacking the ability to grow in tryptophan, for example ATCC No. 44076 or PEP4-1. The presence of the trpl lesion as a characteristic of the yeast host cell genome then provides an effective environment for detecting transformation by growth in the absence of tryptophan. Suitable promoter sequences in yeast vectors include the promoters for 3-phosphoglycerate kinase or other glycolytic enzymes such as enolase, glyceraldehyde-3-phosphate dehydrogenase, hexokinase, pyruvate decarboxylase, phosphofructokinase, glucose-6-phosphate isomerase, 3-phosphoglycerate mutase, pyruvate kinase, triosephosphate isomerase, phosphoglucose isomerase and glucokinase. In constructing suitable expression plasmids, the termination sequences associated with these genes are also introduced into the expression vector downstream from the sequences to be expressed to provide polyadenylation of the mRNA and termination. Other promoters, which have the additional advantage of transcription controlled by growth conditions, are those for alcohol dehydrogenase 2, isocytochrome c, acid phosphatase, degradative enzymes associated with nitrogen metabolism, the aforementioned glyceraldehyde-3-phosphate dehydrogenase, and enzymes responsible for maltose and galactose utilization. Any plasmid vector containing a yeast-compatible promoter, origin or replication and termination sequences is suitable.
In addition to microorganisms, cultures of cells derived from multicellular organisms can also be used as hosts. In principle, any such cell culture is workable, whether from vertebrate or invertebrate culture. However, interest has been greatest in vertebrate cells, and propagation of vertebrate cells in culture (tissue culture) has become a routine procedure in recent years. Examples of such useful host cell lines are AtT-20, VERO and HeLa cells, Chinese hamster ovary (CHO), and W138, BHK, COSM6, COS-1, COS-7, 293 and MDCK. Expression vectors for such cells ordinarily include (if necessary) an origin of replication, a promoter located upstream of the gene to be expressed, along with any necessary ribosome binding sites, RNA splice sites, polyadenylation site, and transcriptional terminator sequences.
For use in mammalian cells, the control functions on the expression vectors are often derived from viral material. For example, commonly used promoters are derived from polyoma, Adenovirus 2, Cytomegalovirus and most frequently Simian Virus 40 (SV40). The early and late promoters of SV40 are particularly useful because both are obtained easily from the virus as a fragment that also contains the SV40 origin of replication. Smaller or larger SV40 fragments can also be used, provided they include the approximately 250 bp sequence extending from the HindIII site towards the BglI site located in the viral origin of replication. It is also possible, and often desirable, to utilize promoter or control sequences normally associated with the desired gene sequence, provided such control sequences are compatible with the host cell systems.
Culture conditions are well known and include ionic composition and concentration, temperature, pH, etc. Typically, transfected cells are maintained under culture conditions; suitable media for various cell types are well known. Temperature is preferably from about 20°C to about 50°C. pH is preferably from about 6.0 to about 8.0, better in the range 6.8–7.8 and best at about 7.4. Other biological conditions needed for transfection and expression of an encoded protein are well known.
Following transfection, the cell is maintained under culture conditions for a period of time sufficient for the target proteins of the pool to be expressed. A suitable time depends inter alia upon the cell type used and is readily determinable by a skilled technician. Typically, maintenance time is from about 2 to 14 days. Recovery of the target proteins comprises isolating and purifying the recombinant polypeptides. Isolation and purification techniques for polypeptides are well known and include such procedures as precipitation, filtration, chromatography, electrophoresis, etc.
The target proteins are preferably arranged in a library assay system for screening with samples of the query protein. Any method that detects specific, high affinity protein-protein interactions is theoretically useful for screening.
Selecting the best clones, with the proteins interacting most specifically and with highest affinity, can be followed by repeated screenings, thus leading to the most desired target proteins with the highest binding affinity for the query protein. These are suitable for large-scale target protein production.
These aspects and embodiments of the present system are further described in the following examples. However, the present system is not limited by such examples, and variations will be apparent to those skilled in the art without departing from the scope of the present setup.
Example 1
Figure
35
shows the use of the present system to obtain a specific high affinity protein with binding affinity for a section of the A-peptide in human insulin.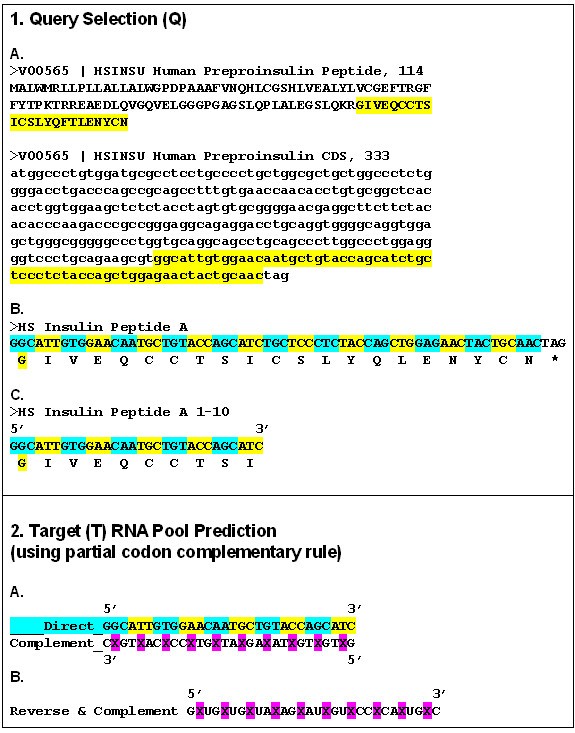 Starting with the known protein and nucleic acid sequences of the entire Pre-pro-insulin, 1–10 residues of the A peptide and the corresponding nucleic acid sequence are selected. The selected part of the peptide, called the query, is used to screen the target protein expression library. Therefore, this sequence should be available in pure peptide form.
Next, a sequence is created that is complementary to the query nucleotide sequence at the 1st and 3rd codon positions but leaving the 2nd position undefined (X). The complementary sequence is reversed and, in this particular example, the bases T are changed to U. The second (central) codon position remains undefined and this undefined X position can be any one of the possible nucleotides (A, U, G, C). Therefore, this prediction method defines many different target RNA sequences. In the case of a sequence including 30 nucleotide bases, the expected number of possible target sequences will be about 410 = 106.
The predicted pool of target RNAs is synthesized by following the usual step-by-step (base by base) protocol, known to those skilled in the art, except the syntheses of the X positions. At the X position, a mixture of nucleotide bases is provided (which contain equal amounts of A and U and G and C). The result of this modified oligo-nucleotide synthesis is a mixture of the desired potential target RNAs as shown in Figure
36
. The target RNAs are cloned and transfected via an expression vector into a cell for expression of the encoded protein. An expression library of the expressed target protein is created for screening for query protein/target protein affinity binding. When binding complexes are found to meet the affinity binding levels, the target protein may be cloned for large-scale production.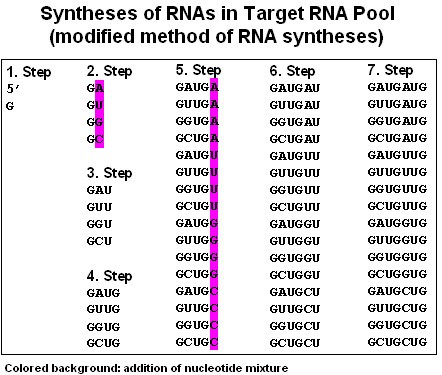 These steps may be repeated numerous times by modifying the length of the query sequence and/or using another domain area of the query protein that may be of interest.
Example 2. Example of design and characterization of a specific protein-protein interaction
The BacterioMatch™ two-hybrid system (Stratagene, 11011 N. Torrey Pines Road, La Jolla, CA 92037) was used for quick detection of protein-protein interactions designed by the recent method. It is a simple alternative or complement to yeast two-hybrid systems for detection of such interactions in vivo. Because the two-hybrid assay is performed in bacteria, the results are obtained more easily and quickly than in yeast. The system is based on transcriptional activation of a primary ampicillin-resistant reporter and a secondary β-galactosidase reporter for validation. The BacterioMatch two-hybrid system is based on a methodology developed by Dove, Joung, and Hochschild of Harvard Medical School.
The BacterioMatch two-hybrid system is based on transcriptional activation (Figure
37
). A protein of interest – the bait – is fused to the full-length bacteriophage repressor protein (λcI). The corresponding target protein is fused to the amino-terminal domain of the α-subunit of RNA polymerase (RNAPα). The bait is tethered to the x operator sequence upstream of the reporter promoter through the DNA-binding domain of λcI. If the bait and target interact, they recruit and stabilize the binding of RNA polymerase close to the promoter and activate the transcription of the ampicillin-resistant reporter gene in the BacterioMatch two-hybrid reporter strain. The β-galactosidase reporter gene provides an additional mechanism for validating putative protein-protein interactions.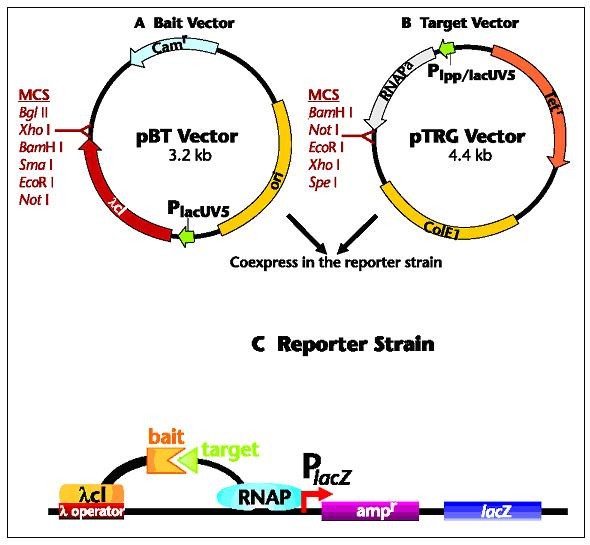 (a) Bait vector. The bait vector, pBT, encodes the full-length bacterial phage cI protein under the control of the strong lacUV5 promoter. A protein of interest is fused to the bacterial phage λcI protein by inserting its gene into the multiple cloning site at the 3' end of the λcI gene. The presence of a multiple cloning site makes it convenient to subclone a bait gene that is already present in many yeast two-hybrid bait plasmids.
(b) Target vector. The target plasmid, pTRG, is compatible with Stratagene's cDNA library construction kit. The target plasmid directs transcription of the amino-terminal domain of RNA polymerase α-subunit and linker region under the control of tandem promoters lpp and lacUV5. The target gene is fused in-frame to the α-subunit NTD through a multiple cloning site at the 3' end of the α-subunit gene.
(c) Reporter strain. The reporter strain is derived from XL1-Blue MRF'. The strain lacks all restriction systems in order to be compatible with current cDNA library construction methods. The lac Iq gene, located on the F' episome, represses synthesis of the bait and target until induction. The reporter cassette is also located on the F' episome in the cell. The lacZ gene serves as a secondary reporter to provide a visible phenotype for identifying positive protein-protein interactions.
Definitions
Query (or bait) is one protein sequence with which the target protein, designed and produced by the method, will specifically interact. Target protein is one or more protein sequence(s) designed by the method to interact specifically with the query protein sequence. The target is expected to be present in a pool of protein sequences called the target pool. The target pool is designed using a target template, which is a nucleic acid sequence containing 2/3 defined and 1/3 undefined nucleotides (X). (A target template, which contains 15 undefined nucleic acid residues, will result in 415 = 109 different oligonucleotides, which will be translated into the corresponding number of proteins.) The target pool is synthesized using a target oligo template (TOT) which has a constant (C) and variable (V) part. The TOT-C is necessary to synthesize dsDNA of the target pool sequences and it is ~20 nucleotides long. The TOT-V (target template) is about 30–45 nucleotides long, 2/3rd of the nucleotides being unambiguously defined while 1/3rd are not (X). The X residues should be incorporated by adding a mixture of nucleotides (equal amounts of A+T+G+C) to the reaction during oligo synthesis.
The results (numbers of highly, moderately and slightly positive clones) are evaluated by visual inspection. The positive clones are saved for further experiments. If there are no positive clones, it is necessary to validate the orientation and translation frame in the target mRNAs. This is possible by sequencing some target mRNAs. The sequence should show the residue pattern.
Both TARGET TEMPLATE to ESRLERLEQLFLLIF (GAL4 09-23AA) and TARGET TEMPLATE to QLFLLIFPREDLDMI (GAL4 17-31AA) contained numerous positive bacterial clones growing on double selective medium. Sequencing of DNA from the vectors in randomly selected positive clones confirmed that:
they contained the characteristic TOT pattern, i.e. defined 1st and 3rd codon residues;
the nucleic acids differed only in the 2nd codon positions; their 1st and 3rd codon positions were identical;
The restriction endonuclease recognition sequences were present;
the start and stop codons were present;
the sequences were inserted into the correct, sense DNA strands;
the codon frames were correct in relation to the start codon and were read in the correct frames.
Some positive TARGET TEMPLATE to ESRLERLEQLFLLIF (GAL4 09-23AA) clones were further processed to monoclonal colonies and proteins were extracted. Characterization of the binding properties of fluorescently labeled GAL4 peptide to the protein extract indicated the presence of saturable binding sites in the protein extracts from positive clones and the absence of saturable binding sites in the negative clones.
The experiment
The experiment below is specifically designed for the BacterioMatch (Stratagene) two-hybrid system. This system uses:
a bait vector (pBT) and the manufacturer's standard as insert, the dimerization domain of 1HBW REGULATORY PROTEIN GAL4;
a target vector (pTRG) and the manufacturer's standard as insert, and a ~90 aa long mutant form of Gal11.
In the experiment below the target oligo pool is used instead of Gall1 in the pTRG vector.
The query in this experiment is the dimerization domain of 1HBW REGULATORY PROTEIN GAL4 inserted into pBT (as provided and described by Stratagene). The target oligo templates (TOT-V) were designed to interact specifically with K01486_SCGAL4_DIMDOM-171/9-23 and K01486_SCGAL4_DIMDOM-171/17/31 sequences.
The sequences below are sense, ssDNA sequences, which means that the TOT-V in this sequence is the same as the sequence in the expected mRNAs (except for T/U conversion). The TOT-C is not indicated here; BPD can decide which TOT-C to use for this purpose (Figure
38
).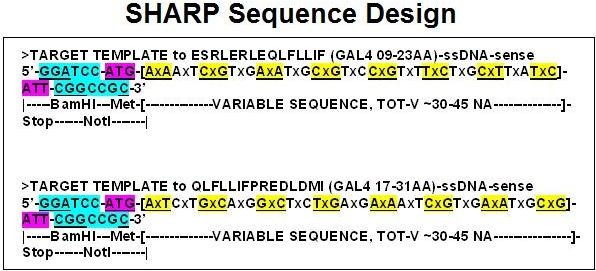 The experiment consists of the following steps:
(1) Sequence the Gal 4 DNA (provided by Stratagene) to make sure that the query sequence is as expected.
(2) Synthesize the target pool using the target oligo templates. This is a single run routine oligo synthesis. Residue X is equal amounts of A+T+G+C.
(3) Make dsDNAs. This is a single run PCR.
(4) Make restriction enzyme cuts on the target oligo pool sequences. This is a single run RE reaction.
(5) Insert the oligo pool sequences into the pTRG vector. ~10
9
different vectors are expected. Make sure that the orientation of the target oligos is correct and the transcription will result in the following mRNA. The target oligo pool insertion is a single run ligase reaction (Figure
39
). Transcription of TOT dsDNA will result in TOT mRNA. A 45 nucleotide long TOT will be translated into 4
15
different oligopeptides, each 15 amino acids long. Some of these oligopeptides are expected to interact specifically with the respective GAL4 targets.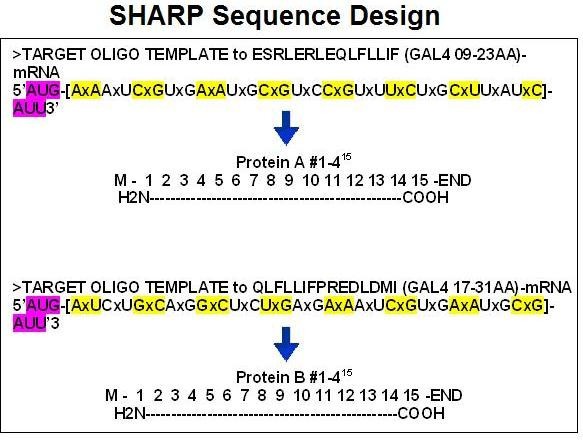 (6) Insert the vectors into bacteria.
(7) Perform the BacterioMatch two-hybrid assay accordingly to the Stratagene manual.
The Kd of the binding sites varied between 1 and 100 nM, indicating the presence of a limited number of high affinity binding sites. Unlabelled GAL4 inhibited the binding of labeled GAL4 to the proteins from positive clones while other randomly chosen proteins (insulin, growth hormone, prolactin) were ineffective competitors even in much higher concentrations.
This experiment indicates that it is possible to design specifically interacting oligo-peptides (target) to any oligo-peptide (query) and detect the interaction in a bacterial two-hybrid system (like BacterioMatch™. The method is quick; it takes only a few days to obtain interacting monoclonal proteins. The designed protein-protein interaction is highly specific and has high affinity (Kd ~ 1–100 nM).
Further details can be found in the following references [58, 59, 98].
SHARHs compared to other affinity reagent designs
Really ab initio design of affinity peptides (antibodies, receptors) is not yet possible, because the rules of specific protein-protein interactions are not well understood. Therefore random protein library constructions and affinity screenings are used as alternative methods to the classical immunization techniques.
Affibodies (Affibody of Bromma in Sweden) were among the first non-immunoglobulin-based affinity reagents. These small molecules are based on a bacterial receptor (Staphylococcus aureus protein A), and use combinatorial protein engineering to introduce random mutations in the affinity region. [99].
Another non-immunoglobulin-based affinity reagent that is becoming more widely used is the aptamer. Made of DNA, RNA or modified nucleic acids and typically 15–40 bases in length, aptamers have a stable tertiary structure that permits protein binding through van der Waals forces, hydrogen bonding and electrostatic interactions. Early studies showed that aptamers can be highly specific for target proteins, with the ability to distinguish between related members of a protein family [100].
No one of the above mentioned methods is able to satisfy the emerging need to produce affinity reagents at a truly high-throughput scale. A typical random peptide library has about a billion phage clones – enough to represent most of the 418 possible 6-mers, but far too small to represent the 445 possible 15-mers. Therefore the definition of 1st and 3rd codons accordingly to the Proteomic Code is a big help to overcome these size limitation. The proteomic Code makes it possible to design and produce 15-mers in typical libraries (415 ~ 109).
What about if the concept of the Proteomic Code is wrong? The method to design and produce SHARP peptides in partially random libraries remains still plausible. The characteristics of amino acids are largely determined by the base on the second codon position and the bases on the second positions are undefined or randomly selected when using the SHARP method.
Conclusion
The promises of the second generation Proteomic Code
Industrial applications
The second generation Proteomic Code and the method for developing SHARP have potential advantages that are not obvious in the recent antibody-developing methods:
provide quick access to interacting peptides;
provide direct and permanent access to monoclonal sources for large-scale production;
SHARP is small (MW <2000 Da) compared to antibodies (155 kDa) or affibodies (which gives therapeutic and manufacturing advantage), no need for humanization;
might be the key to mass production of interactive oligopeptides (similar to the on-demand synthesis of nucleotide oligos;
a self-learning method; every single successful SHARP can contribute to a more and more exact amino acid interaction table.
Scientific potential
The present system is a unique in silico method for identifying the binding proteins that interact most effectively with reactive epitopes on a respective protein antigen. The system has widespread applications and is beneficial to biotechnology. It is useful, for example, in developing drugs for treating viral diseases such as AIDS and influenza, as well as diseases such as Alzheimer's disease and bovine spongiform encephalopathy. In addition to medical research and drug development, this system has applications related to environmental health and public safety, including for example the detection of bacteria, viruses, toxins, etc. in air, water and food supplies.
By way of further specific examples, the present system has applications in the following areas:
1. improving health care, by providing a new and easily implemented approach to the development of diagnostic kits and therapeutic drugs;
2. improving the environment, by providing new and economic approaches for detecting environmental pathogens;
3. improving working conditions by providing economic and effective ways of detecting environmental pathogens; and
4. improving homeland security by providing rapid detection of known as well as new pathogens in air, water, food, etc.
The vision of a proteome-sensor chip
Detection and measurement of proteins is a fundamental procedure in life sciences. Many diagnostic procedures are already based on this technique and many more will follow:
detection of hormones and enzymes for diagnosis of organ failure;
detection of pathogen-derived antigens or antibody responses for diagnosis of infections;
detection of allergens for allergy diagnoses;
tumor markers to detect and evaluate neoplasias.
Considering that the number of hormones, enzymes, pathogens, and markers is very large, it is easy to recognize that the demand for specifically interacting diagnostic proteins is large. However, there are limitations to satisfaction of the demand. It takes several weeks to develop one antibody by traditional methods. Therefore it is not cheap. The traditional one protein-one kit method is simply no longer feasible. Some kind of integration is necessary. Development points to protein chips that permit the simultaneous, parallel detection of hundreds or thousands of protein signals and the computerized integrated evaluation of the results. Chip-based protein detection requires a large number of easy-to-produce, cheap, interacting proteins.
The Proteomic Code-based method described here could contribute significantly to the industrial production of such interacting peptides.
The SHARP chip-based technology opens the way to the real possibility of monitoring the proteome, i.e. obtaining detailed information on the qualitative and quantitative state of a large number of different proteins simultaneously, even including some information about the splicing and configuration changes in individual proteins (Figure
40
).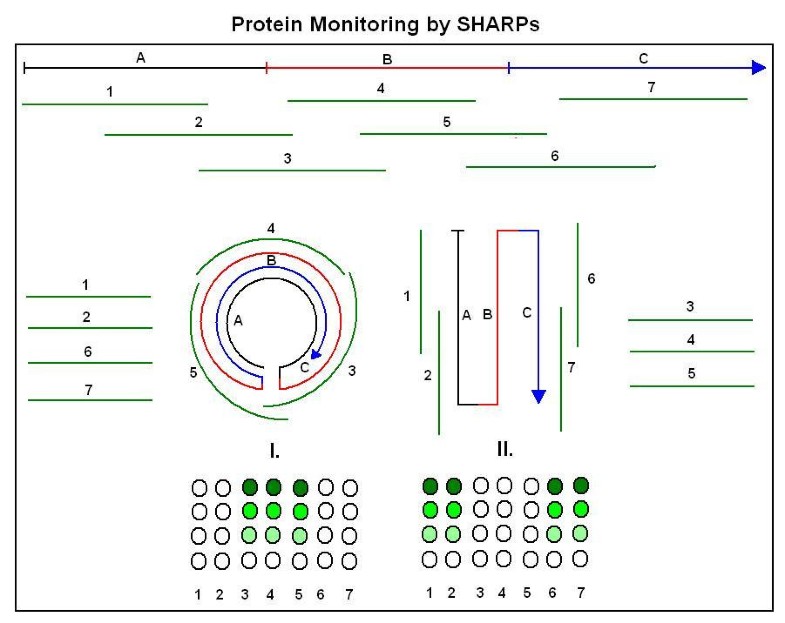 The human genome contains 3 × 109 base pairs. About 2% of this is located in about 30,000 genes that are expressed, spliced into ~100,000 different proteins containing ~40 million amino acids. The 2× coverage of this size proteome with 15-residue complementary sequences requires 5 million different oligopeptides. (This is probably the upper estimate, because the proteome contains many similar or identical domains.) Proteome monitoring with proteomic chips is a huge challenge, which can only be met if SHARP proteins become accessible in much larger number and for a much lower price than is possible today.
The vision of a new physiology
The receptor – ligand and antigen – antibody type or interaction has a fundamental role in the physiology of humans and animals. Obviously, peptides that can interact specifically with regulatory pathways have significant potential for manipulating these pathways. Most drugs are effective because of their interaction with regulatory pathways (e.g., GPCR or 7TM receptor systems). Therefore, easy and inexpensive access to designed interacting proteins will have an impact on further development of physiological and pharmacological research and drug discovery. Some kind of industrial-scale, standardized, semi-automated physiological research is also desirable. The traditional one-by-one approach is too slow and too expensive for the complexity of life.
The vision of new protein-based therapeutic approaches
Proteins/peptides are underutilized in medical therapy. Only insulin is used to treat a common disease (Type I diabetes); a few other proteins are used to treat relatively rare diseases such as growth hormone (GH) deficiency and hemophilia. Veterinary use of GH (lean meat production) or misuse in sports and cosmetology far exceeds its medical indication. Protein therapy is expensive and requires daily injections, which is not attractive to most patients. Most pharmaceutical companies have accumulated large bodies of knowledge (and patent bases) regarding traditional, simple molecular drug design and treatments, while their knowledge in proteomics is still undergoing development. Simple molecule-based drugs do not provide much specificity. Protein-based, highly specific treatments are not too far off in the future and easy access to biologically active proteinaceous substances will facilitate physiological evaluation and medical application of these more complex peptide molecules.
SHARPs, complementary or not, are obvious candidates for receptor agonist or antagonist functions. However, there is an even more exciting and less expected therapeutic application of complementary peptides. Some experiments suggest that immunization with complementary peptides to receptors induces production of ligand-like antibodies, with ligand-like biological effects. Just imagine the possibility of inducing insulin-like antibodies by immunization with designed complementary peptides to insulin-receptors and obtaining insulin-like effects (regulation will of course be a problem to solve); or treating GH deficiency by raising GH-like antibodies using GH-receptor complementary peptides for immunization. This seems like science fiction today, but Blalocks' experiments, for example, are already pointing in that direction [27].
Is protein therapy an alternative to gene therapy? Yes. Gene therapy is technically still difficult to perform and the effect is irreversible. The effects of protein therapy are short-lived and reversible (if immunization does not occur).
Abbreviations
amino acid complementarity:

the physico-chemical complementarity (size, charge, hydropathy) of amino acid pairs as well as their origin from complementary codons
complementary amino acids:

amino acid pairs, coded by complementary codons
NA:

nucleic acid
P:

protein
PC:

Proteomic Code, the comprehensive rules describing the origin and nature of amino acid complementarity
SHARP:

Specific High Affinity Reacting Peptides
W-C base pairs:

Watson-Crick's complementary base pairs.
Declarations
Acknowledgements
In memory of Dr David F. Horrobin, Founder and editor of Medical Hypotheses, who helped and encouraged my first publication of a non-sense idea of anti-sense translation (1981) that later developed into the concept of the Proteomic Code. The support and editorial help provided by Dr Paul S. Agutter (editor of TBioMed) in the publication of this and many related articles is greatly appreciated and acknowledged. Marilyn Juengling provided me with very valuable personal support for the completion of this review. This review is a preprint publication of a chapter in a textbook: Biro JC: Principia Biroinformatica, 2008.
Authors' Affiliations
(1)
Homulus Foundation, San Francisco, USA
Copyright
© Biro; licensee BioMed Central Ltd. 2007
This article is published under license to BioMed Central Ltd. This is an Open Access article distributed under the terms of the Creative Commons Attribution License (http://creativecommons.org/licenses/by/2.0), which permits unrestricted use, distribution, and reproduction in any medium, provided the original work is properly cited.