Coordination of the dynamics of yeast sphingolipid metabolism during the diauxic shift
Theoretical Biology and Medical Modelling
2007
4:42
Received: 06 June 2007
Accepted: 31 October 2007
Published: 31 October 2007
Abstract
Background
The diauxic shift in yeast requires cells to coordinate a complicated response that involves numerous genes and metabolic processes. It is unknown whether responses of this type are mediated in vivo through changes in a few "key" genes and enzymes, which are mathematically characterized by high sensitivities, or whether they are based on many small changes in genes and enzymes that are not particularly sensitive. In contrast to global assessments of changes in gene or protein interaction networks, we study here control aspects of the diauxic shift by performing a detailed analysis of one specific pathway–sphingolipid metabolism–which is known to have signaling functions and is associated with a wide variety of stress responses.
Results
The approach uses two components: publicly available sets of expression data of sphingolipid genes and a recently developed Generalized Mass Action (GMA) mathematical model of the sphingolipid pathway. In one line of exploration, we analyze the sensitivity of the model with respect to enzyme activities, and thus gene expression. Complementary to this approach, we convert the gene expression data into changes in enzyme activities and then predict metabolic consequences by means of the mathematical model. It was found that most of the sensitivities in the model are low in magnitude, but that some stand out as relatively high. This information was then deployed to test whether the cell uses a few of the very sensitive pathway steps to mount a response or whether the control is distributed throughout the pathway. Pilot experiments confirm qualitatively and in part quantitatively the predictions of a group of metabolite simulations.
Conclusion
The results indicate that yeast coordinates sphingolipid mediated changes during the diauxic shift through an array of small changes in many genes and enzymes, rather than relying on a strategy involving a few select genes with high sensitivity. This study also highlights a novel approach in coupling data mining with mathematical modeling in order to evaluate specific metabolic pathways.
Keywords
Sphingoid Base
Sphingolipid Metabolism
Diauxic Shift
Generalize Mass Action
Complex Sphingolipids
1. Introduction
Yeast cells challenged by depletion of their preferred carbon sources in the surrounding medium begin using other available carbons for energy production. This switch, usually from glucose to ethanol and acetate, is known as the diauxic shift. It is not surprising that the diauxic shift constitutes a very complicated dynamic process that requires fine tuned coordination at the genomic and biochemical levels. At the genomic level, the switch to secondary non-fermentable carbon sources necessitates sweeping changes in gene regulation, which have been assessed with microarrays measured at a series of time points [1, 2]
Specifically about the time of diauxic shift, the cells begin up-regulating hundreds of genes, which are associated with respiration, fatty acid metabolism and the launch of an environmental stress response, while down-regulating other genes whose products are no longer needed in prior amounts (e.g., [3]). In turn, at the biochemical level, these changes in gene expression lead to altered metabolic, enzymatic, and flux profiles. Connecting the two levels are mechanisms of signal transduction that respond to the depletion of primary substrate and ultimately effect genomic adjustments.
As such, published microarray data contain a hidden wealth of information, and often specific aspects of cell regulation are of interest to particular investigators. Therefore, there are increasing needs to develop approaches that allow extraction of relevant data and then applying specific analytical methods on these data in order to predict functional consequences. In this study, we focus on sphingolipid metabolism and changes that occur during the diauxic shift. The choice of this pathway system was based on the fact that sphingolipids have been recognized in yeast and other eukaryotes as important signaling molecules that respond to a variety of stresses and are crucially involved in the coordination of stress responses [4]. The overall strategy of this work is to translate published information on changes in gene expression during the diauxic shift into alterations in enzyme activities and to deduce, by means of a mathematical model, subsequent changes in metabolic profiles within the sphingolipid pathway.
In a pilot study using a similar strategy, we previously translated global mRNA microarray results into a mathematical pathway model, which was then employed to study the coordination of the glycolytic pathway in Saccharomyces cerevisiae following the initiation of heat stress [5]. Using similar mathematical arguments, we investigated the coordination of regulation in the trehalose cycle [6]. Analyzing heat shock in a slightly different fashion, Vilaprinyo [7] used microarray data for testing evolutionary implications of changes in gene expression. Adapting the methodologies of these earlier studies, we are here importing results from microarray time series during the diauxic shift [1, 2] into a mathematical model with the goal of characterizing dynamic changes in the sphingolipid pathway at the metabolic and physiologic levels.
The two published microarray data on the diauxic shift consist of global mRNA measurements at seven time points, spanning a period of about 12 hours [1] and 11 hours [2], respectively, during which the yeast culture switched from glucose fermentation to respiration of ethanol and acetate and the production of large amounts of ATP.
Specifically, we are interested in changes within the (sphingo)lipidomic profile between a baseline fermentative state during exponential growth (at 11 hours of batch culturing) and a later time point at 21 hours, which corresponds to respiration after the diauxic shift [1]. At this time, glucose is depleted, but the cell density is still increasing, though with decreased growth rate, and the cell culture has not reached stationary state. During this phase, cell growth and division continue to require lipid production for inclusion in the membrane of internal organelles and the plasma membrane.
Complementing the microarray data [
1
,
2
], our analysis makes use of a variety of biochemical, regulatory and genetic pieces of information on the sphingolipid pathway. This information was recently collated and integrated into a comprehensive kinetic-dynamic mathematical model [
8
] and is represented in Fig.
1
. The model was thoroughly diagnosed and subsequently subjected to experimental validation [
9
].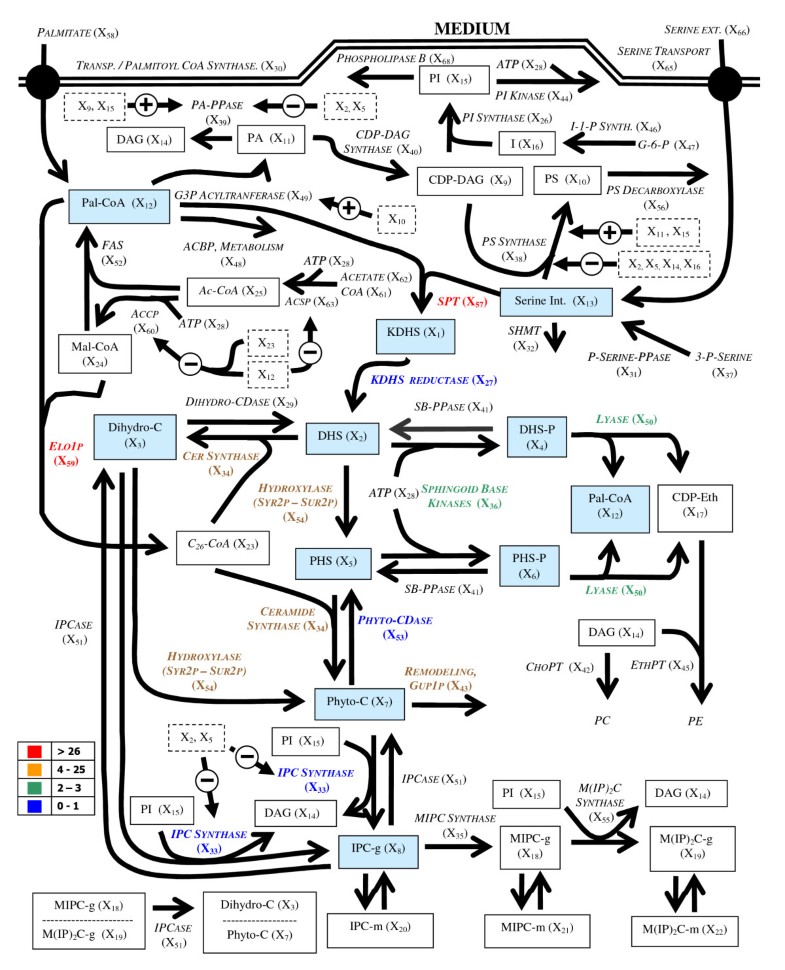 An important component of a typical model assessment is the analysis of its sensitivity to changes in parameters and independent variables. The former may be K M values in Michaelis-Menten models or rate constants and kinetic orders in power-law models, while the latter typically refer to enzyme activities and input variables, such as substrates and other precursors or modulators. Relative changes in model output that are caused by small perturbations in independent variables are called logarithmic gains (Log Gains; LG; [10]). These LG can serve both as diagnostic and predictive tools accompanying the model. If the gains are small in magnitude, perturbations are rather inconsequential. By contrast, large gains indicate that the system responds strongly to changes in a given independent variable. A strong response may be advantageous or not. On one hand, the system should be robust to naturally occurring random fluctuations in conditions, which would mandate gains of small size. On the other hand, signal transduction systems must react strongly to relevant inputs and amplify them multifold to evoke an appropriate response.
Sphingolipid metabolism constitutes an interesting system, as it is biochemical in nature and should therefore be robust, exhibiting small gains. At the same time, some of the sphingolipids and their relative amounts serve as signaling molecules, which therefore have to respond forcefully to the sensing of specific, and often adverse, environmental conditions such as heat shock or oxidative stress. For these reasons of contrasting demands, it is interesting to study log gain profiles of the sphingolipid pathway in detail. We execute this analysis here, focusing on functional clusters of variables and fluxes of primary significance, and compare our findings to results characterizing diauxic shift conditions. Given the complexity of the pathway one should expect that there are multiple ways of genomic and metabolic switching from the pre-diauxic metabolic profile to one that is suited for post-diauxic conditions. To gain insight into this switch, we will study the specific question of whether yeast employs a few independent variables (enzymes) with high log gains that are able to effect appropriate changes in metabolic profile during diauxic shift, or whether larger numbers of enzymes are adjusted only slightly. We will also explore whether there is a preference for exerting control through changes in precursors or in enzyme activities.
Finally, we discuss the utility of this approach as a prototype that can be employed towards 'mining' pathway-specific data from the ever-increasing numbers of published microarrays, and then using these data to predict functional metabolic consequences.
2. Methods
The analysis is overall divided in three parts, which are all executed with a recent mathematical model of sphingolipid metabolism (Fig. 1; [8, 9]). The model, along with slight modifications accounting for new experimental findings, is discussed in Section 2.1 and the Appendix. Section 2.2 describes the computation of sphingolipid related logarithmic gains, and Section 2.3 discusses our implementation of processes associated with the diauxic shift characterized in the published microarray expression data. Most of the analyses were executed with PLAS [11] and MAPLE [12].
4. – Discussion
The results from this study advance the development, analysis, and utility of a previous mathematical model for sphingolipid metabolism in yeast. The model was further refined with minor modifications encompassing the inclusion of enzymes for PI degradation, serine import, and GPI remodeling, and adjustments to ceramide synthase fluxes based on experimental data (see Appendix). LG analysis was conducted, and this provided further insight into the model and into the structure of the sphingolipid pathway in yeast. Finally, the model was applied to data extracted from the literature on changes in enzymes of sphingolipid metabolism, and this allowed for specific and novel insights into sphingolipid metabolism in during the diauxic shift. This use of a mathematical model, coupled with the integration of data from several sources, promises to have applicability beyond the system discussed here.
4.1. – Log Gains
LG analysis revealed several clusters of high LG. These were not randomly distributed throughout the pathway but showed very distinct patterns that allowed specific diagnostics. In general, the flux and metabolite LG analyses suggest that enzymes and metabolites of de novo fatty acid synthesis (Elo1p, acetyl-CoA carboxylase, CoA, acetate, acetyl-CoA synthetase), ATP, and the serine hydroxymethyl transferase have the strongest effect on the sphingolipid backbone metabolites (Fig. 3).
The second block consisted of relatively high gains that are presumably real, demonstrating that the sphingolipid signaling pathway has the capacity to amplify specific inputs. This cluster of high-gain dependent variables consists of dihydrosphingosine, dihydrosphingosine 1-phosphate, phytosphingosine, phytosphingosine 1-phosphate and inositol phosphorylceramide, which show moderate to strong responses to changes in a number of enzyme activities (Fig. 3).
Other high gains appeared to be modeling artifacts. These were associated with acetyl-CoA, whose gains in some cases reached up to 200 (Fig. 3a), as well as the model inputs, serine, glucose 6-phosphate, cytidine-diphosphate ethanolamine (CDP-Eth) and inositol (log gains of the last three are not shown) which exhibited less dramatic gains that nonetheless were much higher than one would normally expect in a metabolic pathway. In fact, the metabolites associated with these gains are very prevalent and involved in numerous pathways. However, in the model they appear only as part of the model input, and their dynamics is controlled entirely by a handful of variables, which in the global picture of an entire cell constitute but one aspect of their metabolism (see Fig. 1). While the gains suggest that these variables at the "fringes" of the model are not adequately represented, the initial model was designed to capture the dynamics of sphingolipids, and keeping the input variables relatively close to their baseline levels, the observed responses in other variables were not unreasonably affected by the high gains. Nonetheless, because fatty acids and serine play critical roles for the dynamics of sphingolipids [33, 34], we found it useful to expand the original model by including external serine, specific components of fatty acid synthesis, phospholipase B, and the remodeling enzyme Gup1p that, together with the sphingosine-phosphate lyase reaction, are the two ultimate exit routes out of the system, and to revisit sensitivity and gain profiles characterizing crucial nodes in the model.
Taken together, coupling established LG analysis with biochemical insights begins to define at least one subset of parameters that stand out as being of potential significance. This type of analysis should aid the experimentalist in focusing on these more significant pathway components (enzymes and/or metabolites) for further study.
4.2. – Changes During the Diauxic Shift: a paradigm for pathway analysis through mining databases and applying mathematical analysis
Several key features emerged from the calculated changes in sphingolipids during the diauxic shift.
First, significant increases were predicted in complex sphingolipids. The diauxic shift demands increases in membrane lipids, which may be explained in part by a sudden increase in density of immature daughter yeast cells occurring during the late exponential growing phase [42]. The increases in IPC, MIPC, and MIP2C in the post diauxic phase are consistent with this requirement (Table 1 and Fig. 4).
A possible explanation for the drastic decrease in complex sphingolipids seen at 19 hr is the decrease in the levels of PI (Table 1 and Fig. 4). This close link between complex sphingolipids and PI is expected based on the effect that inositol and PI have on ceramide levels [9].
Second, significant increases were observed in LCB's and LCBP's at 19 and 21 hrs (Tables 1, 4 and Fig. 4), which reflect the integrated response of a group of synergistically functioning enzymes and suggest functional importance for these lipids. These model results are in close agreement with the published experimental results of Lanterman and Saba [43] who observed a sharp increase in sphingoid base 1-phosphates during the diauxic shift. Moreover, an increase in sphingosine kinase (Fig. 6) at the diauxic shift was reported by Dickson and co-workers [27] who also suggested that its products PHSP and DHSP may have a physiological role in the diauxic shift or the stationary phase that follows this cellular event.
Serine Palmitoyl Transferase. Even though the LCB 1/2 mRNA levels increase at the diauxic shift by only 20% with respect to their 11 hr values, the K M 's of SPT with respect to serine and palmitoyl-CoA are close to the cell levels of these metabolites, and therefore the concentrations of the substrates exert an important effect on the overall flux throughout the sphingolipid pathway.
The increases in ceramidase at later times contribute significantly to the sphingoid backbones and sphingoid phosphates at the expense of the levels of ceramide. By contrast, the three ELO's mRNA levels decreased at later times [1]. In the model these three mRNA's were considered collectively and weighted by decreasing the Elo1p (X59) by a 32% and 64% at 19 and 21 hrs respectively. This decrease exerted great influence on the metabolomic profile because Elo1p shows one of the highest LGs reported (Fig. 1 and Fig. 3b). The concomitant decrease of the three ELO's suggests a coordinate regulation of the long and very long chain ceramides.
Because the IPCase activity in the model increased only slightly right after the diauxic shift (Fig. 6), it is probable that the observed increase in dihydroceramide at 21 hr (Table 1 and Fig. 4) is mainly caused by the de novo pathway. Indeed, when one compares the phytoceramide levels at 9 and 21 hrs, one finds an increase of 20% (Fig. 4), which is in line with observations of Vaena de Avalos et al. ([44]: Fig, 5), who showed that phytoceramide increases about 40% in wild type cells between early-log phase and after the diauxic shift.
In accordance with the mRNA levels of DPL1 pre and post diauxic shift, the breakdown of sphingoid phosphates through lyase (X50) increased 45% at 19 hr and returned to the basal values at 21 hr (Fig. 6). This creates an effective bottleneck for the LCBPs formed at later times and contributes to the accumulation of LCBs and LCBPs (Table 1 and Fig. 4).
LCB4 and LCB3 also contribute to the rise in LCBPs at the expense of the LCB's. LCB4, coding for one of the two sphingosine base kinases (X36), increased 100% at 19 hr. On the other hand, mRNA of LCB3, which codes for one of the sphingoid base phosphate phosphatases (X41) decreased 40% from pre to post diauxic shift.
Other notable changes are those in RSB1, a suggested ATP dependent flippase or transporter for LCBs which may catalyze LCB movement from the inner to the outer leaflet of the plasma membrane [40]. In the post diauxic phase, the mRNA level of RSB1 increased four fold with respect to its value at the early exponential phase, suggesting a requirement for increased plasma membrane LCBs translocation.
Svf1p was recently shown to be involved in the regulation of sphingoid bases and their phosphates [45]. Ypk1p is a kinase similarly involved in mediating the action of sphingoid bases [46]. Interestingly, both genes were recently associated with the regulation of the transient growth arrest observed at the diauxic shift [45]. Because we predict an increase in sphingoid bases at later times (Fig. 4) and because high levels of LCBs are toxic to wild type cells [47], the decrease in post diauxic mRNA levels for SVF1 and YPK1 to about 50% [1], could possibly serve to regulate metabolism and function of LCBs.
Third, there are many possible relationships between the changes in enzymes of sphingolipid metabolism and calcium homoestasis. According to Birchwood et al. [48], the accumulation of intracellular sphingoid base phosphates after the diauxic shift might serve as a regulator of calcium signaling. Analyzing the mRNA database for genes related to Ca+2 influx, such as BNI1, FAR1, MID1, and CRZ1 [48, 49], we noticed that these decrease at the diauxic shift. Also increases in the mRNA for PMC1 (a gene that codes for vacuolar Ca2+-ATPase) suggest the tendency to maintain a low cytoplasmatic Ca2+ level at this cellular moment.
Fourth, the model predicts some notable changes in glycerolipids, which increase at later times. It is important to remark here that the glycerolipids represented in the model are restricted to the metabolites directly related with the sphingolipid pathway and that not all routes involved in glycerolipid metabolism are included. For example, the cardiolipin pathway is not included in the model. This route becomes important when the cell needs to increase the mitochondrial biomass after the diauxic shift. In fact the deletion of the phosphatidylglycerophosphate synthase, the first and rate limiting enzyme of the cardiolipin pathway, is not essential to cell viability but causes growth dependence on fermentable carbon sources because of mitochondrial dysfunction [50]. Pilot simulations (not shown) of variations in phosphatidylglycerophosphate synthase show only small effects on the global metabolic system.
Table 1 shows that, in general, the glycerolipid metabolites increase after the diauxic shift. Specifically, they drive the flux mainly through PS production at the expense of PI production [50]. At the diauxic shift, PA accumulation occurs in part due to a 40% decrease in CDP-DAG synthase activity with respect to its 11 hr value (Fig. 5). In light of the reported effects of inositol on ceramide levels [9] and on the glycerolipid pathway [51], we are led to suggest that this regulation is another important contribution to formation of complex sphingolipids, especially at later times (e.g., the 19 hr time point).
Table 5 shows a qualitative concordance between experimental data and the simulations at well defined cellular moments, which indicates that the simulations and microarray implementation are reasonable. The experimental data suggest future fine tuning of the model to include a route for trafficking of the sphingoid bases and their phosphates to and from the cell.
In conclusion, the computational study presented here suggests that the coordination of sphingolipid involvement in the diauxic shift in yeast is achieved through multiple small modifications of functional clusters of mRNAs rather than through large alterations in just a few "key" genes or metabolic steps. In most cases, the variations in mRNA expression are less than 2-fold, which implies that expression studies have to achieve a level of relatively high accuracy, if they are to detect subtle, coordinated control mechanisms.
The combined approaches of this study may also represent an important new paradigm in metabolomic studies whereby mathematical modeling of metabolic pathways is employed to mine and analyze gene expression studies. Given the rapidly increasing accumulation of microarray-based gene expression datasets, such an approach may result in very important insights into the changes, behavior, and possibly function of specific metabolic pathways.
Appendix
A.1 – Modifications of the published model
The model of Alvarez-Vasquez et al. [8, 9] is based on the metabolic pathway structure shown in Fig. 1 and mathematically represented as a Generalized Mass Action (GMA) model within Biochemical Systems Theory (e.g., [52–54]). In this formulation, all chemical conversions, enzyme catalyzed reactions and transport processes are described as products of power-law functions that contain those and only those metabolites, enzymes and other factors that directly affect this process. The processes are collected to form a system of ordinary differential equations. The original model was slightly refined here to account for information that emerged as more important than was assumed in the design of the original model.
A.1.1
Enzyme Plb3p, which catalyzes the degradation of phosphatidylinositol (PI), was added to the collection of processes metabolizing PI. Merkel et al. [55] reported that deletion of this enzyme reduces PI breakdown by 50%.
A.1.2
Gup1p was included explicitly as a representative enzyme for GPI remodeling. In the original model, the independent variable responsible for driving the phytoceramide flux toward GPI remodeling (X43) was not associated with a specific enzyme. Recently, Bosson et al. [37] identified Gup1p as a key enzyme involved in the incorporation of PHS-C26:0 and PHS-C26:0-OH ceramide into the anchor for GPI remodeling.
A.1.3
Serine transport was explicitly incorporated. Research in our lab has identified this variable as very important in the control of flux through the sphingolipid pathway [33]. Many permeases are known to play a role in serine transport. We chose the polyamine permease AGP2p as representative of serine import because it plays an important role in amino acid transport [56], with mRNA levels changing significantly during the diauxic shift.
A.1.4
The quantification of ceramide synthase fluxes was fine-tuned. i.e experiments performed by the Lipidomics Core of our research group suggest that an external inositol bolus causes the concentration of phytoceramide to decrease more strongly than that of dihydroceramide (data not shown). This result was implemented as a numerical alteration of the former ceramide synthase fluxes in this model.
A.2 – Definitions of Logarithmic Gains (LG)
To simplify the assessment of LG terms, the model was implemented as an S-system by aggregating all influxes and effluxes for each time-dependent variable into a single power-law term each (e.g., [52–54]). This procedure is legitimate, because gains and sensitivities are computed at the steady state, where the GMA and S-system models are equivalent. Beyond the steady state, we showed in Alvarez-Vasquez et al. [8] that alternative formulations of the sphingolipid pathway (including Michaelis-Menten, S-system, and GMA models) yield essentially equivalent responses.
Logarithmic gains come in two varieties. Each
metabolite LG
is defined as the ratio of the percent change in a dependent variable (typically a metabolite concentration)
X
i
to the percent change in an independent variable (typically an input, enzyme activity or transport step)
X
k
, while all other independent concentrations and parameters are held constant. It is thus defined as
where the subscript 0 refers to the chosen operating point, which usually coincides with the steady state.
In an analogous fashion, a
flux LG
is defined as:
where V i represents a given (aggregated) flux, and X k and the subscript 0 are defined as before.
Declarations
Acknowledgements
The authors would like to thank the MUSC Lipidomics Core for determination of lipid concentrations, Dr. Ashley Cowart for the internal serine concentration data, and Dr. John Dinolfo of the Center for Academic Excellence at the Medical University of South Carolina, for assistance with manuscript preparation. This work was supported in part by a grant from the National Institutes of Health (R01 GM063265; Y.A. Hannun, PI), and a Molecular and Cellular Biosciences Grant (MCB-0517135; E.O. Voit, PI) from the National Science Foundation. KJS is supported by R01 AG016583, GM062887 and VA Merit Award Ralph H. Johnson VA Medical Affairs. Any opinions, findings, and conclusions or recommendations expressed in this material are those of the authors and do not necessarily reflect the views of the sponsoring institutions.
Authors' Affiliations
(1)
Dept. of Biostatistics, Bioinformatics and Epidemiology. Medical University of South Carolina, Charleston, USA
(2)
Dept. of Biochemistry and Molecular Biology., Medical University of South Carolina, Charleston, USA
(3)
Wallace H. Coulter Dept. of Biomedical Engineering., Georgia Institute of Technology, Atlanta, USA
Copyright
© Alvarez-Vasquez et al; licensee BioMed Central Ltd. 2007
This article is published under license to BioMed Central Ltd. This is an Open Access article distributed under the terms of the Creative Commons Attribution License (http://creativecommons.org/licenses/by/2.0), which permits unrestricted use, distribution, and reproduction in any medium, provided the original work is properly cited.