Computer simulation analysis of normal and abnormal development of the mammalian diaphragm
Theoretical Biology and Medical Modelling
2006
3:9
Received: 23 September 2005
Accepted: 17 February 2006
Published: 17 February 2006
Abstract
Background
Congenital diaphragmatic hernia (CDH) is a birth defect with significant morbidity and mortality. Knowledge of diaphragm morphogenesis and the aberrations leading to CDH is limited. Although classical embryologists described the diaphragm as arising from the septum transversum, pleuroperitoneal folds (PPF), esophageal mesentery and body wall, animal studies suggest that the PPF is the major, if not sole, contributor to the muscular diaphragm. Recently, a posterior defect in the PPF has been identified when the teratogen nitrofen is used to induce CDH in fetal rodents. We describe use of a cell-based computer modeling system (Nudge++™) to study diaphragm morphogenesis.
Methods and results
Key diaphragmatic structures were digitized from transverse serial sections of paraffin-embedded mouse embryos at embryonic days 11.5 and 13. Structure boundaries and simulated cells were combined in the Nudge++™ software. Model cells were assigned putative behavioral programs, and these programs were progressively modified to produce a diaphragm consistent with the observed anatomy in rodents. Homology between our model and recent anatomical observations occurred under the following simulation conditions: (1) cell mitoses are restricted to the edge of growing tissue; (2) cells near the chest wall remain mitotically active; (3) mitotically active non-edge cells migrate toward the chest wall; and (4) movement direction depends on clonal differentiation between anterior and posterior PPF cells.
Conclusion
With the PPF as the sole source of mitotic cells, an early defect in the PPF evolves into a posteromedial diaphragm defect, similar to that of the rodent nitrofen CDH model. A posterolateral defect, as occurs in human CDH, would be more readily recreated by invoking other cellular contributions. Our results suggest that recent reports of PPF-dominated diaphragm morphogenesis in the rodent may not be strictly applicable to man. The ability to recreate a CDH defect using a combination of experimental data and testable hypotheses gives impetus to simulation modeling as an adjunct to experimental analysis of diaphragm morphogenesis.
Keywords
Congenital Diaphragmatic HerniaBody WallCongenital Diaphragmatic HerniaCell Cycle TimeAnterior Extension
Background
Among anomalies of human diaphragm development, Bochdalek-type posterolateral congenital diaphragmatic hernia (CDH) is of most consequence. Even as an isolated finding, CDH remains a clinical challenge with significant morbidity and mortality [
1
]. Despite this, developmental biologists have paid scant attention to the diaphragm as an object of study. The diaphragm is not externally visible and is devoid of the detailed morphological patterning useful in evaluating the results of experimental manipulation. Yet the gross structure of the diaphragm (essentially a curved sheet) is favorable to both experimental study and computer simulation analysis (Figs.
1
,
2
). Here we describe use of computer simulation to model morphogenesis of the mammalian (mouse) diaphragm. In particular, we apply a new modeling paradigm that combines experimental data and theoretical modeling in a single composite – the "Roger Rabbit" method (see footnote 1).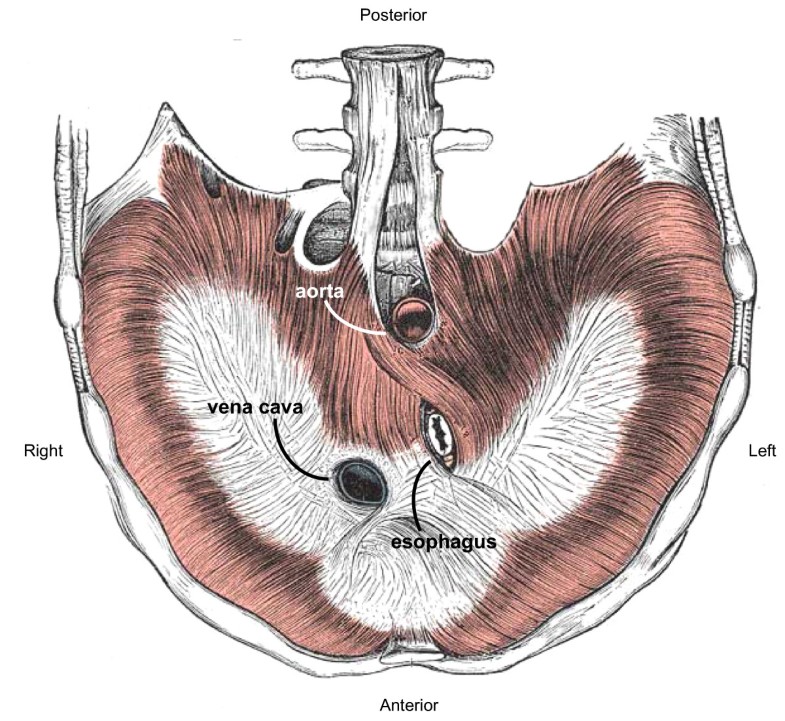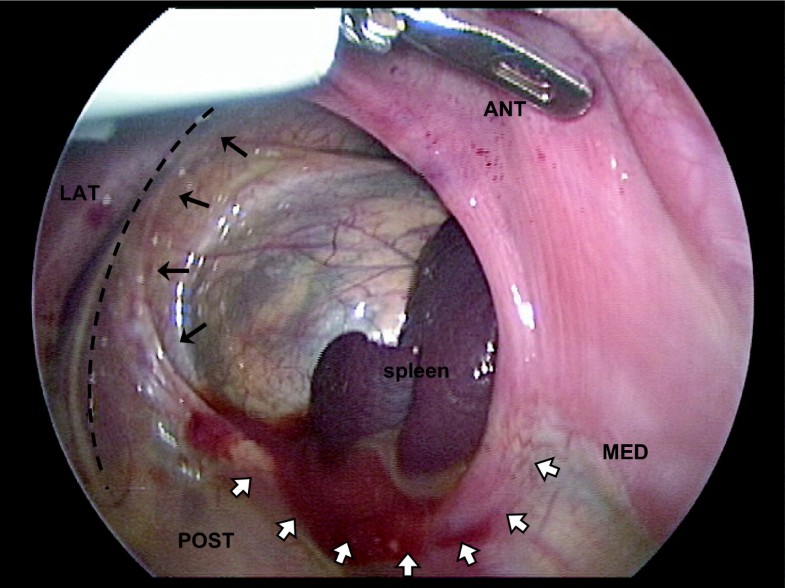 The original concepts of diaphragm development were derived from studies in descriptive embryology [
2
,
3
]. The diaphragm musculature was thought to arise as a composite from several sources: the septum transversum, the pleuroperitoneal folds (PPF), the dorsal (or esophageal) mesentery, and the thoracic body wall (Fig.
3
) [
4
–
6
]. Recent studies in the rat have been invoked to challenge this view [
7
–
10
]. According to these authors, the PPF represent the overwhelmingly major, if not sole, contributors to the muscular portion of the diaphragm. Whether this difference reflects an improved understanding of diaphragm development or simply inter-species variation is not known (see Discussion).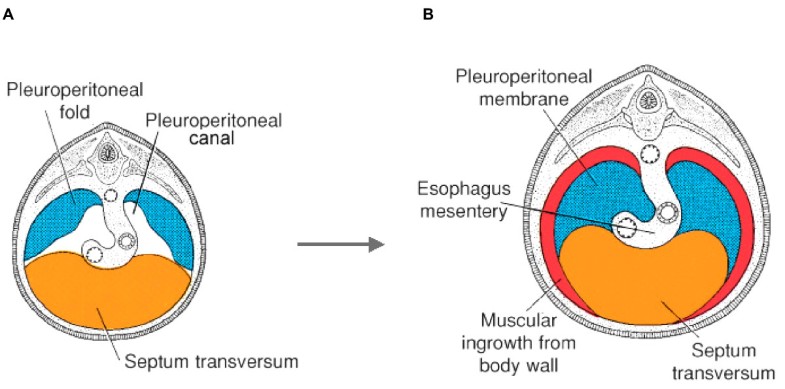 A variety of scenarios have been proposed to explain the origin of the defect in CDH. These include CDH as a consequence of abnormal lung development, CDH as a consequence of abnormal phrenic nerve innervation, CDH as a consequence of abnormal myotube formation, and CDH as a failure of closure of the embryonic pleuroperitoneal canal [
9
,
11
,
12
]. In the most widely-studied experimental model of CDH [
13
–
15
], pregnant rats or mice treated with the herbicide nitrofen (2,4-dichloro-phenyl-p-nitrophenyl ether) yield offspring with characteristic diaphragmatic hernias. As in the human anomaly, these experimental defects are of quite variable size (Figs.
4
,
5
). Examination of mid-gestation embryos in this model has revealed a defect in the posterior PPF (Fig.
6
) [
10
]. Although the relationship of the nitrofen-induced CDH model in the rodent to the naturally-occurring human anomaly is unknown, this PPF defect is highly suggestive of a specific precursor lesion.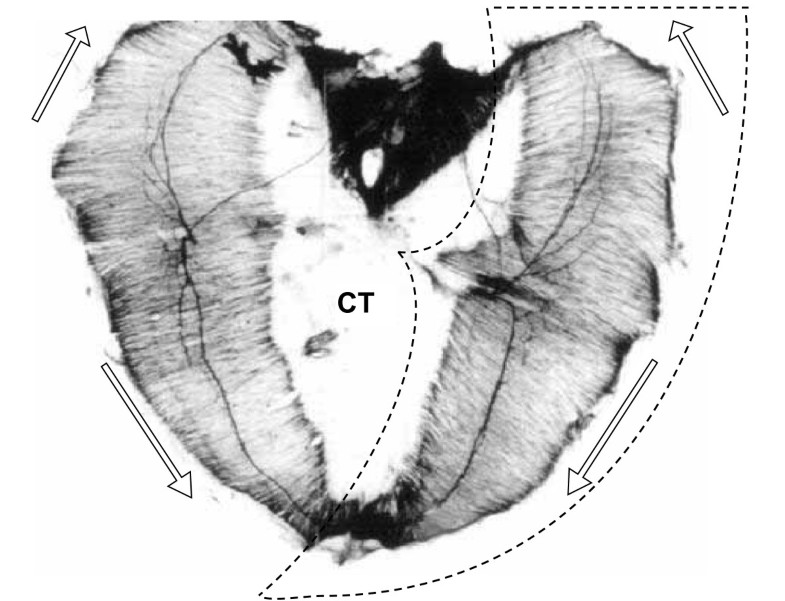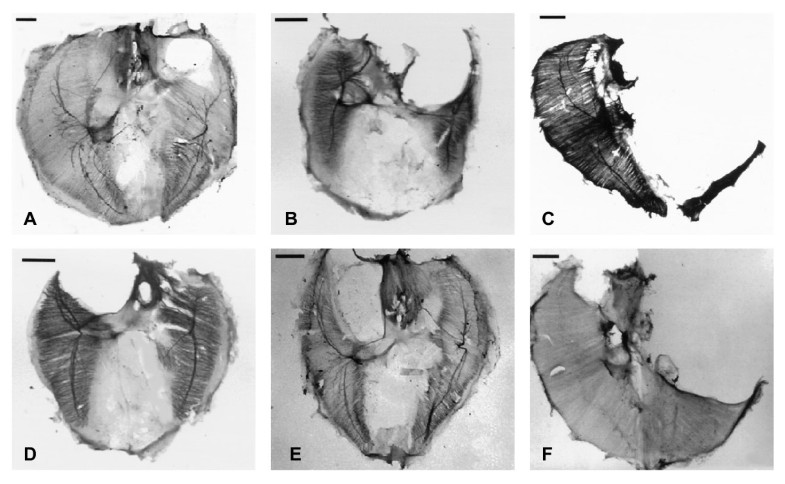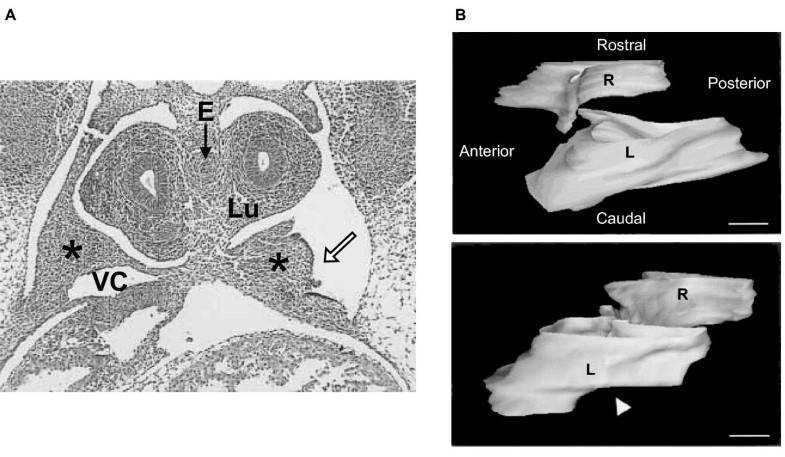 Here we focus on the rodent diaphragm. We investigate normal development and the abnormal development seen in the nitrofen model. We specifically examine mechanisms by which the recently-documented PPF defect in the early embryo [10] may evolve into the larger CDH defect of the later embryo and adult.
Results
We present a series of simulations in which cellular programs are progressively modified to improve morphological fit with experimental findings in the rodent (Figs.
4
,
5
). We seek to match the following: (i) development of the entire muscular diaphragm from the PPF alone [
8
]; (ii) anterior extension of the muscular diaphragm along the chest wall, producing the image of curvilinear hemi-diaphragms and leaving a non-muscular central tendon; (iii) differentiation within each hemi-diaphragm of more central cells before more peripheral cells [
17
]; (iv) development of the posterior PPF defect into a larger CDH defect; and (v) normal development of the ipsilateral anterior diaphragm in CDH (isolated posterior defect). Table
2
summarizes the stepwise inclusion of these key morphological elements as they correlate with the progression of each successive simulation.
Table 2
Sequential achievement of modeling goals
| | Simulation I | Simulation II | Simulation III | Simulation IV | Simulation V |
| --- | --- | --- | --- | --- | --- |
| | Homogeneous Growth | Edge Growth | Edge Growth with Chest Wall Trophism | Edge Growth with Chest Wall Trophism and Tropism | Edge Growth with Chest Wall Trophism and Differential Tropism |
| Development from PPF alone | + | + | + | + | + |
| Non-muscular central tendon | + | + | + | + | + |
| Central before peripheral differentiation | | + | + | + | + |
| Anterior extension along body wall | | | +/- | + | + |
| Curvilinear morphology of hemidiaphragm | | | | + | + |
| Normal anterior diaphragm ipsilateral to CDH | | | | +/- | + |
| Posterior PPF persists as large CDH | | | | | + |
Discussion
Little is known about the growth mechanics of the developing mammalian diaphragm or the abnormalities that result in congenital diaphragmatic hernia. In particular, tissue and cell morphometrics and parameters of mitotic activity will be required to understand diaphragm morphogenesis. Treating pregnant rats and mice with the herbicide nitrofen can produce a posterior diaphragmatic defect reminiscent of that seen in human cases of CDH [13]. To what extent this rodent model is germane to the human clinical anomaly is unknown. Recent analysis of the embryonic diaphragm in the nitrofen model has defined a posterior defect in the PPF that seems to be a natural antecedent for development of the adult defect (Fig. 6) [8, 10].
Our goal here has been two-fold. First, we introduce computer simulation modeling as a means for studying normal and abnormal development of the diaphragm. In doing so, we apply a novel method combining experimental data and simulated objects – the "Roger Rabbit" method. Second, we investigate specific patterns of mitotic activity and active (short-range) cell migration in simulations of normal and altered development in the nitrofen CDH model.
Footnotes
Footnote 1: In the film Who Framed Roger Rabbit (copyright The Walt Disney Company and Amblin Pictures, 1988), animated characters are combined with real actors. Here we use the phrase "Roger Rabbit" to denote the merging of real data components with simulated cells in our computer model.
Footnote 2: Historically, both the mouse and rat have been used to study diaphragm development and nitrofen-induced CDH. Comparable embryonic stages are as follows: mouse (rat) – 11.5 (13), 12 (13.5), 12.5 (14), 13 (14.5), 13.5 (15), 14 (15.5).
Footnote 3: Nudge++™ is used under license from Olana Technologies, Inc., 5424 Arlington Avenue, H51, Bronx, New York, United States 10471.
Footnote 4: There are currently no data on cell size or density in the developing diaphragm. Also, data on cell cycle times are lacking. In these simulations, cell volume is set at 525 μm2 yielding a radius of about 5 μm. Alteration in absolute cell size should not affect the key features of the simulations since changes in cell size can be offset by changes in cell number and mitotic rate. Likewise, we have chosen cell cycle times as sufficient to fill the projected area of the developing diaphragm in the allotted time. In general, cycle time is designated as equal throughout the tissue but increases gradually over simulated embryonic time, i.e. mitotic rate slows as the embryo ages. Further details for each simulation are provided in the Results section and the appropriate figure legends.
Footnote 5: Alternatives include: (i) the PPF (cell mass) remains fixed to the body wall and moves laterally as the body wall expands, (ii) the PPF remains fixed to the dorsal mesentery, and (iii) the PPF remains fixed in free (absolute) space. These alternatives were examined for completeness but do not change the key simulation results as presented here (data not shown).
Footnote 6: Whereas there need not be a strict correlation between cells becoming post-mitotic and cells undergoing differentiation, this is a convenient shorthand in the present case. The actual topography of mitotic activity in the developing diaphragm is not known, nor is it known to what extent the degree of differentiation of these myoblasts coincides with mitotic activity or perhaps cell fusion.
Footnote 7: Although some large defects seem to have no posterior rim, many have a very small rim tucked into the retroperitoneum. Indeed, one component of the surgical repair of CDH is "unfurling" of this small, occult rim of diaphragm.
Footnote 8: It is important to note that medial is actually slightly off the true midline (where reside the esophagus, aorta, inferior vena cava and spine). This usage also is consistent with Morgagni-type anterior defects that are generally described as anteromedial although when unilateral they present slightly off the actual midline.
List of abbreviations
CDH:

congenital diaphragmatic hernia
PPF:

pleuroperitoneal fold(s)
Declarations
Acknowledgements
We are grateful to Ms. Adrienne Grzenda for technical assistance and to Drs. Marc Arkovitz and Charles Stolar for discussion and review of the manuscript. This work was supported in part by a Start-Up Grant from the Department of Surgery, College of Physicians and Surgeons, Columbia University.
Authors' Affiliations
(1)
Division of Pediatric Surgery, Morgan Stanley Children's Hospital of New York-Presbyterian and Department of Surgery College of Physicians and Surgeons, Columbia University, New York, USA
(2)
Olana Technologies, Inc., Bronx, USA
Copyright
© Fisher and Bodenstein; licensee BioMed Central Ltd. 2006
This article is published under license to BioMed Central Ltd. This is an Open Access article distributed under the terms of the Creative Commons Attribution License (http://creativecommons.org/licenses/by/2.0), which permits unrestricted use, distribution, and reproduction in any medium, provided the original work is properly cited.