Glucose sensing in the pancreatic beta cell: a computational systems analysis
Theoretical Biology and Medical Modelling
2010
7:15
Received: 28 December 2009
Accepted: 24 May 2010
Published: 24 May 2010
Abstract
Background
Pancreatic beta-cells respond to rising blood glucose by increasing oxidative metabolism, leading to an increased ATP/ADP ratio in the cytoplasm. This leads to a closure of KATP channels, depolarization of the plasma membrane, influx of calcium and the eventual secretion of insulin. Such mechanism suggests that beta-cell metabolism should have a functional regulation specific to secretion, as opposed to coupling to contraction. The goal of this work is to uncover contributions of the cytoplasmic and mitochondrial processes in this secretory coupling mechanism using mathematical modeling in a systems biology approach.
Methods
We describe a mathematical model of beta-cell sensitivity to glucose. The cytoplasmic part of the model includes equations describing glucokinase, glycolysis, pyruvate reduction, NADH and ATP production and consumption. The mitochondrial part begins with production of NADH, which is regulated by pyruvate dehydrogenase. NADH is used in the electron transport chain to establish a proton motive force, driving the F1F0 ATPase. Redox shuttles and mitochondrial Ca2+ handling were also modeled.
Results
The model correctly predicts changes in the ATP/ADP ratio, Ca2+ and other metabolic parameters in response to changes in substrate delivery at steady-state and during cytoplasmic Ca2+ oscillations. Our analysis of the model simulations suggests that the mitochondrial membrane potential should be relatively lower in beta cells compared with other cell types to permit precise mitochondrial regulation of the cytoplasmic ATP/ADP ratio. This key difference may follow from a relative reduction in respiratory activity. The model demonstrates how activity of lactate dehydrogenase, uncoupling proteins and the redox shuttles can regulate beta-cell function in concert; that independent oscillations of cytoplasmic Ca2+ can lead to slow coupled metabolic oscillations; and that the relatively low production rate of reactive oxygen species in beta-cells under physiological conditions is a consequence of the relatively decreased mitochondrial membrane potential.
Conclusion
This comprehensive model predicts a special role for mitochondrial control mechanisms in insulin secretion and ROS generation in the beta cell. The model can be used for testing and generating control hypotheses and will help to provide a more complete understanding of beta-cell glucose-sensing central to the physiology and pathology of pancreatic β-cells.
Keywords
Insulin Secretion
Electron Transport Chain
Electron Transport Rate
Proton Leak
Mitochondrial NADH
Background
The appropriate secretion of insulin from pancreatic
β
-cells is critically important for energy homeostasis. Pancreatic
β
-cells are adapted to sense blood glucose and other secretagogues to adjust insulin secretion according to the needs of the organism. Rather than activating specific receptor molecules, glucose is metabolized to generate downstream signals that stimulate insulin secretion. Pancreatic
β
-cells respond to rising blood glucose by increasing oxidative metabolism, leading to increased ATP production in mitochondria and in an enhanced ratio of ATP to ADP (ATP/ADP) in the cytoplasm [
1
–
3
]. The increase in intracellular ATP/ADP closes the ATP-sensitive K
+
channels (K
ATP
), decreasing the hyperpolarizing outward K
+
flux. This results in depolarization of the plasma membrane, influx of extracellular Ca
2+
through the voltage-gated Ca
2+
channels, a sharp increase in intracellular Ca
2+
and activation of protein motors and kinases, which then mediate exocytosis of insulin-containing vesicles [
2
–
5
]. The currently accepted processes of glucose metabolism and Ca
2+
handling in the cytoplasm and mitochondria of
β
-cells considered in this analysis are summarized in Figure
1
[
1
–
4
].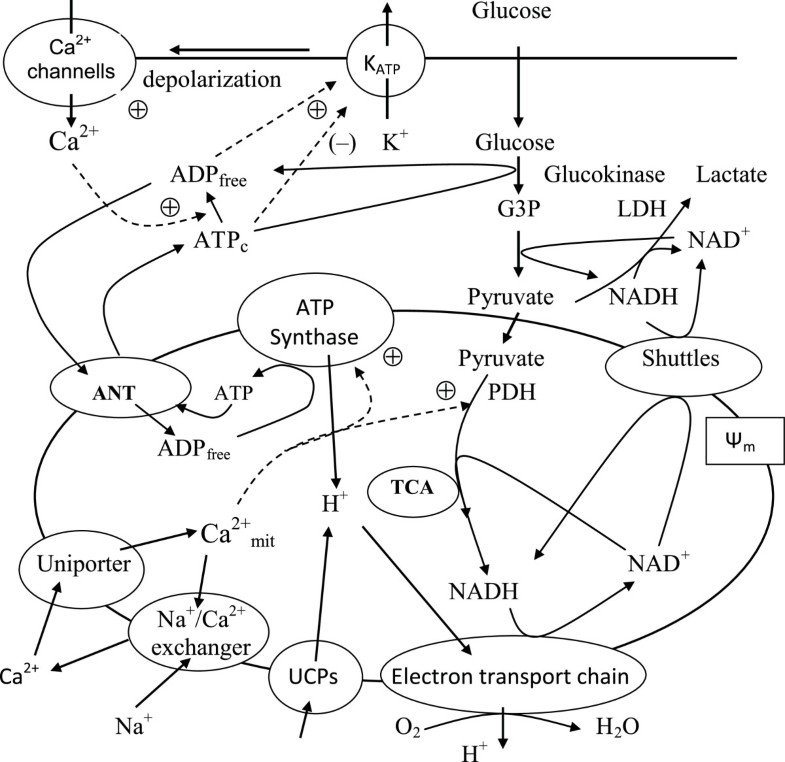 A brief summary of these processes includes the following steps. Glucose enters β-cells by facilitated diffusion through glucose transporters (GLUT1 and 2). While this process is not limiting in β-cells [6], the next irreversible step, glucose phosphorylation, is catalyzed by a single enzyme, glucokinase (GK). This enzyme is specific for metabolic control in the β-cell and hepatocyte, because the Km of GK for glucose is ~8 mM, a value that is almost two orders of magnitude higher than that of any other hexokinase. This step appears to be rate limiting for β-cell glycolytic flux under normal physiological conditions, so that GK is regarded as the β-cell 'glucose sensor' [1, 3], underlying the dependence of the β-cell insulin secretory response to glucose in the physiological range.
Pyruvate is the main end product of glycolysis in β-cells and essential for mitochondrial ATP synthesis. In the mitochondrial matrix, pyruvate is oxidized by pyruvate dehydrogenase to form acetyl-coenzyme A (acetyl-CoA). Acetyl-CoA enters the tricarboxylic acid (TCA) cycle to undergo additional oxidation steps generating CO2 and the reducing equivalents, flavin adenine dinucleotide (FADH2) and NADH. Oxidation of reducing equivalents by the respiratory chain is coupled to the extrusion of protons from the matrix to the outside of the mitochondria, thereby establishing the electrochemical gradient across the inner mitochondrial membrane (Figure 1). The final electron acceptor of these reactions is molecular oxygen, as in other eukaryotic cells. The electrochemical gradient then drives ATP synthesis at the F1F0-ATPase complex to phosphorylate mitochondrial ADP, thereby linking respiration to the synthesis of ATP from ADP and inorganic phosphate (Figure 1). Adenine nucleotide translocase (ANT) exchanges matrix ATP for ADP to provide ATP for energy consuming processes in the cytosol. Some cytosolic ATP is also produced in the latter part of glycolysis. However, this appears to be of minor consequence relative to that subsequently generated in the mitochondria, which represents an estimated 90% of the total β-cell ATP production [7, 8].
The cytoplasmic Ca2+ signal is coupled to mitochondrial Ca2+ handling (Figure 1). The balance of Ca2+ influx and efflux determines the matrix Ca2+ level involving the Ca2+ uniporter and the mitochondrial Na+/Ca2+ exchanger, respectively. Ca2+ influx into mitochondria is amplified by hyperpolarization of the inner mitochondrial membrane [9, 10]. Inside the organelle, Ca2+ activates several matrix dehydrogenases (for example, pyruvate dehydrogenase). Mitochondrial Ca2+ may also directly stimulate ATP synthase [11]. The nutrient-dependent Ca2+ rise in the cytosol further activates ATP hydrolysis [7, 10, 12, 13].
An important β-cell specialization is the very low expression of lactate dehydrogenase (LDH), the enzyme catalyzing the conversion of pyruvate to lactate [1, 14, 15]. A low level of LDH expression in insulin-secreting cells is important to preferentially channel pyruvate towards mitochondrial metabolism (see [1, 10, 16]). However, the low LDH levels likely leads to activation of compensatory mechanisms because NAD+-dependent glycolytic enzymes (e.g., glyceraldehyde 3-phosphate dehydrogenase) require that cytoplasmic NADH must be re-oxidized to NAD+. This reaction is usually catalyzed by LDH, but because β-cells cannot use this pathway effectively, these cells must re-oxidize cytoplasmic NADH by activation of two mitochondrial hydrogen shuttles (Figure 1), the malate-aspartate shuttle and the glycerol phosphate shuttle [15, 17–19].
Glucose signaling in β-cells has several other peculiarities, including generation of multiple oscillations in metabolism, mitochondrial membrane potential Ψm) and NADH, mitochondrial and cytoplasmic Ca2+ and, ultimately, the oscillations of insulin secretion [5, 20–23]. The coupling of these various oscillators is not clearly understood. In addition, the respiratory rate is lower and relative leak activity is higher in isolated β-cell mitochondria (as found in a cultured β-cell line) compared with isolated mitochondria from skeletal muscle [24, 25]. These observations need clarification to better understand how mitochondrial processes are linked with insulin secretion.
The unique character of the β-cell response to glucose is usually attributed solely to glucokinase. Because of its near-dominant control of glycolytic flux, this enzyme is thought to govern the ATP/ADP ratio and insulin secretion almost exclusively [1, 3]. While glucokinase certainly exerts a critical level of control on downstream events, other cytoplasmic and mitochondrial processes also play an essential role in glucose-stimulated insulin secretion (GSIS) [1, 2, 10]. In particular the relatively high flexibility of the ATP/ADP ratio in β-cells may be accounted for, at least partly, by mitochondrial peculiarities as well as by properties of glucokinase [24, 26, 27]. For these reasons it is critical to develop a comprehensive understanding as to how cytoplasmic and intramitochondrial fuel metabolism is coupled to fuel availability and thereby "sensed."
The goal of this work is to determine the contribution of the cytoplasmic and mitochondrial processes regulating GSIS using a mathematical modeling approach. Mathematical modeling can be a powerful systems biology tool allowing quantitative descriptions of the control individual components exert over the whole biological system. Several mathematical approaches in the literature have provided quantitative estimates of energetic and mitochondrial processes in pancreatic β-cells. However, these models are limited in the pathways that are considered, so that a more comprehensive approach is now necessary.
The first detailed β-cell model was developed by Magnus and Keizer [28–30]. However, several mechanisms used for simulations in this model have recently been reevaluated. For example, steady-state electron transport and the F1F0 ATPase proton pump were modeled according to the "six states proton pump mechanism" [28]. This mechanism does not correspond to the present understanding of the function of the electron transport chain (ETC) and the mitochondrial F1F0 adenosine trisphosphatase (see for example [31]). Models of the LDH and NADH shuttles were not included, and mitochondrial fluxes may also have been overestimated in this model (see below). The main goal of these models was to examine the possible mechanisms underlying oscillations in pancreatic β-cells, not biochemical regulation of β-cell glucose sensitivity that we are focused on here.
A complex kinetic model of the metabolic processes in pancreatic β-cells based on in vitro enzyme kinetics was recently developed [32]. However, while heroically complicated models with numerous parameters and enzyme activities are interesting, they require data on in vivo enzyme activities and coefficients that are not readily available.
Enzyme activity measurements in vitro, often used in models, may not reflect enzyme activity in vivo[33]. For example, experimental kinetic data for isolated mitochondria and the parameters evaluated for mitochondrial processes from experiments with intact cells may differ significantly [34]. For these and other reasons previous models of pancreatic β-cell energetics and mitochondrial calcium regulation fall short of a comprehensive explanation of the mechanisms of β-cell sensitivity.
To address this we have developed a specific quantitative, kinetic model (see Appendix) of the core processes of β-cell cytoplasmic and mitochondrial energetic based on a simplified map of the biochemical pathways schematized in Figure 1. We included the most recent experimental characterizations of the majority of processes in the model to insure accuracy. However, for simplification, we modeled only those regulatory couplings that we have deemed most crucial for the β-cell metabolic regulation based on experimental evidence. The model includes the dynamic equations for cytoplasmic ADP, NADH and glyceraldehyde 3-phosphate, mitochondrial Ψm and NADH, mitochondrial and cytoplasmic Ca2+ and pyruvate. When available we used the values of the coefficients determined for living cells rather than for isolated enzymes and cell-free mitochondria (Appendix).
We show that this model has qualitative properties consistent with expectations for the pancreatic β-cell including showing appropriate oscillations in mitochondrial metabolism and Ca2+ concentration. The model also reproduces simultaneous measurements of the behavior of multiple constituents within the cytoplasm and mitochondria such as NADH, Ca2+ and Ψm at high temporal resolution. We also discuss specific differences in muscle and β-cell mitochondrial function, providing insight into essential control properties of the β-cell. Furthermore, predictions on the dynamics of as yet unmeasured molecules could be made, and the model further tested by verifying these predictions.
Nutrient-stimulated insulin secretion in β-cells is impaired in the diabetic state. This may result from impaired glucose-induced ATP/ADP ratio elevation in β-cells [26, 35]. Furthermore, it is becoming increasingly clear that the development of type 2 diabetes is associated with mitochondrial dysfunction [27, 35–37]. Insulin signaling also effects mitochondrial function in β-cells [38]. Thus, knowledge of the mechanisms of regulation of ATP production and consumption are central to understand β-cell glucose-sensing and mechanisms of dysfunction in type 2 diabetes.
Conclusion
The integrated mathematical model of β-cell energetics constructed here has allowed us to reproduce and suggest explanations for experimental relationships among Ψm, respiration, NADH, mitochondrial and cytoplasmic Ca2+ and ATP/ADP ratio and other parameters under various conditions. Our analysis shows that the control structure of β-cell energetics is determined predominantly by the need to regulate the ATP/ADP ratio to keep sensitivity to glucose within the physiological range.
Special features of glucose metabolism in pancreatic β-cells are central to enable this physiological role. Three of these characteristics were emphasized in our model: the glucose phosphorylation by the high-Km glucokinase, which is rate-limiting for glucose-sensitive metabolism and determines the glucose dependency curves of many processes in the β-cell; the remarkably low activity of LDH; and the presence of effective hydrogen shuttles to allow virtually quantitative oxidation of glycolytic NADH (see above). Our analysis is both influenced by and supports these proposals.
We found that the adaptive mechanisms in mitochondria can include decreased respiratory activity compared with F1F0 ATPase activity. This mechanism leads to mitochondrial function in the region with decreased Ψm where variations in Ψm should result in high sensitivity to physiological glucose levels and low ROS production. We found also that proton leak allows fine adjustment and exerts a higher level of control by shifting the ATP/ADP ratio and [Ca2+]c sensitivity to glucose.
This comprehensive model of β-cell energetics permits testing of bioenergetic control hypotheses, provides a basis for further refinement of such steps as oxidative phosphorylation, mitochondrial Ca2+ handling and allow for future incorporation of other biochemical pathways.
Appendix
Model of energetic and mitochondrial processes
The reaction network of the model is shown in Figure 1. Due to the large number of reactions under consideration, the mathematical description is simplified as much as possible and in some cases intermediate metabolites were lumped together. To help simplify the mitochondrial currents and variables, we represented respiration and ATP synthesis rates in terms of effective proton fluxes.
The parameters for the model are given in Tables
2
and
3
along with references to the specific original studies. However, to achieve a closer correspondence with metabolism in intact
β
-cells or islets we have modified some of these parameters to more closely reflect the complex experimental measurements
in vivo
, where indicated.
Table 2
Standard physical and cellular parameter values (see text for explanations)
| Parameters | Symbol | Value | Units | Reference |
| --- | --- | --- | --- | --- |
| Relative cytoplasmic volume per β-cell | Vi | 0.53 | Ul | [90] |
| Relative mitochondrial volume per β-cell | Vmit | 0.06 | Ul | |
| Relative mitochondrial matrix volume | Vmmit | 0.0144 | Ul | Ad |
| Mitochondrial membrane capacitance for β-cells | Cmit | 1.812 | μM mV-1 | [136] |
| Faraday's constant | F | 96484.6 | C mole-1 | Physical constant |
| Valence of Ca2+ | ZCa | 2 | Ul | Physical constant |
| Fraction of free Ca + in Mitochondria | fi | 0.01 | Ul | [5] |
| Fraction of free Ca2+ in mitochondria | fm | 0.0003 | Ul | [28] |
| Cytoplasmic Na+ concentration | [Na+]c | 10000 | μ M | [130] |
| Mitochondrial Na+ concentration | [Na+]m | 5000 | μ M | [130] |
| Thermal voltage (RT/F) (37°C) | Tv | 26.73 | mV | Physical constant |
| Cellular adenine nucleotides concentration | At | 4000 | μ M | [5] |
| Free pyridine nucleotides concentration in mitochondrial matrix | Ntm | 2200 | μ M | [123] |
| Free pyridine nucleotides concentration in cytoplasm | Ntc | 2000 | μ M | Ad |
Table 3
Standard parameter values (see text for explanations)
| Model parameters: | Value | Units | Eq. | References |
| --- | --- | --- | --- | --- |
| Vmglu | 0.011 | μ M ms-1 | 1 | |
| KmATP | 500 | μ M | 1 | [26] |
| Kmgl | 7 | mM | 1 | [26] |
| hgl | 1.7 | Ul | 1 | [26] |
| VmGPD | 0.5 | μ M ms-1 | 2 | Ad |
| KmG3P | 200 | μ M | 2 | [138] |
| KgNc | 0.09 | Ul | 2 | [139] |
| VmLD | 1.2 | μ M ms-1 | 3 | Ad |
| KmLD | 47.5 | μ M | 3 | [139] |
| kLNc | 1 | Ul | 3 | [139] |
| VmPDH | 0.3 | μ M ms-1 | 4 | [138] |
| Kmpyr | 47.5 | pM | 4A | [139] |
| KPNm | 81 | Ul | 4B | [139] |
| U1 | 1.5 | Ul | 4C | [29] |
| U2 | 1.1 | Ul | 4C | [29] |
| KCam | 0.05 | μ M | 4C | [29] |
| vme | 22 | μ M ms-1 | 5 | Ad |
| KmNH | 3000 | μ M | 5A | [123] |
| kAT | -0.00492 | mV-1 | 5C | Fit to [24] |
| kBT | -0.00443 | mV-1 | 5C | Fit to [24] |
| Vmph | 8 | μ M ms-1 | 7 | Ad |
| KmADP | 20 | μ M | 7A | [26] |
| hph | 2 | Ul | 7A | [26] |
| hp | 8 | Ul | 7B | Ad |
| KPh | 131.4 | mV | 7B | Ad |
| KPCam | 0.165 | μ M | 7C | [130] |
| Plb | 0.0012 | μ M ms-1 | 8 | Ad |
| Plr | 0.0012 | μ M ms-1 | 8 | Ad |
| klp | 0.0305 | mV-1 | 8 | Fit to [24] |
| TNADH | 0.05 | μ M ms-1 | 9 | Ad |
| KTNm | 16.78 | Ul | 9 | [76] |
| KTNc | 0.002 | Ul | 9 | Ad |
| PCa | 0.004 | ms-1 | 10 | Ad |
| am | 0.2 | Ul | 10 | [130] |
| ai | 0.341 | Ul | 10 | [130] |
| VmNC | 0.025 | μ M ms-1 | 11 | Ad |
| KNaj | 8000 | μ M | 11 | [130] |
| KCaj | 8 | μ M | 11 | [130] |
| kgpd | 0.00001 | ms-1 | 12 | Ad |
| kNADHm | 0.0001 | ms-1 | 14 | Ad |
| kNADPc | 0.0001 | ms-1 | 16 | Ad |
| k ATP | 0.00004 | ms-1 | 20 | Ad |
| k ATP,Ca | 0.00009 | μ M-1ms-1 | 20 | Ad |
| [Ca2+]R | 0.09 | μ M | 23 | Ad |
| kACa | 0.25 | μ M | 23 | Ad |
| KAD | 25 | Ul | 23 | Ad |
| hCa | 4 | Ul | 23 | Ad |
Model for independent cytoplasmic Ca2+ oscillations
We used a simple mathematical model that creates a periodically varied independent [Ca2+]c change in cytoplasm to simulate the oscillations of the mitochondrial parameters in β-cells. The model described in this section is based on a simple model [134] and used only for simulation of independent Ca2+ oscillations in the cytoplasm of a mean individual cell.
Ca2+ current (IVCa)
gmVCa is the maximum conductance for IVCa (gmVCa = 20 μ S), VP is the plasma membrane potential.
Ca2+-activated K+ current (IKCa)
where gmKCa is the maximum conductance for IKCa, KKCa is the half-maximum Ca2+ binding constant for IKCa (gmKCa = 25 μ S, KKCa = 0.25 μ M).
where Cm is the cell membrane capacitance (Cmp = 6158 fF [5])
where fi is the fraction of free Ca2+ in cytoplasm, F is Faraday's constant, Vci is the volume of the cytosolic compartment in single cell (0.764 pL [5]), and ksg is the coefficient of the sequestration rate of [Ca2+]c (ksg = 0.00002 ms-1[5]).
Computational aspects
For computational purposes we considered the β-cell as an assemblage of mitochondria with similar properties. The units used in the model are time in millisecond (ms), voltage in millivolts (mV), concentration in micromoles/liter (μ, M), flux in μ mol ms-1.
A factor (0.31) was used to convert picomoles per islet from metabolism experiments to the cytoplasmic millimolar terms of a single β-cell (as calculated in Ref. [29]). The mitochondrial protein density for total mitochondria volume is estimated at ~0.3 mg protein/μ l, and free water volume in mitochondrial matrix space can be estimated to be 0.24 of total mitochondria volume [135]. In line with these data we used the factor 1.25 to convert the measured nanomoles per milligram mitochondrial protein (nmol mg-1 protein) to mitochondrial matrix space in millimollar terms. In our model the fluxes were specified for the volume of a cell. Multiplying the mitochondrial matrix volume (Table 2) by its protein density (1.25 g protein ml-1) by unit flux [in nmol (mg protein min-1)] gives the total flux in the mitochondria matrix per unit cell volume.
The general concentration of intramitochondrial and cytoplasmic adenine and purine nucleotides were kept constant during simulations (Table 2). Model parameters were found by several methods. Specifically, they were obtained from the scientific literature when possible and were also found by fitting specific model equations to experimental data. The third method was to estimate the parameter so that model variable values and time courses closely matched experimental data. Several enzymatic activity values were treated as adjustable parameters, which were adjusted using the reaction stoichiometries to reflect the rate of glucose phosphorylation by glucokinase (Table 3). Parameter values from Tables 2 and 3 were used unless otherwise mentioned. Nine ordinary differential equations (Equations 12-14, 16, 18-20, 29, 30) describe the behavior of [G3P], [Pyr], [NADH]m, [NADH]c, Ψm, [Ca2+]m, [ATP]c, Vp and [Ca2+]c. Coefficients are shown in Tables 2 and 3. Calculations on Figure 12 and a generation of all figures were performed using "Igor" (IGOR Pro, WaveMetrics, Inc, Lake Oswedo, OR, USA) and Microsoft Excel X.
Simulations were performed as noted previously for an idealized mean individual cell using the software environment from "Virtual Cell" (Fridlyand et al. [5, 26]). To calculate the steady-state cellular parameters, the model was allowed to run for at least 10s with no external stimulation. Calculations obtained with the coefficients from Tables 2 and 3 have been mentioned in the text as a simulation at basal levels.
This model is available for direct simulation on the website "Virtual Cell" http://www.nrcam.uchc.edu in "MathModel Database" on the "math workspace" in the library "Fridlyand" with the name "GlucoseSensitivity-1" for the general model and with name "GlucoseSensitivity-2" for the general model that also includes independent [Ca2+]c oscillations.
List of abbreviations
ATP/ADP:

ratio of ATP to ADP
ETC:

electron transport chain
EtBr:

ethidium bromide
GK:

glucokinase
Glu:

glucose
GSIS:

glucose-stimulated insulin secretion
G3P:

glyceraldehyde 3-phosphate
KATP:

ATP-sensitive K+ channels
LDH:

lactate dehydrogenase
PDH:

pyruvate dehydrogenase
PYR:

pyruvate
ROS:

reactive oxygen species
TCA:

tricarboxylic acid
Tfam:

mitochondrial transcription factor A
UCP2:

uncoupling protein 2
Ψm:

mitochondrial membrane potential
Subscript c:

cytoplasmic compartment
m:

mitochondrial compartment.
Declarations
Acknowledgements
We thank Dr. N. Tamarina for helpful discussions. This work has been partially supported by National Institute of Diabetes and Digestive and Kidney Diseases Grants DRTC P60DK020595, DK-48494, DK-063493 and a Research Grant from the American Diabetes Association to LP.
Authors' Affiliations
(1)
Department of Medicine, The University of Chicago, Chicago,IL, USA
Copyright
© Fridlyand and Philipson; licensee BioMed Central Ltd. 2010
This article is published under license to BioMed Central Ltd. This is an Open Access article distributed under the terms of the Creative Commons Attribution License (http://creativecommons.org/licenses/by/2.0), which permits unrestricted use, distribution, and reproduction in any medium, provided the original work is properly cited.